Judith Light to be honored and Lilly Singh to host at GLAAD Media Awards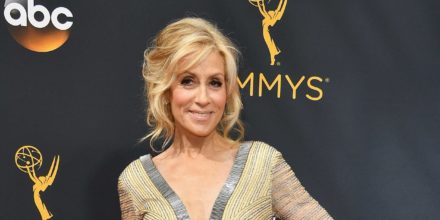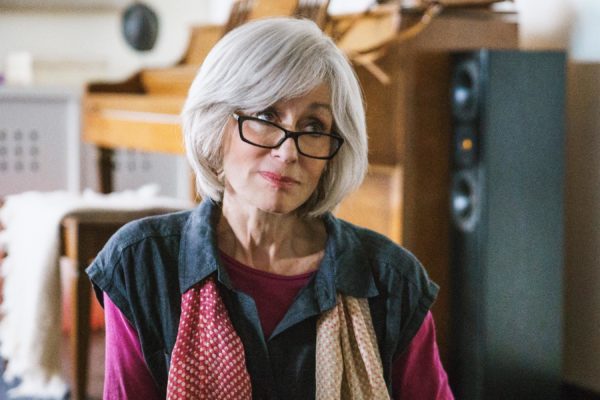 Actress Judith Light will be the recipient of GLAAD's Excellence in Media Award, the LGBTQ media advocacy group announced on Tuesday.
The honor will be presented at the 31st Annual GLAAD Media Awards on March 19. According to GLAAD, the Excellence in Media Award is presented to "media professionals who have made a significant difference in promoting acceptance of LGBTQ people." Recipients from recent years include Ava DuVernay, Robert De Niro, Kelly Ripa, Patti LaBelle, Debra Messing, Tyra Banks, Julianne Moore, Glenn Close, Barbara Walters, Joy Behar, Billy Crystal, and Diane Sawyer.
The organization also announced that Lilly Singh, openly bisexual executive producer and host of NBC's "A Little Late with Lilly Singh," will serve as host of the Awards, which are set to take place at the Hilton Midtown in New York.
"Judith Light stood up for and with LGBTQ people when others in media and entertainment refused to speak up, and she has never left our side," said GLAAD President and CEO Sarah Kate Ellis in a statement. "When the GLAAD Media Awards first started and was a small event with little visibility, she was one of the few entertainers who would join us in calling for LGBTQ representation, so it is only fitting to now honor her advocacy on what has become the largest LGBTQ stage in the world. From standing alongside LGBTQ people during the AIDS crisis, to fighting for marriage equality, to now uplifting transgender people and issues, Judith advocates with a unique passion and an unending dedication that uplifts."
Commenting on the announcement of Singh as the event's host, Ellis said, "As she continues to break new ground for LGBTQ people of color on mainstream television, Lilly Singh inspires so many young LGBTQ people who feel like they have never seen themselves represented. Lilly is hilarious, authentic, and perfectly captures the celebratory spirit of the GLAAD Media Awards."
Light, a multiple Tony and Emmy award-winning actress, is known for an extensive body of work on television, film, and stage. She has performed in many projects which have helped to advance LGBTQ acceptance and issues, "The Ryan White Story" (1989) the conversion therapy drama "Save Me" (2007), and Ryan Murphy's FX series "The Assassination of Gianni Versace: American Crime Story," She won raves for her performance as Shelly Pfefferman in Amazon Prime's Golden Globe-winning "Transparent," and has enjoyed an acclaimed stage career highlighted by a variety of award-winning roles and two consecutive Tony wins. She currently stars opposite Bette Midler and Ben Platt in Ryan Murphy's Netflix series "The Politician," which is one of the nominees at this year's GLAAD Media Awards.
She is also known for her advocacy work on behalf of LGBTQ people and causes. During the 1980s, she was one of the few prominent celebrities to call attention to the AIDS epidemic and fight against the stigma towards LGBTQ people and people living with HIV/AIDS, working with LGBTQ organizations like Broadway Cares/Equity Fights AIDS, GLAAD, the NAMES Project AIDS Memorial Quilt, Project Angel Food, and the Elton John AIDS Foundation. She has continued to advocate for LGBTQ issues by participating in numerous events and campaigns, including the LGBT March in Washington in 1993, the California AIDS Ride in 1995, and the display of the NAMES Project AIDS Memorial Quilt with Elizabeth Taylor in 1996. In 2002, she traveled to South Africa for the AIDS walk to raise awareness about HIV/AIDS in the country and promote greater research initiatives in the United States. Light has also served on the boards of the Matthew Shepard Foundation and the Point Foundation.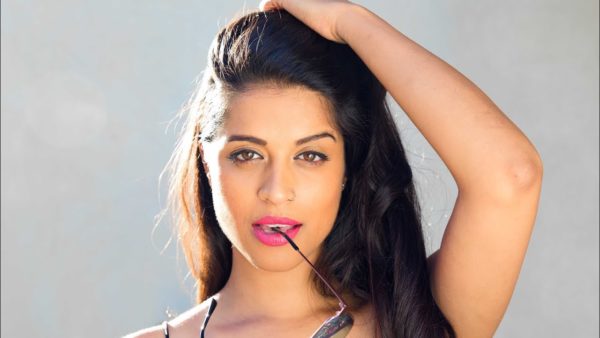 Singh is a multi-faceted entertainer, actress, producer, writer and creator, whose late-night talk show "A Little Late with Lilly Singh" premiered on NBC in September 2019. Besides being the only woman currently hosting a late-night talk show on a broadcast television network, she is also the first openly bisexual person and the first person of Indian descent to do so. In the digital world, she has amassed a global audience of over 32 million followers on YouTube other social media channels, where she writes, produces and stars in comedic and inspirational videos.  She was named to Forbes' "30 Under 30" Hollywood and Entertainment list, Fast Company's "Most Creative People" list, and Time's list of the most influential people on the internet. 
As previously announced by GLAAD, Ryan Murphy will also be honored at the New York ceremony, where he will receive the organization's Vito Russo Award.
Taylor Swift will receive the Vanguard Award and Janet Mock will receive the Stephen F. Kolzak Award at the 31st Annual GLAAD Media Awards, in a separate ceremony in Los Angeles on Thursday, April 16.
'We're Gonna Die' includes themes of grief, death, depression
But don't let that deter you from Round House production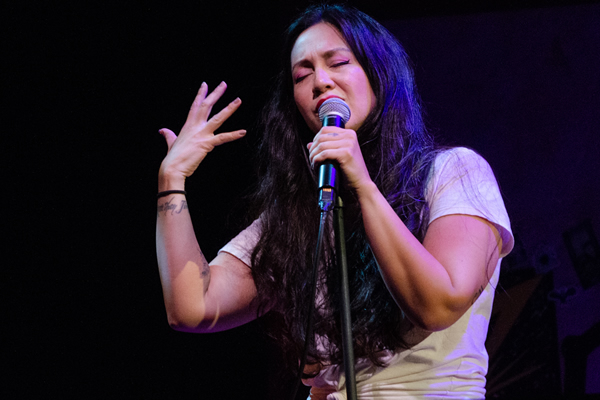 'We're Gonna Die'
Streaming through July 11
Round House Theatre
$30
Roundhousetheatre.org
Round House Theatre's current filmed offering, "We're Gonna Die," could be described as sad words interrupted by upbeat melodies. But it's not that simple.
Penned by Young Jean Lee, the hour-long solo show is based on real experiences but without details specific to place or year. Its monologues are the memories of a youngish woman (simply called the Singer in the program) who arrives at the harsh conclusion that horrible things happen all the time, and in the end, we die. But it's not all gloom and doom. The playwright – who's been called the queen of unease – peppers her work with the unexpected and the uncomfortable as well as some fun surprises and humor. And after every gloomy tale the singer shares, there's a pop-sounding song with equally unsettling lyrics.
This kind of back and forth between the serious and the not so serious, makes the show interesting.
Director Paige Hernandez, who also provides the show's happy, informal choreography and the scenic design (a sort of downstairs grungy club look), brings a fresh unpretentiousness to the piece that gels nicely with the available energy of Helen Hayes Award-winning Filipinx American actor Regina Aquino.
Sporting a knotted T-shirt and black leather pants, Aquino comes ready to work. She barrels through (in a good way) a litany of brutal memories with an inviting intensity while radiating an emotional suppleness that keeps you with her throughout the evening's various twists and turns.
As the Singer, Aquino wastes no time in apprising the audience of the miseries of life. Childhood and tween years aren't pleasant: she's shunned by alleged best friends; learning to ride a bike is violently traumatic; and during a playful game of spy, she witnesses her weird Uncle John become reduced to a puddle of tears after reciting his nightly mantra: "I am shit. I am shit." The singer learns early that life isn't easy.
Romance proves illusive. There's no dating in high school. College is a series of one-sided relationships with guys who drink too much. When she finally gets together with what seems the ideal man, he leaves her.
Things continue uncomfortably. At a family reunion she overhears her mother describing her as less lovable than her sister. But it's her father's seemingly unfair and tragic death from lung cancer that hits hardest. She knows then that despite what we may want to believe, we all die and rarely prettily.
It's oddly comforting how she concludes that none of us are special; no one is immune to unhappiness, pain, disease, and the long dirt nap. We all have this in common.
Lee (the first Asian-American woman to have a play on Broadway with "Straight White Men") wrote "We're Gonna Die" not long after her father's death. Perhaps that's why the harrowing monologue describing the patriarch's demise is the show's most affecting. And it's definitely where Aquino's gifts for pathos and sensitivity come to the fore.
This is a solo show, indeed, but Aquino isn't alone on stage. She's joined by The Chance Club, a four-person rock band featuring Laura Van Duzer, Matthew Schleigh, Jason Wilson, and Manny Arciniega. Aquino and band's interactions feel spontaneous and not over-rehearsed, infusing the show with the charm of a small live concert.
"We're Gonna Die" comes with a content advisory: "This production includes themes of loss, grief, death, and depression." But please, don't let that deter you. It's in fact peculiarly uplifting.
And by show's end, you'll be humming along to a catchy tune with the memorable chorus: "I'm gonna die / I'm gonna die someday / Then I'll be gone / And it will be OK."
Photos: Pride at Pitchers
Patrons gather at the popular bar on Saturday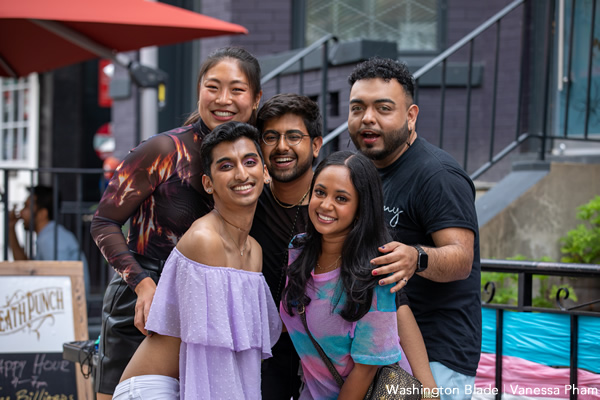 Members of the LGBTQ community and allies gathered at Pitchers DC and A League of Her Own on June 12 during Pride. (Washington Blade photos by Vanessa Pham)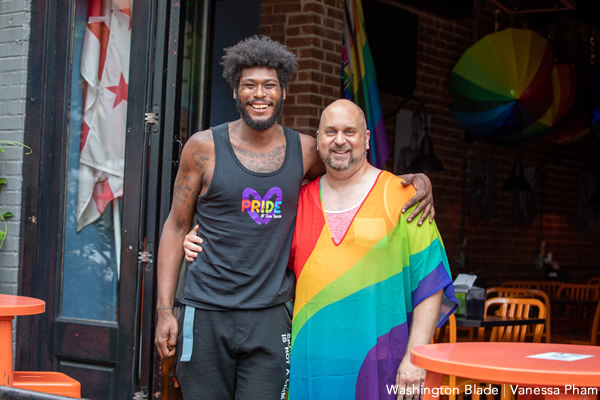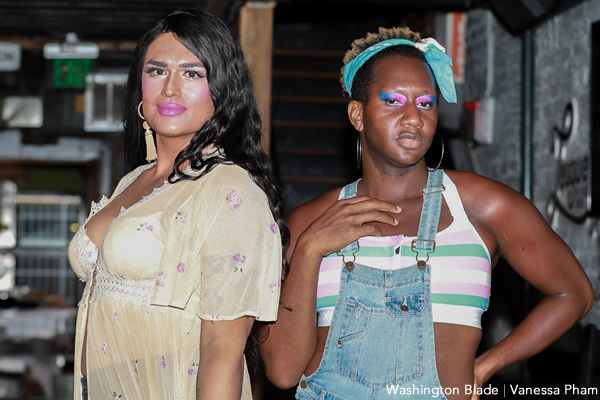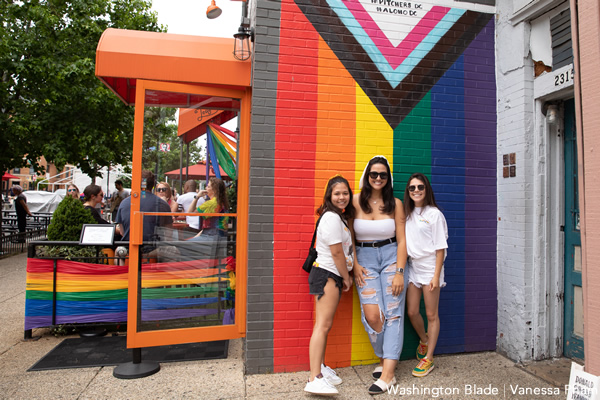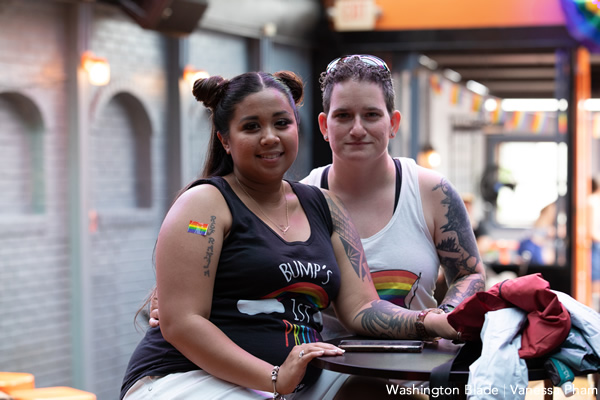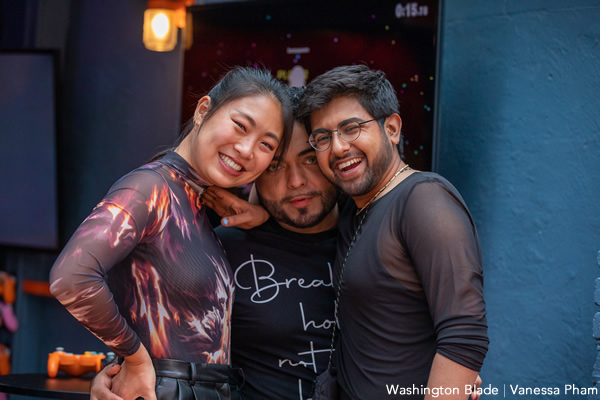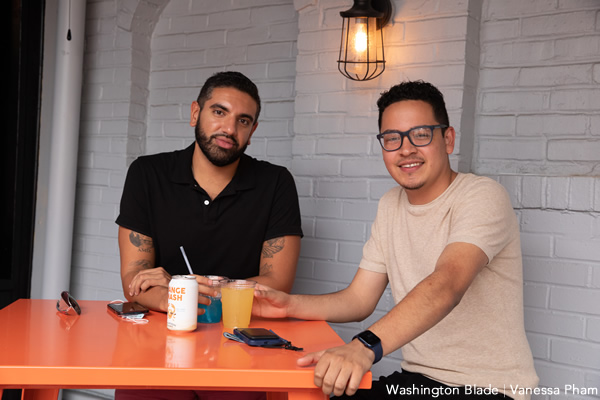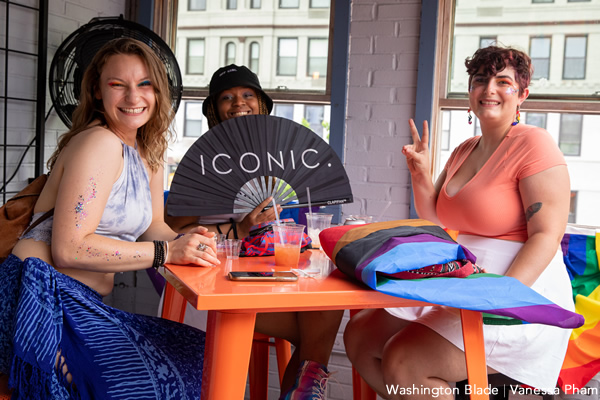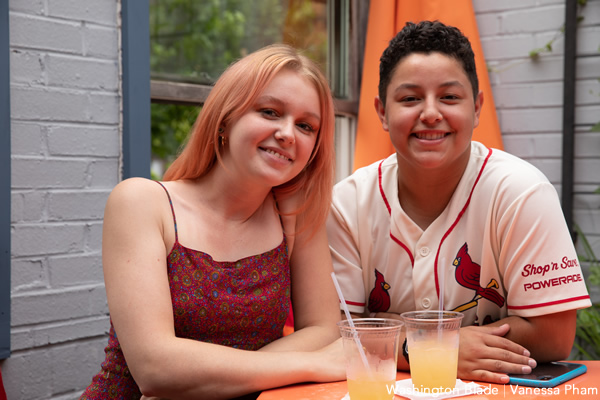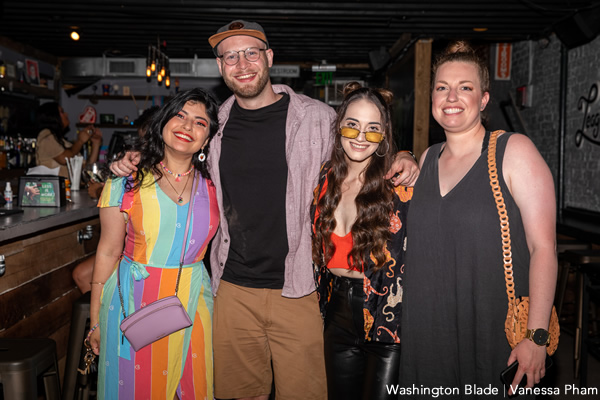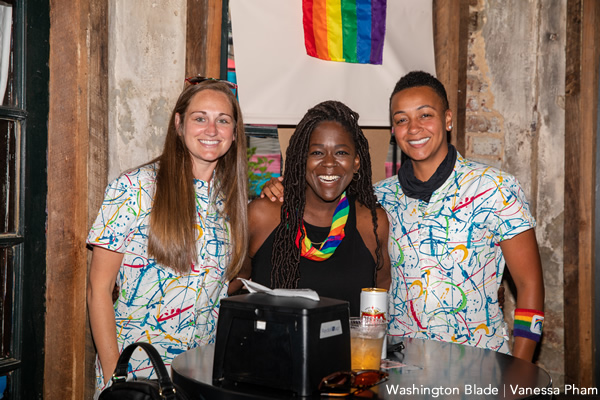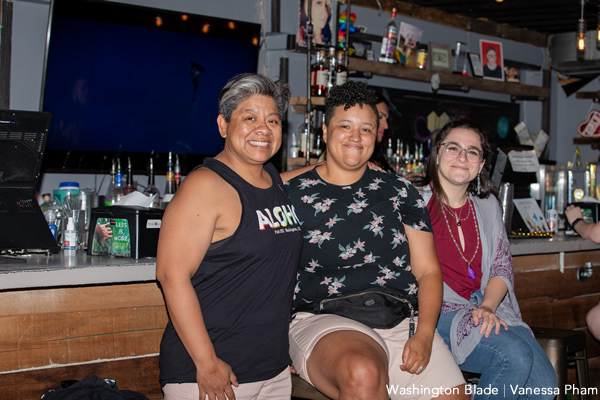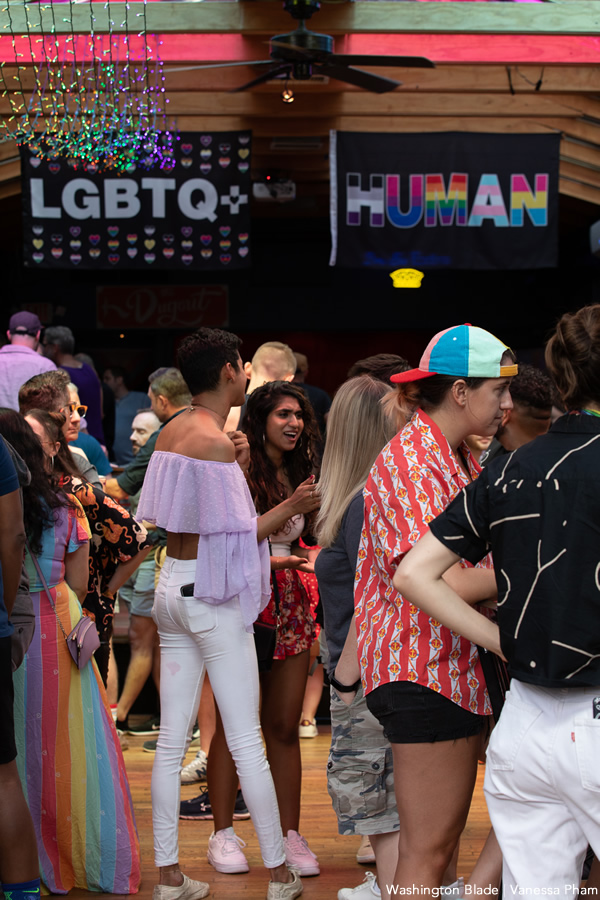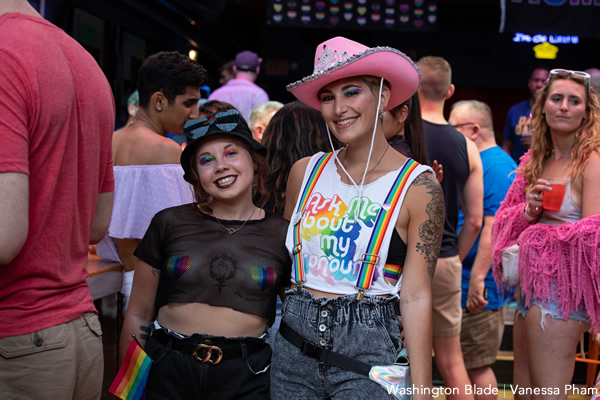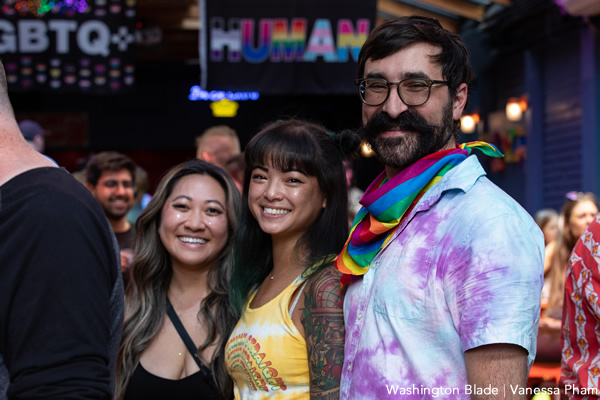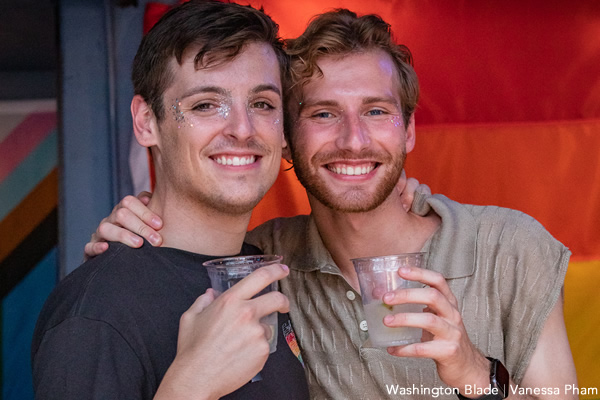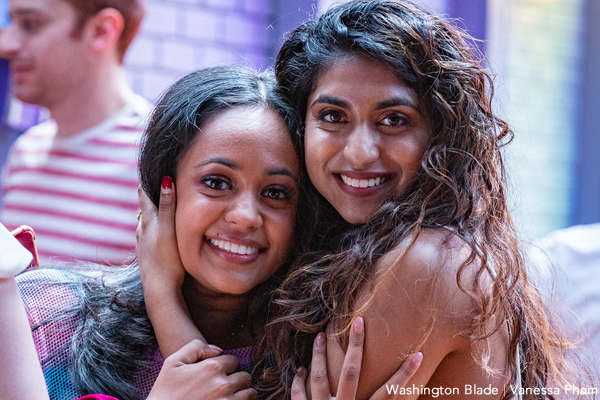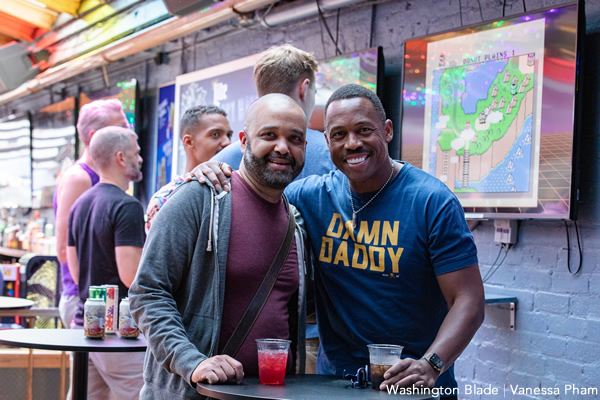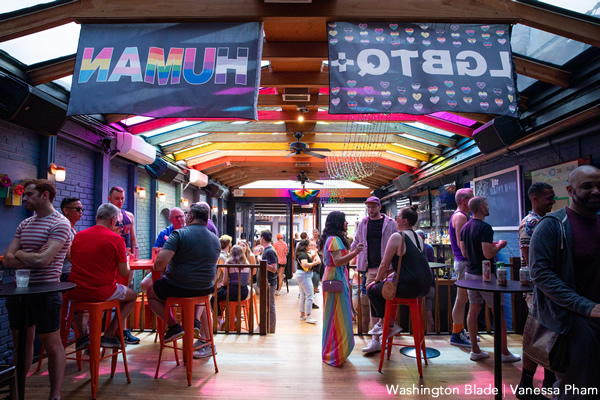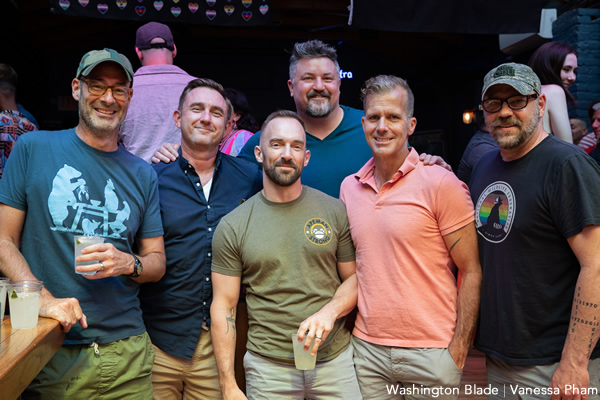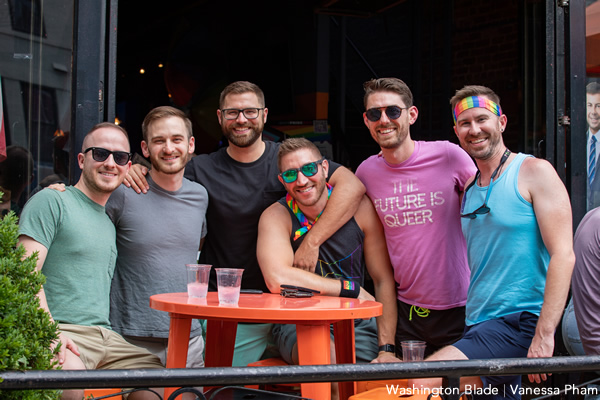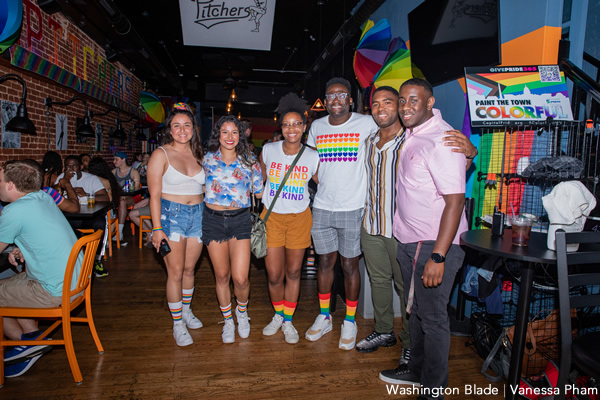 Legendary activist gets his due in 'Hating Peter Tatchell'
'Don't accept the world as it is'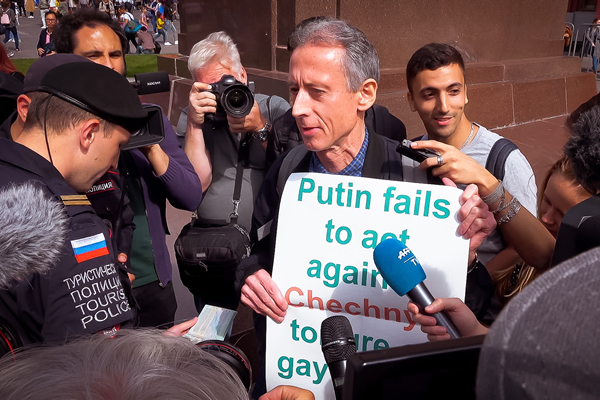 Looking at the fight for LGBTQ equality from inside the bubble of the United States, it's easy to get the impression that the movement essentially started at Stonewall, and that most of our progress is the result of work from our own homegrown activists. That's obviously not the case; though there have been plenty of American heroes that have done more than their fair share in the effort, the contributions of others who join the fight on the international front deserve recognition, too.
"Hating Peter Tatchell," available now on Netflix, is a great introduction to one of them.
It's a documentary from director Christopher Amos that chronicles the life and work of a tireless champion for LGBTQ rights – and human rights in general – whose six decades of campaigning have made him simultaneously one of the most lauded and loathed men in the world. He has shaken up the British establishment with his radical acts of civil disobedience, aggressively pushed for change in global attitudes about homosexuality, and stood up against tyrannical world leaders – and he's done it all from the front lines.
Amos' brisk but informative film takes us on a tour of Tatchell's career, bolstered by plenty of archival footage (much of which only exists because Tatchell saved the VHS tapes himself) and given perspective through evocative interviews with the likes of activist Angela Mason, actor Stephen Fry, and Tatchell himself, who also engages in an ongoing conversation with actor and fellow LGBTQ activist Ian McKellen about what motivates his lifelong fight for equality. Along the way, we get insights into Tatchell's personal life, in particular his relationship with his deeply religious mother. The film culminates with his riskiest crusade yet, the disruption of 2018's FIFA World Cup in Moscow to draw attention to the persecution of LGBTQ+ people in Russia and Chechnya.
Tatchell, we're happy to say, survived that journey, and is still fighting tirelessly through the Peter Tatchell Foundation, a small London-based human rights organization that also supports democracy, LGBTQ+ and human rights movements in countries like Russia, Uganda, Iran and Pakistan. But busy as he is, he took time to join director Christopher Amos for a conversation with the Blade about the film.
BLADE: Peter, a lot of hard-working activists often struggle with burnout. How do you find a balance between your activism and your day-to-day life?
PETER TATCHELL: My life has been tough. I've campaigned 12+ hours a day for 54 years, been violently assaulted over 300 times and still receive masses of hate mail and death threats, mostly from homophobes and far right extremists. I'm perpetually tired. It's made relationships difficult to sustain. But I love the human rights work that I do. What motivates and sustains me is my many successes and the positive feedback from the 20,000+ individuals and campaigners that I've helped over the last five decades.
BLADE: Your activism even extends into your relationship with your mom.
TATCHELL: I've seen my mother's regressive views as a challenge and never ceased engaging with her. As a result, she's been on a journey of growing understanding and acceptance. Although homosexuality is against her Christian beliefs, she doesn't see it as a major sin. Moreover, she mostly supports my LGBTQ+ work, says LGBTQ people should be treated with respect and has accepted my partner. It shows that patience and perseverance can change hearts and minds.
BLADE: On that subject, the movie features a lot of footage from an era when a lot of people were opposed to your confrontational methods. Some of that persists even in the contemporary interviews. Christopher, was that an intentional choice?
CHRISTOPHER AMOS: As much as I support Peter's work, achievements, and sensibilities, I knew it was important to also present opposing opinions. It's important, for progress, to listen to opinions that are different from our own, even when we disagree. And it's important that we don't hide history, we can learn from it. When I was watching the hundreds of hours of archives, I was shocked by some of the views which made it onto television talk shows at the time. Hindsight is a powerful way of highlighting just how much progress has been made.
BLADE: In this case, it certainly highlights that some of Peter's more "radical" positions have been vindicated over the years, in spite of the naysayers.
AMOS: Peter was ahead of his time. He has a natural instinct for what is fair and equal in society.
BLADE: Is that what drew you to him as a subject for a film?
AMOS: Peter's activism inspires me, and perhaps identifying with the journey of an Aussie moving to London made his story especially significant to me. We first met in 2000, when I was editor of Bent magazine, and Peter regularly contributed articles. I was always surprised by how many of the LGBTQ community derided his work, despite the huge contribution he was making to advancing our rights. This struck me as an interesting premise for a story about his life, something which adds a layer to the biographical account of his life. I wanted to highlight his achievements but also explore his motivations.
BLADE: What do you want audiences to take away from his story?
AMOS: Peter's journey over the past half-century highlights the advances in the gay liberation movement. That gives me hope for the future and I hope will give others hope too. But it can also inspire us to take action, to use our voice. I want viewers to be moved, but also feel motivated to carry on this fight for equality. Many people often ask what they can do, but Peter doesn't wonder, he just does something.
BLADE: Peter, is there an action you've taken that you are particularly proud of?
TATCHELL: I don't spend much time relishing my successes. Once a victory has been secured, I focus my mind on the next challenge. But I'm pleased that I ambushed Mike Tyson and got him to express his opposition to homophobic discrimination, and that I staged the first LGBT+ protest in a communist country (East Germany, 1973). And also, I twice attempted a citizen's arrest of the Zimbabwean dictator and homophobe, Robert Mugabe.
BLADE: What do you think is currently the most crucial fight or fights for the future of queer rights?
TATCHELL: In the West, the biggest battles are to ban conversion therapy, defend the trans community and support other progressive movements, like Black Lives Matter and #MeToo. Globally, the main challenge is to decriminalize homosexuality in the 70 countries that still outlaw it, and then to secure legislation against anti-LGBT+ discrimination and hate crimes.
BLADE: What would you say to people who want to become more involved but don't know where or how to start?
TATCHELL: Join a LGBT+ organization. There is strength in numbers. All our gains are the result of our collective efforts. Don't accept the world as it is. Dream of what the world could be — and then join with others to help make it happen.