January 15, 2020 at 9:39 am EST | by Philip Van Slooten
MAL goes big for 2020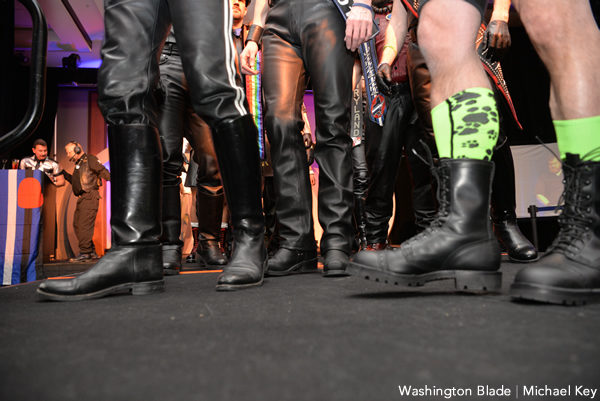 The Centaur Motorcycle Club takes over D.C. for its 44th annual Mid-Atlantic Leather Weekend Friday through Sunday into the wee hours from its host venue the Hyatt Regency Capitol Hill (400 New Jersey Ave., N.W.). This MAL also marks the 50th anniversary of Centaur MC.
Patrick Grady, a gay leather enthusiast who has watched his "tribe" grow over the years, is Centaur MC's chairman for the events. He was introduced to the Centaurs back in the 1990s while he was the director of catering at the Washington Plaza Hotel.
That chance encounter with Centaur members was life-changing for the still mild-mannered and soft-spoken gentleman who describes leather as a wearable art that invites others to touch and engage it.
"When I came into leather, it awoke some inner feeling," Grady says. "But you don't have to own leather to come to MAL. You just go there to have a good time."
MAL is a three-day party for leather, kink and fetish enthusiasts that continues to grow in popularity with scores of packed venues across the district. It began in 1976 when Glenn Pitcher of the Links Motorcycle Club in New York booked a suite at the Waldorf-Astoria hotel and threw an intimate cocktail party for a few friends visiting from the west coast.
The Leather Cocktails tradition, still a core feature of the current MAL event, began when one of the members dropped his metal cock ring in the hotel bathroom. The sound became a humorous signal opening the festivities.
The Centaurs took over Leather Cocktails in 1984 to keep the tradition alive and added the Sunday brunch, a Leather Exhibit hall and the Mr. MAL contest.
"It's great to see everybody and welcome new people," Grady says, excitement filling his voice. "I'm a Pisces, so, I'm always emotional. People take bets to see how long it takes me to cry at Leather Cocktails."
He says the reason behind MAL and the Centaur's longevity is despite this year's expected 3,000-5,000 attendees it still feels like a group of friends getting together for the weekend.
"I think it's a testament to the members themselves," he says. "We have 31 current, all volunteers. We all enjoy each other. We enjoy hosting MAL for the masses."
Most of the events take place at the host hotel and a schedule is available at leatherweekend.com. However, bars and clubs across the district such as Uproar, the Green Lantern and the D.C. Eagle will be hosting special MAL edition events as well.
"We are honored to be a part of such an exciting weekend," says Miguel Ayala, marketing manager for the D.C. Eagle. "Mid-Atlantic Leather Weekend has grown leaps and bounds over the years thanks to the hard work and dedication of the Centaur MC."
Staff there is anticipating their largest crowds ever and will have additional food trucks on hand as well as a shuttle running from the host hotel to the bar Thursday through Sunday.
The Red Bear is relatively new to D.C., with only a few years of experience working MAL weekend. Cameron Raspet, the founder and director of operations, says he and his staff are expecting big crowds throughout D.C. and hope to have a significant turn out at their events which includes a leather-themed drag show.
Two groups adding diversity to the festivities this year are the People of Color Kink and Leather Experience (POCKLE) and Sadie V, a PoC leather community. Both groups are hosting MAL queer/transgender people of color kinky queer events Friday and Saturday at the Hampton Inn.
Tyesha Best, curator and owner of the POCKLE Project and social media coordinator for International Mr. Leather Inc., is looking forward to this year's events as well.
"I think leather opens doors," Grady says of the event's expansion. "Because you find people with a common enjoyment and a common feel. I've always felt with leather communities everyone is easy to talk with, approachable, supportive and they look after each other as well."
Each year MAL continues to grow, culminating in last year's $100,000 donation to D.C. charities including HIPS and Casa Ruby. But Grady says Centaur members hope to maintain the warm feel of a small gathering of friends.
"We don't want to become another IMF," he says of the larger leather organization MAL supports. "We want everyone to have a good time instead of getting lost in the crowd."
Though Grady currently doesn't have a partner to share the weekend with, he is looking forward to the arrival of an English friend he met at an Irish event as well as meeting thousands of friends new and old.
Weekend jam-packed with piggybacking parties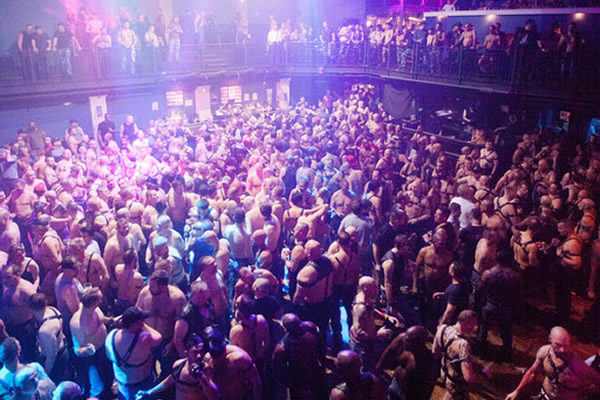 The Mid-Atlantic Leather Weekend presented by the Centaur Motorcycle Club kicks off today at 4 p.m. at the Hyatt Regency (400 New Jersey Ave., N.W.). A full-weekend pass for this three-day event is $30. Friday only and Sunday only passes are $15 and passes for Saturday only are $20.
Most of the weekend's official events take place at the Hyatt; however, other events and parties are also held at other venues around the city. Official events include Saturday evening Leather Cocktails, Sunday brunch, a Mr. MAL contest, a Leather Exhibit Hall and the Sunday night closing party.
For a complete schedule and other details, visit leatherweekend.com.
Friday, Jan. 17
The Bear Happy Hour's Leather Bear Party presented by D.C. Bear Crue is tonight from 5-10 p.m. at Uproar (639 Florida Ave., N.W.). Bears, otters and their furry friends are celebrated at this MAL weekend event. There is no cover charge, select drinks are $5 and free appetizers are handed out all night. Drink specials end at 10 p.m. Visit uproarlounge.com and Facebook events for details.
MIR at MAL: A Rubber Meet and Greet hosted by Mr. International Rubber is tonight from 7-10 p.m. at the MAL host hotel, Hyatt Regency (400 New Jersey Ave., N.W.). This cocktail party is an opportunity for rubber enthusiasts to meet, socialize and start the weekend off right. Part of the space will be black lit to show off colorized rubber wear. For more information, visit mirubber.com.
The Green Lantern (1335 Green Ct., N.W.) hosts Rough House: Leather Edition tonight at 9 p.m. This lights off, hands-on dance party features DJS offAxis, Lemz, Sean Morris and The Barber Streisand. Cover is $5 before 10 p.m. and $10 after with a free clothes check. More information is available at greenlanterndc.com.
Impact: Sauvage is a Mid-Atlantic Leather Weekend kick-off party hosted by The Highwaymen TNT in the MAL host hotel at 10 p.m. TWiN spins the music until 3 a.m. for this MAL opening night event. Visit Facebook events for more information.
Pervert: The Pleasure of Darkness is tonight at 10 p.m. at Karma D.C. (2221 Adams Place, N.W.). Tickets are $42 for this party featuring entertainment by DJ Cindel and Flavio Zarza. Hosts La Fantasy, Hilton Wolman Events and Matinee Group team up for this MAL weekend production. Visit seetickets.us/pervertdc for more information.
Furball D.C. hosted by the D.C. Eagle (3701 Benning Rd., N.E.) is tonight at 11:30 p.m. This MAL weekend kick off party offers a bus shuttle all night to the MAL host hotel as well as music by Dan De Leon. Tickets are $15 in advance and $20 at the door. VIP tickets are $30. For more information, visit furballnyc.ticketleap.com.
Saturday, Jan. 18
Deviant (1348 H St., N.E.) hosts a circuit party and celebration for queer people of color in time for MLK and MAL weekend. This event sets things off tonight at 10 p.m. and features performances by Tryfe with special guest Mr. Maryland Leather 2020 "Sir Oya." General admission is $30 and tickets are available at deviantevents.eventbrite.com.
Spank, a hard-hitting all-night party presented by The Needle Exchange and Sequence, is tonight at 10 p.m. This event celebrates both the D.C. Leather weekend and the third anniversary of the D.C. Women's March and features sets from DJ Lisa Frank, Juliana, Ash Lauryn and Juana with sounds by Grand Ancestor. The venue location will be sent to ticket holders on the day of the event. Visit bit.ly/SPANKDC for details.
Brut takes over the D.C. Eagle (3701 Benning Rd., N.E.) tonight at 10 p.m. DJs Dan Darlington and Morabito are set to spin NYC underground house music during this leather weekend party. Tickets start at $30 and are available at tickets.hedonicproductions.com. Find more information on this and other events at dceagle.com.
Sunday, Jan. 19
Harder, a hard tea dance party, is today from 3-9 p.m. at the U Street Music Hall (1115 U St., N.W.). This event recreates New York's gay underground night scene with house music by Keenan Orr and Shaun J. Wright, an intimate space and a hardcore party crowd. Tickets start at $10 on bigneon.com. More information is available at ustreetmusichall.com.
Uproar's (639 Florida Ave., N.W.) Sunday Beer Bust MAL edition kicks off today at 3 p.m. There is no cover for this event which includes a complimentary dinner buffet from 3-6 and the Beer Bust with DJ Mike Babbitt from 4-9. For more information on the venue and on Uproar's first Daddy Night event, visit uproarlounge.com.
Sungay, an outdoor day party with leather aficionados, muscle boys, bears and more, runs today from 4-10 p.m. at Eden D.C. (1716 I St., N.W.). This party takes place at a multilevel nightclub to include three floors and an outdoor space equipped with patio heaters. DJs Jerac and Paulo Fagroso spin the music at this MAL weekend event. Visit seetickets.us for tickets and details.
JOX returns to the Green Lantern (1335 Green Ct., N.W.) tonight at 9 p.m. for a special MAL edition. This event features all-night drink specials, a $10 cover, music by DJ UltraPup and performances by the JOX boys. For details visit greenlanterndc.com.
Flashy Leather Edition hosted by Flashy Sundays (645 Florida Ave., N.W.) starts tonight at 10 p.m. The cover charge is $30 for this first Flashy event of 2020, celebrating both the MLK holiday and MAL weekend. Doors open at 10 p.m. with an extended bar until 4 a.m. TWiN and DJ Sean Morris will be spinning tunes on the main floor while DJ Mike Babbitt will be running the roof top all night long. Visit facebook.com/flashydc for details.
MAL Reaction Dance: The Official Closing Party of MAL is tonight at 8 p.m. at the 9:30 Club (815 V St., N.W.). Tickets are $35 in advance and $45 at the door. This intimate venue which launched hit makers like Lizzo plays host to the MAL weekend finale. For tickets and information, visit 930.com.