Celebrating Kate Millett's feminist literary criticism
A new series exploring lives of queer women fighting for equality
Editor's note: This column is the first in a series highlighting queer women feminists.
As I write this, The New York Times editorial board has just endorsed Elizabeth Warren and Amy Klobuchar, two female Democratic presidential candidates.
Last week, I cheered when Virginia became the 38th state to ratify the Equal Rights Amendment! (The ERA faces legal challenges.)
Until 1920, women in our country (except in a few states) didn't have the right to vote. The 19th amendment to the Constitution, which gave women the right to vote, was passed by Congress on June 4, 1919. It was ratified on Aug. 18, 1920.
Since the 1900s, women have fought for the right to vote and for equality for women.
Women's rights matter to LGBTQ women. Today, many women still earn less than men. Then there's sexual harassment and #MeToo. Misogyny lurks in the queer and hetero community.
Historically, queer women have been part of the feminist movement. Yet, many second-wave feminists, out of homophobia and transphobia, disavowed or downplayed queer feminists. Betty Friedan, author of the groundbreaking "Feminine Mystique" called lesbians the "lavender menace." (Years later, she apologized for the slur.)
This series will highlight queer women who have been part of the struggle for women's equality. I'll begin with Kate Millett, author of the trailblazing 1970 book "Sexual Politics." The work was such a cultural phenomenon, that in the era when magazines ruled pop culture, Millett was on the cover of Time.
Why am I starting with Millett? Because feminism isn't just political – it's personal.
When I was young and struggling to come out, I was in a bookstore with my grandmother. We noticed a book called "Flying" by Kate Millett.
My grandmother thought it was a memoir by a woman pilot. Scanning the back cover, I saw that it was a memoir – but not about aviation. It was Millett's story of what it was like to come out as queer while famous.
I wrote Millett a fan letter full of my sexual confusion and angst. Most authors would have ignored such an intrusive missive. But Millett wrote back. "Keep on truckin,'" she said to me on a postcard.
Millett, who died at age 82 on Sept. 6, 2017 while vacationing in Paris with her spouse Sophie Keir, energized and inspired generations of hetero and queer women. Not only people like me, but our teachers, older sisters – our moms. Her work encouraged us to "keep truckin'" when we didn't know how to even talk about, let alone fight against, sexism or the patriarchy.
Most doctoral dissertations never make it out of academia. Even if they're published as a book, they rarely attract much attention. Yet, as The New York Times has noted, Millett's "Sexual Politics," originally, her doctoral thesis, has been credited with starting a "Copernican revolution in the understanding of gender roles."
Sometimes literary criticism is as dull as dishwater and political analysis, a mind-numbing rant. But that wasn't the case with "Sexual Politics."
In this groundbreaking work, Millett exposed the misogyny of D.H. Lawrence, Henry Miller and other literary titans. Norman Mailer's obsession with masculinity, she said, was "precarious spiritual capital in need of endless replenishment and threatened on every side."
In her literary criticism, Millett used literature to show how women had internalized sexist assumptions about themselves. "Many women do not recognize themselves as discriminated against," she wrote in "Sexual Politics."
Some lesbian feminists said she didn't come out soon enough. Yet, she spoke openly about being a lesbian — writing about her sexuality and fame in "Flying" (1974) and in another memoir "Sita*(1977)."
Millett was a sculptor as well as a writer. In "The Loony Bin Trip," she wrote about her struggles with psychiatric abuse.
Yet, Millett's greatest legacy is her feminist literary criticism. Her investigation into the gender dynamics of novels was revolutionary. It changed hearts and minds.
If you have ideas for this series, Tweet me @UppityBlindGirl.
Kathi Wolfe, a writer and poet, is a regular contributor to the Blade.
Global community needs to help save Brazil's democracy
Jair Bolsonaro trying to undermine judicial independence, LGBTQ rights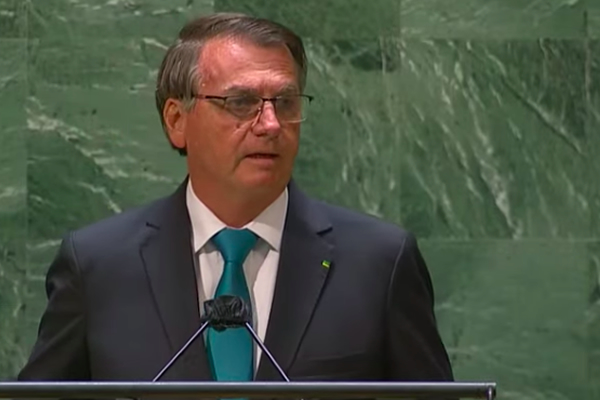 Brazilian President Jair Bolsonaro used the country's independence holiday, Sept. 7, to rally his supporters in protests against Brazil's democratic institutions, particularly the judiciary; basically the only institution at present that checks the president's authoritarian aspirations. Over the past two decades, the Supreme Court has provided a safe space for human rights protections, specifically LGBTQI+ rights. If the court falls, it would be the downfall of Brazil's democracy, posing a threat to its diversity.
Over the past decade, the Brazilian LGBTQI+ community has accomplished historical victories through numerous Supreme Court rulings, including a ruling in 2013 to legalize gay marriage. While these victories were celebrated, they were also bittersweet. As the LGBTQI+ community gained ground in equality; Bolsonaro's far-right party gained political space, and unfortunately, the hearts of some of my dearest family members.
Bolsonaro's accession to power in 2018 came with a wave of conservative, reactionary and LGBTQI+phobic discourse that shook every aspect of Brazil's public and private life. As the minds of minorities in the country darkened and as I fought against depression, I saw my friends suddenly rushing to register their partnerships or change their civil names fearing that the rulings allowing for their rights could be overturned. Three years later, with judicial independence under attack, our nightmares are becoming a reality.
Bolsonaro's government has significantly impacted the LGBTQI+ movement by abolishing the LGBTQI+ National Council and significant budget cuts to Brazil's once globally recognized HIV/AIDS prevention program. Moreover, policies aiming to fight racism or promoting gender equality are also being abandoned or defunded.
Inflation, hunger, unemployment and extreme poverty are on the rise. In the case of further democratic erosion, we are getting the conditions set for a humanitarian crisis in Brazil.
Brazil's stability is of interest to the entire region and the world. Considering the country's influence in Latin America, a coup could generate a domino effect across the continent. Hence, political, social, and economic international stakeholders should raise awareness and pressuring Bolsonaro's administration
Historically, social minorities are the first ones to be sacrificed in political turmoil. As I wrote this text, news came along that indigenous land rights are being bargained and that Bolsonaro will take this attack on the environment to his speech at the United Nations. As has happened in Poland and Hungary, soon Bolsonaro will turn his gun to the LGBTQI+ community. It is clear by now that Bolsonaro envisions Brazil as a leader of far-right conservatism in the world.
That is why we need the global community to stand with us. As we take to the streets calling for impeachment, Bolsonaro still counts with the support of important stakeholders. Businesspeople are among the president's most supportive groups, despite the economic disaster we have been through. If they can't see the obvious internal consequences of eroding democracy, then international pressure should make them see it.
We need clear statements by political parties, foreign media, think tanks, financial groups, etc., that the attacks on Brazil's institutions and minorities will cost the economic sector money. With this, we can unlock the impeachment process and rebuild Brazil's legacy as a country that celebrates diversity.
Egerton Neto is the international coordinator for Aliança Nacional LGBTI+ in Brazil and Master of Public Policy candidate at the London School of Economics.
Congrats to Parkland survivor Cameron Kasky on coming out
An advocate for LGBTQ equality and reform of gun laws
Oh to come out again.
The excitement. The nervousness. The sheer terror? Announcing it over and over to that friend or to that coworker. When people ask when I came out I generally say freshman year. But more accurately it's more of a question of when and to whom? Thinking about it all again, there's really no scenario in which I want to relive that. After all that was 1995, not 2021. The experience has to be a bit different now, right? There are myriad differences between then and now — greater social acceptance, gay marriage, what have you — but one of the greatest differences is that one can sort of do it now in one fell swoop thanks to social media and sites like Twitter.
That's where gun control activist and Parkland massacre survivor Cameron Kasky chose to make his coming out announcement on Monday. You remember Cameron; he was a principal organizer of the 2018 March for Our Lives rally and somewhat a Twitter personality since then. I like him because he constantly picks on Trump loyalist and bobblehead model, Florida Rep. Matt Gaetz.
In his coming out, Cameron noted that his "ability to proudly share who I am today only exists due to queer activists, specifically queer activists of color, giving their lives for our right to exist." Yes, of course, and he's right to pay homage to those who have come before and to mention queer people of color who have and continue in many ways to bear the brunt of social activism. A kid like Cameron, or let's say a man like Cameron now, coming from a comfortable Florida upbringing, could have easily dismissed or ignored any of that and just coasted into a comfortable gay existence. But he recognized his privilege. And there's a head nod to what might be coming, that is the obvious intersectionality of gun violence and anti-LGBTQ violence, not to mention really the scores of intersections of violence in America and the plight of minority groups.
And it should be said that Cameron isn't the only Parkland survivor to come out. X González came out as bisexual closer to the March for Our Lives rally. I'm sure you remember her and her powerful speech there, pausing for several minutes in honor of each of the 17 dead and 17 injured at Marjory Stoneman Douglas High School. Leave it to the queer kids to lead the charge.
I actually spent a morning with Cameron and a few of his fellow students leading up to the rally. I was essentially a media escort, driving them around to different interviews with local media outlets around Washington. We didn't bond or anything and I doubt he remembers. What I remember are teenagers dealing with fame, trauma, and suddenly, but deftly, crafting a coherent and national message. Leave it to a theater kid like Cameron to see it through. I do remember being impressed, perhaps a bit perplexed, that listening to the radio in the van between interviews a 17-year-old knew that Prince actually wrote the Bangles head-bopper 80's hit "Manic Monday." I guess that should have been a giveaway. But we had other things on our mind that day.
Cameron closed his announcement saying that "to those of you who are also struggling to find an identity that you find authentic, take your time. Look inwards and indulge in your beauty and light. You'll find so much to love, so much to be proud of." So what's next for Cameron? Well, I guess that's up to Cameron really. And if he just wants to spend his gay 20s trading in fame here and there, he's earned the right. But I doubt that would satisfy him.
So what's next? I guess there's time, and the space, for all that.
Congrats on coming out, Cameron. 
Brock Thompson is a D.C.-based writer who contributes regularly to the Blade.
The road to DADT repeal — remember their names
'Maybe not in my lifetime, but we are going to win in the end'
"Maybe not in my lifetime, but we are going to win in the end." – Air Force TSgt. Leonard Matlovich, Sept. 19, 1975.
The road to repeal of the codified charade known colloquially as "Don't Ask, Don't Tell" (DADT), masquerading as something different than the Pentagon policy ban dating to World War II, was long and built by many hands. While a straight-identified Congress and president were necessary to reach the destination, LGBT Americans made it happen. But "DADT Speak" can unintentionally erase the some 100,000 discharged before its creation. The following focuses on some of the First Volunteers; those very few service members who chose to risk their careers by outing themselves, putting faces to the ban, without which it would still be destroying lives.
In March 1974, Leonard Matlovich was the happiest he'd ever been in his life. It had taken him until he was 30, and surviving thoughts of suicide-by-war and direct suicide, to finally accept and embrace that he was gay, and now he had a job that he loved: Race Relations Instructor for the Air Force. He was so good in this job that he was sent around the country to train other instructors. An African-American fellow instructor said that, "He has the classroom in the palm of his hand."
His department chief wrote, "As a Race Relations Instructor there is none better. His mastery of group dynamics and group facilitation has enabled him to conduct seminar after seminar around the difficult and sensitive subject of race relations without incident. He should be promoted to Master Sergeant well ahead of his contemporaries."
And then he read an interview with Frank Kameny in the Air Force Times.
World War II veteran Frank Kameny had a genius IQ and Harvard Ph.D. in astronomy. Hired by the Army Map Service (AMS) in 1957, his dream of being one of the first astronauts, in fact, his entire scientific career, crashed and burned when the AMS learned he was gay. LGBs were already banned in the military; now, per Republican President Dwight Eisenhower's Executive Order banning "sexual perversion" among civilian federal employees, he was fired five months later, and, worse, blackballed from employment by any other federal agency or private company or university receiving federal funding.
Unaffiliated with any gay group, he did what no other fired gay person had done. Eight years before Stonewall, he appealed his case against the Secretary of the Army to the Supreme Court in a self-penned brief whose eloquent fury still stuns today.
"The government's regulations, policies, practices and procedures, as applied in the instant case to petitioner specifically, and as applied to homosexuals generally [including in the military], are a stench in the nostrils of decent people, an offense against morality, an abandonment of reason, an affront to human dignity, an improper restraint upon proper freedom and liberty, a disgrace to any civilized society, and a violation of all that this nation stands for. These policies, practices, procedures, and regulation have gone too long unquestioned, and too long unexamined by the courts."
Yale Law School professor William Eskridge, Jr., later called it revolutionary, "the birth of Gaylegal Equality Arguments"; and Frank "the Rosa Parks and the Martin Luther King and the Thurgood Marshall of the gay rights movement."
In a "court of last appeal" letter to newly inaugurated President John F. Kennedy in May 1961, two months after the Court refused to hear his case, Kameny, still on his own, also denounced "the policies, practices, and official attitudes of the military" and "less-than-fully-honorable discharges."
That November he cofounded the militant Mattachine Society of Washington (MSW; not a chapter of original Mattachine) whose four missions included challenging military homophobia— 29 years before the creation of the first national group dedicated to fighting the ban, and 32 years before its codification into DADT.
MSW's unprecedented three pickets of the White House in 1965 included signs protesting the ban, and he led a picket at the Pentagon itself.
"STOP Wasting Taxpayers Money on Hunts for HOMOSEXUALS." "65,000 Homosexual Sailors DEMAND NEW NAVY POLICY." "Quarter Million Homosexual American Servicemen & Women Protest Armed Services Policies." "15 Million U.S. Homosexuals Protest Treatment by Armed Forces."
That year the Navy alone kicked out at least 1,365—some 100 more than all the branches kicked out in the worst year under DADT.
The ban was the subject of the first same day, nationally coordinated gay rights protests in 1966. Frank led another Pentagon picket then flew to New York City to lead a protest there. He was essentially the only non-lawyer source of help for LGB service members trying to avoid being kicked out or at least be granted an Honorable Discharge characterization.
Since at least 1964, he'd been looking for a "perfect test case" — a service member with a clean record willing to out themselves and fight the ban in court. Leonard Matlovich read that in the Air Force Times and called him describing his three tours in Vietnam, Bronze Star, Purple Heart, and outstanding performance ratings. After a number of meetings, Leonard agreed to carry the banner, coming out on the front page of The New York Times and on the CBS Evening News with Walter Cronkite on Memorial Day 1975.
The response was seismic, rippling from the Times to the Kokomo, Indiana, Tribune and around the world. So unlike the mainstream concept of a gay male one reporter asked him if he was really gay. The effect was magnified when he appeared in uniform on the cover of Time magazine with the bold, black caption "I Am a Homosexual"—putting a face on the ban for millions for the first time. Gay historian Nathaniel Frank, author of the definitive book on the evolution of DADT, "Unfriendly Fire," said, "it began a national discussion on gay rights."
Accounts of his four-day discharge hearing filled newspapers and TV screens. When the Air Force board couldn't see past "Homosexual" to the perfect airman, they recommended his discharge; Leonard telling the crush of reporters outside: "Maybe not in my lifetime, but we are going to win in the end." He failed to overturn the ban, but a 1981 Pentagon mandate that, barring extenuating circumstances such as sex on base, all discharge characterizations for gays should be Honorable can be linked to his case. No one imagined how short his lifetime would be, but he filled it fighting for gay equality. Frank was the lead honorary pallbearer, walking by the horse-drawn caisson carrying his body in 1988, and today his grave in Washington's Congressional Cemetery with its iconic gravestone is a place of pilgrimage next to a Veterans Administration cenotaph for Frank.
"Exemplary" Army Reserve Drill Instructor Miriam Ben-Shalom was honorably discharged in 1976 after refusing to deny she was a lesbian during questioning about her criticizing the discharge of Leonard Matlovich. In 1980, a federal judge ruled that her discharge violated the First, Fifth, and Ninth amendments of the Constitution—the first court ruling that the ban was unconstitutional and 30 years before the ruling against DADT in the Log Cabin Republicans challenge—and ordered her reinstated. The Army simply ignored the order for seven years; until a Circuit Court forced them to return her to duty. But they refused to allow her to reenlist at the end of that period of service.
The Supreme Court refused to hear her appeal in February 1990. Three months later, she and five other veterans founded Gay, Lesbian & Bisexual Veterans of America, the first such national lobby group; today American Veterans for Equal Rights (AVER). She and several other veterans were arrested at the White House in 1993 protesting the ban's refashioning as DADT. She was arrested there again in 2010 protesting President Obama's slow walk on repeal along with eight fellow veterans and four civilians including myself.
Sgt. Perry Watkins' 16-year adventure in the U.S. Army began when Lyndon Johnson was president and would not end until George Bush père sat in the Oval Office. It spanned the globe, sometimes a comedy, sometimes a tragedy. It was sometimes even a musical comedy—but it was always, just as the ban itself, nonsensical; here ignoring that he was gay, there trying to kick him out because he was gay. Year after year, time after time, he demanded justice; and, in the end, it was his own truth that set him free—the truth he had told from the very beginning, during his draft physical in 1967 when he was 19 and checked the box indicating "homosexual tendencies."
The first gay African-American soldier to make headlines, while the Army ignored a court order to reinstate Miriam, in May 1982, Watkins also became the first out gay service member returned to duty by a court. But he was kicked out again, and, eventually, the Supreme Court let a lower court ruling stand that he should be reinstated in the name of fairness. Like Leonard, for whom he was an honorary pallbearer in 1988, he chose a settlement; passing himself in 1996.
Petty Officer Keith Meinhold, a certified Master Training Specialist teaching sonar crews on P-3 Orion aircraft how to hunt submarines outed himself on ABC's World News Tonight on May 19, 1992. Formerly recognized as "Aircrew Instructor of the Year," his usually perfect performance ratings drop. Without any evidence, they claimed knowledge of his sexual orientation had "adversely affected his performance of duty and adversely affected the good order and discipline." Though given an honorable discharge he sued and was ordered reinstated. Overall, his return was met positively, and his crew continued to win new awards. He retired four years later with full military honors, naval band music, a Navy Achievement Medal, and a 60-foot American flag.
Purposely coinciding with Meinhold's coming out the same day, 25-year old Navy Lieutenant Junior Grade Tracy Thorne, first in his class in flight training, outed himself on "Nightline." A bombardier-navigator flying A6 Intruders, like a ship on a roiling sea, his status repeatedly changed due to the unknowns of what might happen—or not—to the ban following Bill Clinton's possible election, then election. He joined a five-week, 32-city cross-country veterans bus Tour of Duty to try to drum up public support for an end to the ban. He testified against the ban before the Senate Armed Services Committee — homophobic Sen. Sam Nunn's dog and pony show where he was jeered by 1,000 sailors and Marines. To wild applause and laughter, infamous racist Sen. Strom Thurmond told him, "Your lifestyle is not normal. It's not normal for a man to want to be with a man or a woman with a woman. Have you considered getting help from a medical or psychiatric standpoint?" He filed a lawsuit in 1994 and returned to active duty with the stipulation that the Navy could attempt to discharge him under DADT. In 1995, he was discharged. He sued again; his challenge ending when the Supreme Court refused to hear his case.
Their high-profile outings were planned to coincide with the same-day introduction of the long forgotten end-the-ban Military Freedom Act of 1992. Popular war hero and chair of the Joint Chiefs Colin Powell's statements to Congress killed not only that bill but crippled Bill Clinton's intentions even before he had the party's nomination. Powell: "Skin color is a benign, non-behavioral characteristic. Sexual orientation is perhaps the most profound of human behavioral characteristics." His disingenuous, pseudo intellectual way of saying, "they choose to be gay so it's not a civil rights issue."
Navy Reserve Lieutenant Zoe Dunning outed herself at a Jan. 16, 1993, rally in support of Keith Meinhold. She was allowed to stay in after convincing a board that "status" did not equal "conduct" — a finding immediately forbidden in future cases by the Pentagon. By retirement in 2007, she'd risen to the rank of commander, having served openly for more than 13 years. In December 2010, as co-chair of Servicemembers Legal Defense Network (SLDN) Board of Governors, she was invited to stand next to the president as he signed the provisional DADT repeal bill. Co-founder Dixon Osburn just released "Mission Possible," his account of the crucial role SLDN played in ending the ban.
Former Marine of the Year Sergeant Justin Elzie had served 10 years when he outed himself on "World News Tonight" on Jan. 29, 1993. The Corps reneged on their existing approval for his early separation in April with benefits, moving to honorably discharge him immediately with none. He testified to Congress in support of ending the policy ban. A judge ordered he be retained until his legal challenge was resolved. He eventually settled out of court, receiving the early retirement bonus after having served as an out gay Marine for four more years during which he was recommended for promotion three times. He was one of our 13 arrested at the White House in November 2010 demanding DADT repeal.
Twenty-three-year old Desert Storm veteran and former Sixth Army Soldier of the Year Joe Zuniga outed himself at a huge event honoring gay military activists the night before the April 1993 March on Washington, including Meinhold and Thorne. "The roar was deafening. People cried. People hugged each other." – The Washington Post. The next morning the three joined the veterans' contingent in the march with hundreds of thousands.
Conversely, his Army command was enraged, discharging him, however honorably, in record time—in less than a month. They also brutally demoted him from Sergeant to Specialist after falsely accusing him of wearing a decoration he had not earned. His battalion commander melodramatically threw newspapers in which his story had appeared into a trashcan during his administrative hearing. But he continued to speak out all across America, and appeared in the historic first national gay TV ad; created for the Campaign for Military Service, an ad hoc group representing multiple existing gay groups hoping to offset the rabidly homophobic campaign of those in and out of the Democratic-controlled Congress determined to prevent President Bill Clinton from ending the ban. He also travelled the country and TV newsrooms trying to promote public support.
Army First Lieutenant and Iraq veteran Dan Choi came out on "The Rachel Maddow Show" on March 19, 2009, resulting in his discharge in June 2010. Far from just another came-out-on-TV story, Dan was the first Asian-American to become a leader in the anti-ban movement, and shook that movement when he began to engage in nonviolent direct action in the second year of the Obama administration after the president broke his promise to start working with Congress to end DADT when he took office. Dan allied with new direct action group GetEQUAL, and a small but growing number of people joined him in handcuffing themselves to the White House fence (including transgender veteran Autumn Sandeen); each time growing more media coverage, never more critical than in November 2010 when word went round that the repeal provision bill, stalled in the lame duck Congress, was going to be withdrawn likely damning the chance for repeal for years. Republicans would take over the House in 2011.
I have no proof that the action Dan led that month, joined by Miriam, Justin, et al., helped salvage the bill and, thus, repeal. I can only say that I am proud to have been next to them; one wrist handcuffed to the White House fence behind me; and holding Leonard's Time magazine cover aloft with my free hand.
"Remember your roots, your history, and the forebears' shoulders on which you stand." – Marion Wright Edelman.