January 28, 2020 at 9:10 am EST | by Brock Thompson
'Misc. fetish,' my first weekend at MAL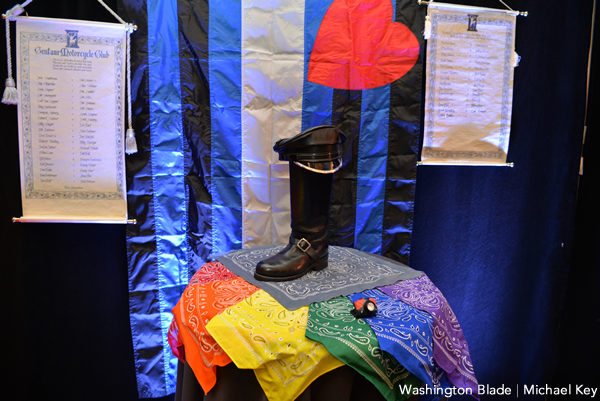 A couple of weeks ago I was down in Key West with some friends. The gay resort where we stayed offered, shall we say, a plethora of porn channel options labeled by category in the rooms. My favorite — channel seven — "misc. fetish." We made it sort of a game; every time we clicked on it was 'spin the fetish.' And let me tell you, the category of misc. fetish is very, very large indeed.
Fast forward to earlier this month, and it was my first time to Mid-Atlantic Leather Weekend. Held annually in Washington, D.C., in January, the event on the whole is one of the more uniquely authentic queer happenings in the country. And, to tell you the truth, this all folds into, as did Key West, my overall goal of being more body positive. Because after living in this city for more than 14 years I've finally made it to MAL. I even bought my first harness — a saucy black leather number. I did that on Friday, rushing over to the Hyatt Regency on Capitol Hill promptly at the opening of the expo.
The next day was spent with friends exploring the hotel and having cocktails in the lobby. If you know the Hyatt on Capitol Hill, it has a huge glass atrium that is usually hosting fanny-packed tourists and lanyard-ladened convention goers from all over the country. For MAL weekend it's transformed into one of the most remarkable queer spaces I've ever seen. I was sporting my harness. And though I'm usually not in the market for more things to feel self conscious about, the whole space was so accepting and free, not to mention my harness was on the more vanilla side of things you'd see around.
Chatting with men from all over — Dallas, Miami, Chicago, even as far away as Brazil – you're reminded that this whole community is so varied and beautiful. You're also reminded that there are countless ways to feel sexy; that everything is accepted and indeed encouraged. For me the feeling was akin to when you walked into your first gay bar and just how liberating that first few steps were. And just looking around at the sight that was unfolding underneath that glass ceiling you just know that this vision in leather is probably what gave Phyllis Schlafly that stroke we were all waiting for.
The hotel staff I talked to seemed to love what was going on around them. No one is required to work the event, all volunteers. Many remarked on just how well-mannered everyone is — good tippers, polite. One told me that the hotel staff refers to their event as their 'Super Bowl.' I was told the whole hotel is already booked solid for MAL 2021. The whole hotel, since I was told that one year there was some overlap with MAL attendees and a certain agricultural group from the Midwest. Truth be told as I arrived for the opening on Friday, I was entering as a certain flock of businessmen were leaving. All dressed in similar grey suits, they had this look on their faces that they couldn't get out of there fast enough. If anyone is still keeping score out there, our lives are far more colorful and exciting than theirs, that's for sure.
The main takeaway for me — every time you think you know everything there is to know about gay, there's another layer to scratch off, another miscellaneous, another group of men doing it another way. For my first MAL, I think I just scratched the surface.
But there's always next year.
Brock Thompson is a D.C.-based writer. He contributes regularly to the Blade.