January 28, 2020 at 11:52 am EST | by Peter Rosenstein
Iowa voters will finally get their say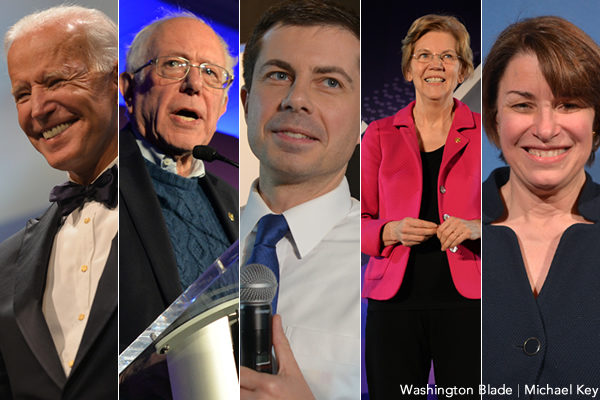 Time to stop looking at the polls and find out who voters will caucus for in Iowa on Monday, Feb. 3. Let me be clear: I think both Iowa as the first state to vote in the Democratic primary, and all caucuses, need to be placed on the dust heap. Nevertheless, here we are.
Since no one has voted all we have is polling, and caucus polling is extremely hard to do and not reliable. It appears four candidates have a shot at winning Iowa: Joe Biden, Bernie Sanders, Pete Buttigieg and perhaps less likely, Elizabeth Warren. Five Thirty Eight has Sanders up as of Jan. 25.
A USA Suffolk University poll has Biden up by 6% The New York Times poll has Sanders up by 7% with 40% of voters saying they could still change their minds and a margin of error for the poll of nearly 5%. No one knows if it will make a difference that Biden and Buttigieg have extra time campaigning in Iowa while Sens. Amy Klobuchar, Warren and Sanders are sitting through the impeachment trial. Or whether the president's team focused on trashing Biden at the trial will hurt or help him.
Once Iowa votes the guessing game turns to what it will mean going forward for the winners and losers. Whose campaign will be on life-support if they don't win? Who can survive a loss and move on still having a realistic hope of being the nominee? For some the stakes are higher than for others. If Klobuchar would come from the middle of the pack to be one of the top three finishers it would give her a tremendous lift and the headlines will scream "look at her." If Sanders wins they will say he has come all the way back from his heart attack and is the man to watch. If Biden wins they will say with his strength in the Super Tuesday primary polls he is now the presumptive nominee. If Buttigieg wins he will be hailed as the young hero and the media will look to New Hampshire and question if he wins there will it make any difference in any Super Tuesday state where he currently polls at less than 8% everywhere. If Warren were to win it would recharge a candidacy that seems to be going downhill.
What if they lose? If Sanders doesn't win Iowa it will be said his surge is over and it looks like he will see the same result as 2016. If Klobuchar gets some delegates but is not in the top four she will continue in the race but it will be accepted it's only for a chance to be the vice presidential candidate. If Buttigieg loses it will most likely be the end of the line for his hopes of winning the nomination. He will have the money to go on for a while but his problem will be many supporters will move on to new candidates. He recently didn't win the endorsements of any of the three LGBTQ political clubs in New York and it is reported the lesbian mayor of Chicago is considering endorsing Bloomberg. Rufus Gifford, the gay former ambassador to Denmark and finance director of President Obama's successful campaigns, recently endorsed Biden. If Biden loses, the media will start asking about whether his leads in the South will hold up or whether Bloomberg's billions will eat into those leads. But win or lose he moves on to Super Tuesday. If Warren loses it will signal her campaign is close to over.
If there is no clear winner — if Warren, Sanders, Buttigieg and Biden all end up within a point of each other in Iowa, the game moves on to New Hampshire on Feb. 11 pretty much unchanged, except for maybe Biden who gets a positive boost because so many people anticipated by Iowa his campaign would fade. So even with a near win he will have shown he has staying power along with his big leads in the Super Tuesday states.
I began this column suggesting Democrats continuing to allow Iowa to go first with a caucus is insane. The state is not representative of the Democratic primary voters nor the general election voters Democrats need to win. The state has sometimes proven it can make or break a candidate, but often the winner of the Iowa caucus either doesn't become the nominee or if they do, goes on to lose the general election. Time to end the tradition of Iowa being first in the nation.
Peter Rosenstein is a longtime LGBTQ rights and Democratic Party activist. He writes regularly for the Blade.