January 28, 2020 at 9:57 pm EST | by Leonard Robinson III
The Washington Examiner's leather problem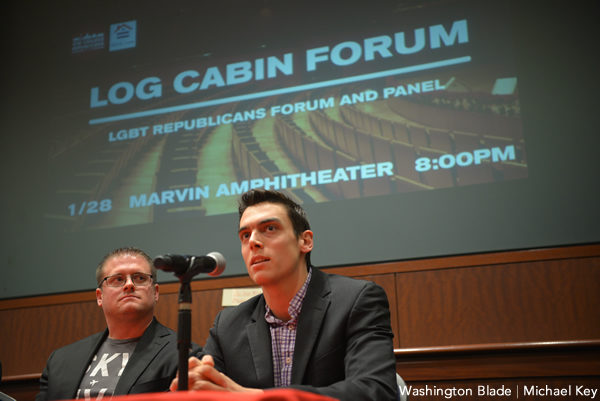 The Washington Examiner has an issue with leather. Or at least its columnist Brad Polumbo does.
What's his problem, you ask? Did a popular leather site run out of straps in his size? Nope. Does his favorite strap no longer fasten? Nope. Or worse, did some leather-clad daddy not accept his Twitter-dm advances? As far as we know, no.
Instead, he argues the D.C. leather community, which celebrated Mid-Atlantic Leather Weekend earlier this month, is responsible for annihilating gay progress.
Last summer, Polumbo wrote that Pride month celebrations were "hijacked by a left-wing agenda" and that these marches are inevitably prone to "devolve into the same stereotypes of sexual deviancy that they're supposed to be dispelling." Months later, he argues that Mid-Atlantic Leather weekend was yet another example of a, "phenomenon, wherein a loud minority of "progressive" gay people flout their deviancy in public and reinforce bad, faulty stereotypes, was on display once again this weekend."
"Across the country, untold millions of gay people such as us went about their normal lives, without making any headlines in the process," writes Polumbo. "Meanwhile, D.C.'s degenerate gay community was busy celebrating 'leather weekend' giving us all a bad name and annihilating what progress we've made."
In June, he wrote: "The hypersexualization of the Pride movement is so extreme that it's reinforcing the biases some Americans still have against gay people. Attitudes toward gay rights are shifting in the right direction, but a portion of the country remains deeply opposed to homosexuality, and views it as a deviant, immoral lifestyle. How will we change their minds?"
In reading these words, I couldn't help but ask: Why should gay people be forced to tone down their expressions of themselves and their sexuality to comfort a group that will probably never embrace them?
It is nearly impossible to consider that the opportunity to live, work, play, and love as an openly gay man in one of the most gay-friendly metropolitan areas in the country could lead many to believe that gay people should earn the acceptance of their straight peers as a reward for heteronormative behavior. If everyone just found a boyfriend, cooked dinner with them every night, and didn't mention that they have sex, then we would be well liked.
Polumbo is certainly not the first to echo that sentiment. After all, it is imperative that gay people have the ability to buy into monogamy, marriage, children, and the white picket fence as was the focus of much of the 2010s gay rights movement.
This alone, however, is not enough.
Gay people must also have the ability to explore and express themselves sexually, as long as everyone is a consenting adult. In fact, this might be a plus in proving to people that are not gay that gays like almost any group are not monolithic and include a wide array of people.
It is fascinating that for all their libertarian priorities, like individual freedom and freedom of expression, gays on the right would shudder at the idea of sacrificing traces of their identity and expression for the sake of group conformity. This is merely the cultural equivalent of a business owner being forced to violate their religious beliefs or someone's speech on campus being suppressed due to restrictive and burdensome rules surrounding hate speech.
Polumbo's article adds fuel to the fire caused by the false dichotomy between gays who embrace a more traditional understanding of relationships and sexuality and those who embrace an alternative. Not only is this dichotomy false, but tragically ignores the contributions that both of these vital aspects of the gay community have made for our advancement.
Lastly, this only emboldens our opponents who like nothing more than watching the gay community fight their battles for them. What's the best way to encourage people to suppress who they are? Get the brunch crowd made up of other urban gays to do it for them.
It seems like Polumbo has taken the bait, but I hope he learns his lesson.
Leonard Robinson is a Baltimore-based freelance writer who has been published in New Voices magazine and Reason.