January 28, 2020 at 1:24 pm EST | by Joey DiGuglielmo
QUEERY: Olga Liapis-Muzzy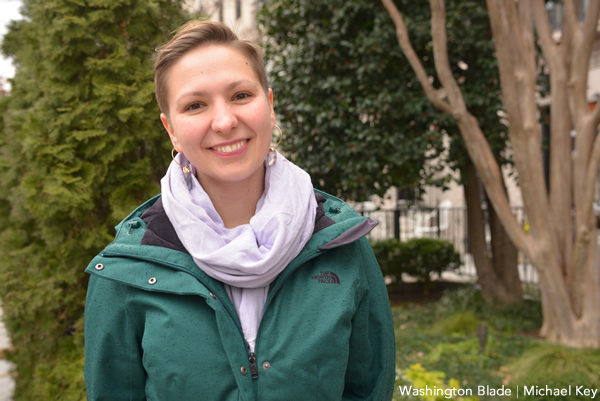 Olga Liapis-Muzzy doesn't remember a time in her life when she wasn't dancing in some capacity. Her Dad says she was even bopping around in her stroller.
"My parents had taken me to my first concert, a jazz concert, and as soon as the music began, the story goes, I started dancing and giggling," she says.
She started dancing more seriously in college and was intrigued by a dissertation she heard about tango dancers in Chicago. Upon checking out a local tango group the following week in Bloomington, Ind., Liapis-Muzzy was immediately hooked.
"I love the level of improvisation and creativity," the 33-year-old Milwaukee native says. "I love the fact that I can walk into a tango event in any part of the world and dance with a complete stranger in an improvised way."
Liapis-Muzzy now teaches Queer Tango Initiation classes with Tango Mercurio. The current series runs Feb. 3-March 9 at the Green Lantern (1335 Green Ct., N.W.). The series is $120. Details at tangomercurio.org or look for "queer tango" on Facebook. Queer Tango classes offer a safe space for same-sex dancers to study Argentine Tango learning both traditionally male/female roles, role switching and dancing with a variety of partners. The classes are on the second floor from 7:30-9 p.m. on Mondays.
How hard is it to learn the tango? Liapis-Muzzy says be ready for a challenge.
"It's not that it's difficult, it's that it takes time," she says. "Unlike other dances where you are learning choreography, with tango it's more like you're learning a new language."
Liapis-Muzzy moved to Washington five years ago after several years in Baltimore. She works by day in training and organizing with Indivisible, a progressive activist company.
She's in a relationship with Nathalie Karpati and lives near Fort Totten. Liapis-Muzzy enjoys tango and gardening in her free time.
How long have you been out and who was the hardest person to tell?
I was a bit of a late bloomer and didn't start dating women until I was 23 years old — which (wow) means I've been out for 10 years! My aunt was definitely the hardest to tell.
Who's your LGBTQ hero?
Adrienne Maree Brown
What LGBTQ stereotype most annoys you?
That we are all one big monolith of a community.
What's your proudest professional achievement?
The first tango performance where I was leading, was both one of the scariest and ultimately proudest moments of my dancing career.
What terrifies you?
The prospect of Donald Trump being in the White House another four years.
What's something trashy or vapid you love?
I love all those terribly embarrassing moments on "America's Funniest Home Videos" where someone unexpectedly falls down.
What's your greatest domestic skill?
Sewing buttons back onto clothing.
What's your favorite LGBTQ movie or show?
Season one of "Queer Eye" takes the cake for me. That first season was chock full of genuine moments of vulnerability and bonding between unlikely connections. The episode where the Fab Five are working with the police officer and Karamo doesn't just empathetically and genuinely connect with the guy, but actually dives into a true conversation around police brutality was an act of community organizing.
What's your social media pet peeve?
There really is such a thing as too many hashtags.
What would the end of the LGBTQ movement look like to you?
I don't believe there will ever be an end to the LGBTQ movement. As with so many other movements, those of us with the most privilege will win rights/access/liberation the fastest and that only makes it more imperative that we don't walk away from the fights of our sisters/brothers/siblings who are still being marginalized.
What's the most overrated social custom?
The question "how are you" used as a greeting. We don't really want to know how the other person is doing and yet we constantly ask it.
What was your religion, if any, as a child and what is it today?
I spent part of my childhood living in Greece, from 2-9 years old, so grew up Greek Orthodox. I definitely don't consider myself Greek Orthodox anymore, although I still celebrate some of the traditional holidays with my family.
What's D.C.'s best hidden gem?
The Mansion on O Street! It's a labyrinth of secret doors and passageways, one of my favorite ways to spend an afternoon in D.C.
What's been the most memorable pop culture moment of your lifetime?
I still remember buying the last Harry Potter book, "Harry Potter and The Deathly Hallows." I was in college and both really excited but also quite sad to be reading the last book in a series that had followed me through so much of my childhood.
What celebrity death hit you hardest?
It's always hard to lose public figures. I'm still in shock at Kobe Bryant's death last weekend.
If you could redo one moment from your past, what would it be?
I'd have bought some Bitcoin in the early 2000s.
What are your obsessions?
Cheese, houseplants and tango.
Finish this sentence — It's about damn time:
… we all had a living wage.
What do you wish you'd known at 18?
That everyone is in fact just trying to figure it out.
Why Washington?
Because this city is beautiful.