February 3, 2020 at 5:31 pm EST | by Chris Johnson
Iowa caucuses overseen by Democratic leader with record as LGBTQ advocate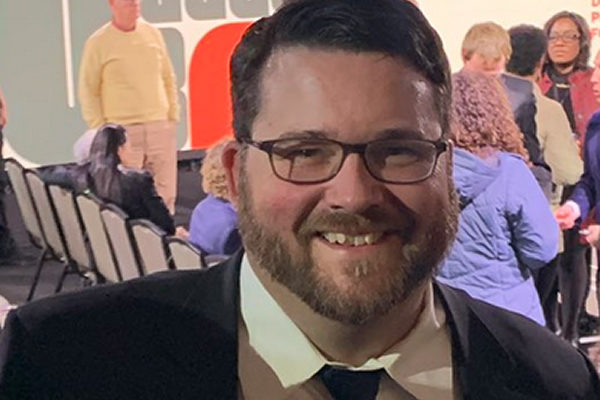 DES MOINES, Iowa — As Iowa voters make their decision on which presidential candidate to support during the Iowa caucuses, they'll take part in a system overseen by a state Democratic Party chair who came to the position after working as an LGBTQ rights advocate.
In an interview Sunday with the Washington Blade, Iowa Democratic Party Chair Troy Price said he's satisfied each of the candidates have been leaving no stone unturned in search of support in Iowa.
"This process forces candidates to have to dig deeper, forces some candidates to have to go outside of the elevated stage…and inside the coffee shops and into the VFW halls and into gay bars and all of these different places to go and have a conversation with folks where they are," Price said.
As the results start pouring in, Price said he expects to monitor them at the state party headquarters.
"I'll be in our boiler room watching the results come in, seeing how everything's shaking out across the state, making sure that people are getting into their caucus sites, making sure that any problems that happen are being addressed quickly, and then just sitting back and watching this great expression of democracy take place," Price said.
Elected as Iowa Democratic Party chair in 2017, Troy Price has been charged with the daunting task of rebuilding after devastating losses to Republicans in 2016. But it wasn't the first time he was tasked with the prospect of rebuilding.
Working as executive director of the LGBTQ group One Iowa, Price had to rebuild after a devastating loss in 2010 when three of the state justices who ruled in favor of same-sex marriage were removed from the bench in a ballot referenda.
At the same time, Republican lawmakers in the state legislature were trying to reverse marriage equality via a constitutional amendment. They ultimately were unsuccessful.
Price said those challenges he faced in 2010 were similar to the tasks before him after being elected Iowa Democratic Party chair in July 2017.
"That experience of trying to rebuild folks, to try and rebuild confidence in lived communities is exactly what we've been doing here at the party for the few years," Price said, "and that experience really helped shape a lot of the work that we're doing now to make sure that folks feel good and put us on the cusp of success once again here in Iowa."
Price has a specific goal before him: Retake the state legislature, where both the House and Senate are now controlled by Republicans, for the Democratic Party.
It will be a daunting task. After all, Trump handily won Iowa in 2016, even though the Hawkeye State is traditionally "blue" in presidential elections. In 2018, as the rest of the country saw a "blue" wave of Democratic victories, Republicans maintained their control of the governor's mansion and both chambers of the state legislature.
"We've been going out and meeting and talking with folks where they are, building our organization in places where folks thought we didn't have any, and part of that is this caucus process, which is the nature of the process because you have to build that organization," Price said.
Of course, there's another contest to resolve before the general election when the state legislature is up for grabs.
Price has the distinction of being at the head of the Iowa Democratic Party as presidential candidates come to court Iowa residents ahead of the first-in-the-nation presidential contest. Whoever wins the Iowa caucuses will have strong momentum toward getting the Democratic nomination to take on President Trump in the general election.
Amid talk of potentially shaking up the primary calendar to give another state a chance to go first, Price said holding the Iowa caucuses first helps the eventual Democratic presidential nominee.
"There's a reason why people who do well in Iowa typically do well after Iowa," Price said. "It's not because they got the most delegates or anything like that. It's actually because they figured out a way to build an organization, to craft a message that's able to communicate with a broad array of people all at the same time. And that's the value in Iowa."
Price said he was also impressed each of the candidates in the 2020 election have been positive in their approach, with the exception of a "jab here and there."
"You just see a little dust up in the press," Price said. "Nothing too big. You're not seeing negative ads from the campaigns, you're not seeing the candidates directly attack each other. What you're seeing is the candidates out there talking about why they're the best person to go forward."
But 2020 stands out in another way. Price also has the privilege of overseeing the Democratic caucuses as a gay man when former South Bend Mayor Pete Buttigieg is making waves as an openly gay presidential candidate.
With Buttigieg showing off his skills as a prodigious fundraiser and effective communicator, Price was careful not to undermine his neutrality in the primary, but said the candidate's good standing in the polls — especially in a state where 10 years ago justices were voted out for ruling for same-sex marriage — demonstrates the progress the country has made on LGBTQ issues.
"To see someone like Pete be able to be a serious, credible candidate in the race I just think speaks to how far not only Iowa has come, but how far the country has come," Price said. "That being gay is not a factor in the race that people are going to judge a candidate off of."
Pressed on what Buttigieg's success means to him personally as a gay man, Price initially demurred, saying, "I don't like talking about myself very much."
"For me, it's just great to know that we've come this far, that there's no barrier," Price said. "When I was getting involved in politics, it was the late '90s, early 2000s. People said being gay was a liability, that you could never hold elective office or it would only be on liberal parts of the country. And I think what Pete's candidacy shows is that's gone, that's not a factor anymore, especially when you see the crowds and support that Mayor Buttigieg has in broad parts of the state."
Although the Iowa caucuses are a quadrennial event, this year's caucuses have a new feature. In addition to precincts recording the winner of the caucuses for the official delegate count, the vote for the candidates at the start of the caucuses will be recorded as well as the raw vote count after realignment.
So that means three sets of results: A vote tally at the beginning, a vote tally at the end and the delegate count. As a result, three different Democratic contenders could claim victory when everything is said and done.
Asked about the change and whether it would inspire any confusion on caucus night, Price said the change should allow for greater transparency in the process, citing the need to have an official count as opposed to vote counts from the candidates' campaigns.
"It's our commitment to making sure this is one of the most transparent caucuses in Iowa history." Price said. "And it's going to provide information to be able to see between first alignment and second alignment, how candidates are building, where they're grabbing support from, who's building consensus within the party."
At the end of the day, however, Price said delegates will be awarded just as they have been in the past, which is proportional based on the support they earn in the caucuses.
In terms of LGBTQ issues, Price has good reason to want to flip the state legislature to the Democrats. Republicans have introduced a slew of anti-LGBTQ bills in the state legislature.
The most high-profile was a bill that would erase transgender people from the state's civil rights law, although the measure now seems dead after the Republican chair of the House committee with jurisdiction said it wouldn't move forward, according to the Associated Press.
"It's awful and it's the reason why we are so focused on making sure that we get back the Iowa Legislature this year," Price said.
But that bill wasn't the only piece of anti-LGBTQ legislation in Iowa. Another bill, HF2202, would inhibit transgender kids' ability to compete in sports consistent with their gender identity, while HF2201 would restrict educators from discussing sexual orientation and gender identity and SF2130 would require Iowans to disclose their sexual orientations on birth certificates, which could then be used to deny them the ability to adopt.
Price said the legislation stands in contrast to Iowa's long history of being at the forefront of civil rights, including being one of the first states where same-sex marriage was made legal.
"It's outrageous," Price said. "One of the points of pride for many Iowans is the leadership role that Iowa has played in civil rights, not just the Varnum decision, but we desegregated our schools 70 years before Brown v. the Board of Education, we had the first woman admitted to the bar. On issue after issue, Iowa has led the way, and it's always awful to see that there are people, particularly elected officials, who are trying to go against that great tradition."
Iowa isn't the only state with pending anti-trans legislation. Other states are contending with anti-trans bills that would prohibit — and even criminalize — prescribing transition-related care, including hormones, puberty blockers and surgeries, to youths. The most prominent case is South Dakota, where the House last week approved such legislation.
Price, drawing on his experience beating back an anti-gay marriage constitutional amendment in the Iowa Legislature, said transgender rights supporters in those states should focus on education and building consensus in the public.
"So that's my advice, it's really about building coalitions, about building consensus, about educating people on the damage that legislation like that can do," Price said.