February 6, 2020 at 1:19 pm EST | by Chris Johnson
DNC chair calls for 'recanvass' after Iowa caucuses fiasco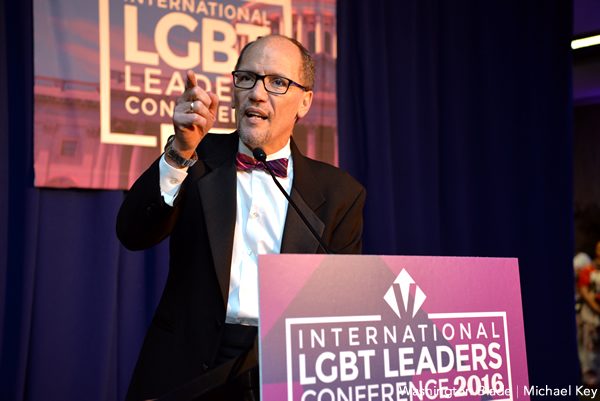 Chairman of the Democratic National Committee Tom Perez calls for to "recanvass" in the aftermath of a fiasco this week in vote-counting of the Iowa caucuses.
Enough is enough. In light of the problems that have emerged in the implementation of the delegate selection plan and in order to assure public confidence in the results, I am calling on the Iowa Democratic Party to immediately begin a recanvass.

— Tom Perez (@TomPerez) February 6, 2020
Perez makes the call amid frustration with Democrats over the tallying of the results of the Iowa caucuses.
Irregularities include a significant delay in official results as well as reports of precinct captains not following the rules for counting votes, an iPhone app that failed in its job to collect votes and a backup telephone system that also malfunctioned.
As of Thursday, the full results of the Iowa caucuses weren't still unknown. But with an estimated 97 percent of votes tallied up, Sen. Bernie Sanders (I-Vt.) and former South Bend Mayor Pete Buttigieg were in a virtual tie.
In terms state delegates awarded, Buttigieg won 26.2 percent, compared to the 26.1 percent won by Sanders. In terms of the sheer vote count on the Iowa caucuses both before and after realignment, Sanders has an extremely narrow lead over Buttigieg.
According the New York Times, the results released by the Iowa Democratic Party "were riddled with inconsistencies and other flaws."
"According to a New York Times analysis, more than 100 precincts reported results that were internally inconsistent, that were missing data or that were not possible under the complex rules of the Iowa caucuses," the report says. "In some cases, vote tallies do not add up. In others, precincts are shown allotting the wrong number of delegates to certain candidates. And in at least a few cases, the Iowa Democratic Party's reported results do not match those reported by the precincts."
The Iowa Democratic Party has a recount and recanvass manual as part of their delegate selection plan, a Democratic National Committee spokesperson said.
A recanvass is defined as "a hand audit of Caucus Math Worksheets and Reporting Forms to ensure that they were tallied and reported in the telephone intake sheets and caucus reporting application correctly."
A recount, on the other hand, is defined as "a hand count and audit of Presidential Preference Cards to ensure that caucus votes were tallied and reported correctly in the caucus worksheets and reporting forms."
The Washington Blade has placed a request in with the Iowa Democratic Party on whether it would comply the demand to recanvass.