February 11, 2020 at 4:04 pm EST | by Peter Rosenstein
Is Mayor Pete prepared to be president?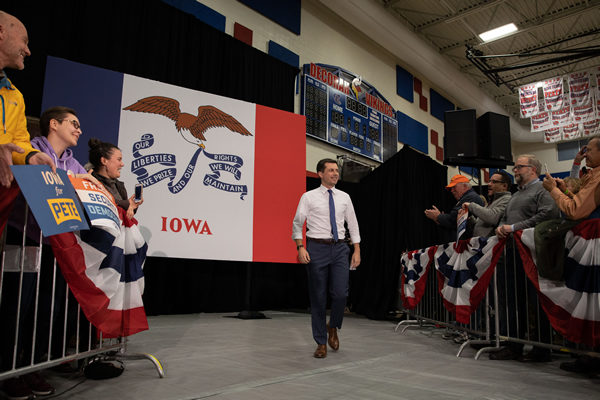 Is Mayor Pete prepared to be president? That's the question many are now asking since he won Iowa and is doing well in New Hampshire. To answer it, we must first ask whether anyone is really ready to be president. Will it make a difference to the majority of the electorate if their candidate's experience seems up to the task? Sixty-three million Americans voted for a failed businessman and schlock TV host with no government experience.
Pete's parents were academics at Notre Dame and he is an only child. He apparently sailed effortlessly from his Montessori school to private schools through graduation magna cum laude from Harvard and on to Pembroke College, Oxford where on his Rhodes Scholarship he earned a bachelor's degree with first-class honors in philosophy, politics, and economics. Not surprising some suggest his life was lived in a bubble of white privilege. After Oxford unlike other politicians such as Cory Booker and Bill Clinton, also Rhodes Scholars, he decided not to go for a final degree, they both went to law school, rather he seemed prepared to go into politics first spending three years in the private sector at McKinsey Global Consulting.
Mayor Pete is smart. He speaks seven languages in addition to English. He has campaigned for a number of candidates over the years and was in a group of Oxford friends calling themselves the 'Democratic Renaissance Project.' He began his political career with a resounding thud when he lost big in his try for Indiana State Treasurer in 2010. That didn't deter him and he entered the mayoral race in mostly Democratic South Bend in 2011 and became mayor of his hometown. He served two terms ending his tenure during his presidential campaign on Jan. 1, 2020. South Bend is a small city of 100,000. Pete worked hard to move the city forward but it wasn't all smooth sailing. During his time as mayor he was also in the Navy Reserves (from 2009 to 2017) and was deployed to Afghanistan as a lieutenant for seven months. While not seeing direct combat he did face danger according to reports. I thank Pete for his service as we thank all those who serve in the military and their families who make sacrifices to keep us safe.
There are a number of things of note that happened while Pete was mayor, including his coming out before winning his second term; running and losing a race for DNC chair; and now running for president. He is still having to answer questions about firing both the African-American police and fire chiefs and his recent handling of the shooting of a black man by a white police officer. He moved forward on urban renewal but some complained about the displacement of families in minority communities. The budget of South Bend is $358 million with 1,285 employees compared to New York City with $92 billion and 325,000 employees. For better or worse, Michael Bloomberg will spend much more than the entire budget of South Bend on campaign ads.
Accusations that Pete is living in a bubble of white privilege gained credence with comments like, "I have to confess that I was slow to realize ― I worked for years under the illusion that our schools in my city were integrated because they had to be because of a court order," and others made to a group of children in 2014 when he said, "the signers of the Constitution didn't know slavery was wrong."
So it's fair to ask what it is we want a president to know and what we consider relevant experience for the job. How does Pete compare to others seeking the nomination in the area of foreign affairs? In knowledge of and connections in the Congress? And running a government organization? Some have compared Pete to Barack Obama, yet there is a difference. While Obama didn't have the administrative experience of running a small city he was a constitutional law professor, had seven years in the Illinois state legislature and was in the United States Senate for nearly four years before being sworn in as president. He could also count on winning his home state while it is safe to say Pete likely won't win Indiana. Other young Democrats who won, Bill Clinton and Jimmy Carter, were governors before being elected president.
So, again, it is eminently fair to question Mayor Pete on his experience and how it should impact the decision people will make whether or not to support him. It is up to the voters to decide.
Peter Rosenstein is a longtime LGBTQ rights and Democratic Party activist. He writes regularly for the Blade.