February 11, 2020 at 9:21 am EST | by Richard J. Rosendall
Trans erasure in our midst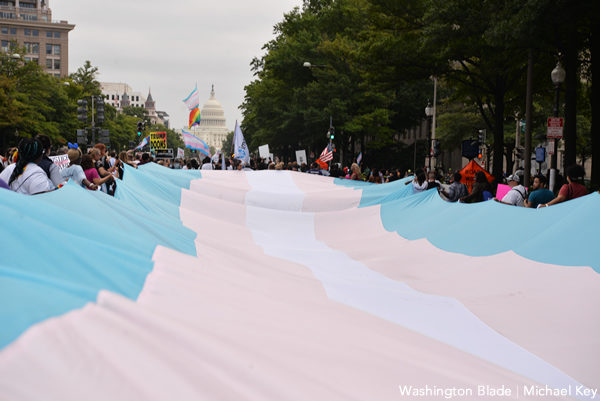 The acronym TERF stands for trans-exclusionary radical feminist. I mention it here before mentioning the Trump administration or conservative state legislatures, which have been up to a great deal of transphobic mischief, because anti-trans feminists have been around for decades.
Given how easily discussions on controversial topics can deteriorate into vituperative exchanges, I want to be clear that if my criticisms do not apply to you, then I am not talking about you. For example, there are some radical lesbians who are viciously hostile toward trans women, deny their legitimate existence, use their "dead names" (pre-transition names), and deliberately use the wrong pronouns for them. If this does not apply to you, then please understand that I am not talking about you.
The sad fact is that anti-transgender intolerance makes for some strange political bedfellows. Many TERFs have aligned themselves with right-wing evangelical figures and organizations to advance their anti-trans agenda.
Transphobes are moving beyond "bathroom bills" and bans on military service. As Dr. Jack Turban writes in The New York Times, "In South Dakota, the House recently passed a bill that would fine or even imprison pediatricians who provide gender-affirmative care to patients under 16."
It is easy to sensationalize little-known subjects. This is compounded by a president and administration that reject science and make a virtue of know-nothingism. As Dr. Turban writes, "The bills are about medical care, but the state representatives sponsoring them seem unfazed by the fact that all relevant major medical organizations disagree with them…. The public deserves accurate medical information about how doctors care for transgender youth, instead of alarmist commentary from pundits and politicians."
Treatments vary by age. "Puberty blockers" have been shown to be safe and to prevent mental health problems caused by development of physical traits conflicting with a youth's gender identity.
Sound-bite policymaking by people who never bother to learn about what they are criminalizing must be resisted.
Much of human misery results from attempting to control one another. We are now in an election season that will determine whether America's fitful journey toward egalitarianism will be derailed in an ethno-nationalist fury of racism, sexism, xenophobia, and religious intolerance.
We are divided and defeated if we lack the grace and courage to reject tribalist fears based on racial, cultural, religious, and gender differences. We cannot even see one another if we overgeneralize based on our own trauma. As Ben Franklin said, "We must hang together, for surely we will hang separately."
The key insight is that everything is not about you.
Sen. Mitt Romney, anticipating the mountain of grief he would receive for voting to convict Trump of abusing his office, asked rhetorically why he would do it except out of faithfulness to his conscience. Similarly, the abuse heaped on trans people just for going about their lives is so widespread that it is hardly plausible that they would endure it except out of personal integrity.
Our ability to cohere as a society erodes if we retreat into bubbles of suspicion and resentment. Your right to feel discomfort over others' differences ends somewhere before the passage of laws to erase them. We have a right to many things, but not to our neighbors' disappearance.
Trans women are not "men in dresses." That affront is not supported by the science, which was advanced enough to find its way into Obama-era DOJ court filings.
Inherent in the role of an ally, as someone supporting justice for sexual minorities, is to defend our transgender sisters and brothers. They are at the bleeding edge of the Trump Administration's attacks on gender variance. They face greater risk of employment and housing discrimination and hate crimes.
A basic social truth is that if trans people have no right to exist, then neither do you or I. Whatever your sexual orientation or gender identity, you are capable of looking around and recognizing that you live in a diverse society. Everyone is not the same, and is not going to be. If you seek to impose your concepts of gender on others, you have no right to complain when someone does it to you.
Richard J. Rosendall is a writer and activist at rrosendall@me.com.
Copyright © 2020 by Richard J. Rosendall. All rights reserved.