February 14, 2020 at 2:37 pm EST | by Patrick Folliard
'Spring Awakening' choreographer Paul McGill had a promising start in the spotlight but moved behind the scenes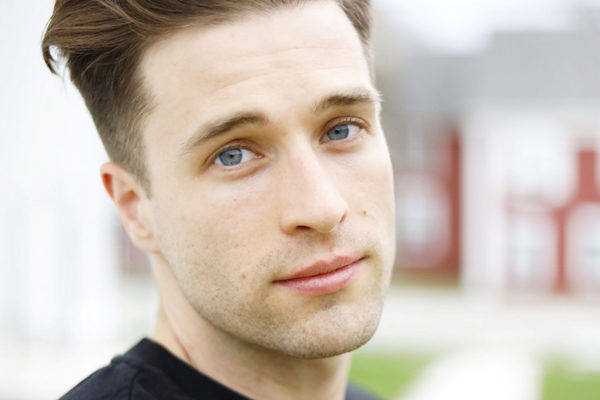 'Spring Awakening'
Through Feb. 23
Round House Theatre
4545 East-West Highway
Bethesda, MD
$56-88
240-644-1100
Broadway's "Spider-Man: Turn Off the Dark" was troubled from the start. Plagued with delays, stunts gone wrong and injuries, some considered the show cursed.
During his two years playing various parts in the musical, Paul McGill saw a lot of the craziness up close. He remembers after one castmate suffered a particularly serious injury, walking the streets of Manhattan and contemplating his own future as a dancer.
"I asked myself if my career ended today, would I have done what I wanted?," McGill says. "The answer was no. That day I decided to use my skill in a way that I could best serve and I knew it wasn't onstage."
It was 2014, and McGill, not yet 30, stopped performing and focused exclusively on choreography, an art that interested him greatly.
In the ensuing years, a rush of choreography jobs followed including the revival of "Hedwig and the Angry Inch" on Broadway, "The Legend of Georgia McBride" off-Broadway and in Los Angeles, and working with Laverne Cox for Fox's "Rocky Horror Picture Show."
His most recent gig is "Spring Awakening," Duncan Sheik and Steven Sater's Tony-winning adaptation of Frank Wedekind's 19th-century drama about the agonies of adolescence, now playing at Round House Theatre in a production directed by busy, out director Alan Paul.
Recently in the theater's newly renovated lobby, McGill, 32, spoke about his approach to the show.
While it's true that audiences come expecting to see the show's trademark angsty stomping dance moves, McGill has tried something different: "It definitely calls for some stomping, but in my work, I try to find the cliché version and avoid that."
Instead, he focuses on the meaning of the play. Here, it's the relationship between parents and children and the love, or lack thereof, passed from generation to generation.
"For me, the metaphor is a season of crops," he says, "the pain just before blooming and what happens after that. I hope it comes across."
The Pittsburgh native got into showbiz early. McGill started dance lessons at 3 and spent his youth acting in local professional theater and school musicals. Then, when he was a junior in high school, McGill was cast in the Broadway revival of "La Cage Aux Folles," prompting his immediate transplant to New York City and a professional performing arts school. Next, he played Mark in "A Chorus Line," another high-profile Broadway revival.
"For me that was college, "he says. "The cast members were my best friends. It was an incredible learning time."
In 2009, he played Kevin, the gay teen dancer, in the 2009 feature film remake of "Fame." At the time, McGill, who came out at 16, was cagey with the gay press.
"I wasn't sure about my character and was evasive in interviews," he says.
In retrospect, he sees the character as categorically gayer than himself.
"I guess I'd call myself 'out and open,'" says McGill who's been with his boyfriend for four-and-a-half years. "It really is about the person to me. Doesn't matter if they're a man or woman, cisgender, nonbinary or trans."
Career changes don't come without sacrifices.
"If I'd continued performing, I'd be better off financially. But I wholeheartedly believe my decision will pay off. A lot of people dabble in performance and choreography, but I want to send a clear message to myself and the universe about my true investment."
Ideally, McGill aspires to have a career like Kenny Ortega, the famed director/choreographer behind hit films like "Hocus Pocus," "High School Musical," "Dirty Dancing" (choreography only), and numerous concert tours, including tours for Cher and Michael Jackson.
McGill's interest spans stage to TV to film — "whatever is the most accessible medium for that story." Shows he'd like to choreograph include "Cabaret" and "42nd Street." Not so much "The Wedding Singer."
Looking back, McGill doesn't see his stint with "Spider-Man" as time wasted. Now at work, he strives to ensure that the cast is safe but not overly cautious or too wary. And it inspired him to become his most authentic self.
"Sometimes," he says, "I wear my 'Spider-Man' shirt for good luck."