February 21, 2020 at 2:56 pm EST | by Patrick Folliard
Keegan's 'Boy' is gut-wrenching coming-of-age tale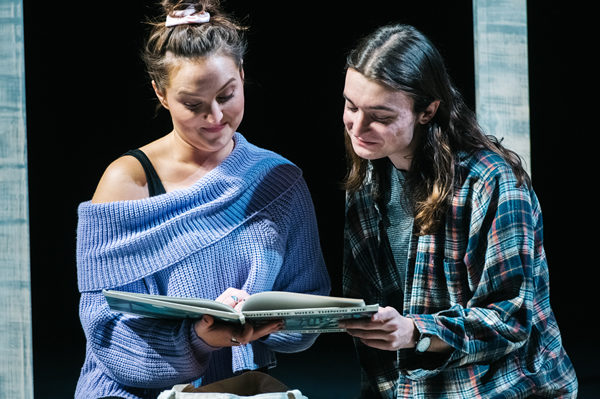 'Boy'
Through March 7
The Keegan Theatre
1742 Church St., N.W.
$41-51
202-265-3767
Anna Ziegler's "Boy" is a searing story of sex and gender. Currently making its Washington-area premiere at Keegan Theatre, the prolific playwright's 2015 work unblinkingly explores the pain and struggle that results when gender is imposed regardless of what the person feels he/she/they are.
In Ziegler's play, the boy in question is Adam Turner (John Jones).
His tale is told swiftly in numerous scenes, some far more illuminating than others. We're introduced to Adam on Halloween. He's at a party, tellingly dressed as Frankenstein's monster, where he meets, seemingly for the first time, a very tipsy Jenny (Lida Maria Benson). She's dressed as a Playboy bunny, a costume she's been reprising since 10th grade.
In fits and starts, a romantic relationship develops. But to Jenny's dismay, Adam is hiding something. If he doesn't open up, this boy-meets-girl love story will end before it begins.
Originally Samuel, self-named Adam was the victim of a botched circumcision that destroyed his penis. Unsure what to do, his parents reach out to renowned specialist Dr. Wendell Barnes (Vishwas) who insists the only successful response to the situation is to raise Samuel as a girl and never reveal his true sex.
Parents Trudy (Karen Novack) and Doug (Mike Kozemchak) follow the well-meaning doctor's instructions slavishly, changing their son's name to Samantha, supplying a wardrobe of dresses and filling his toy box with dolls.
But despite the trusting Iowans best efforts, Trudy notes Samantha's unhappiness. When Doug shows Samantha's twin brother how to work on cars, the little girl looks on longingly from inside the house. At school, she is generally miserable, alienated from her classmates.
The only respite in Samantha's life are her occasional visits to Dr. Barnes in Boston where she feels accepted and loved. But as the patient enters puberty, those visits are no longer cheerful.
Alone with the doctor, Samantha refuses to discuss a proposed vaginoplasty and rebels against taking hormones. And despite being brought up as a girl, she feels like a boy, rather loudly disproving the doctor's much-touted theory that nurture trumps nature every time.
With the help of Jeremy Bennett's projections, the play moves lucidly back and forth from Adam's childhood to early adulthood, spanning the 1960s through 1990. For the protagonist, it's a tortuous, confusing journey.
What's even more disturbing, the play is drawn from truth. "Boy" is loosely based on the life experience of a man named David Reimer, who suffered greatly before committing suicide at 38 in 2004.
As Adam, Jones, a senior at Catholic University, makes an auspicious professional debut. On press night, they warmed up as the 90-minute play progressed, revealing an increasingly spontaneous handle on their complex character. Without costume or baby talk, the actor subtly employs posture and pitch to transform from petulant young girl to angry young man.
And Benson is refreshingly natural as bubbly, generous Jenny, a young single mother. It's a delightfully nuanced performance.
Without revealing too much, Adam is put through the wringer. In pursuit of authenticity, he palpably demonstrates courage and love as he inevitably frustrates his loved ones, including the doctor, along the way.
Some of the story is unsatisfying. For instance, how the couple deals with their dearth of physical contact is blithely glossed over. Still it's mostly compelling, and director Susan Marie Rhea has staged the production with sensitivity.
At the center of Matthew J. Keenan's minimal but metaphor-heavy set, is a large door frame behind which lies a black abyss. It's through this door that Adam's destiny lies.
In conjunction with "Boy," for one night only (Feb. 24), Keegan's Boiler Room Series will produce a staged reading of "Alix in Wonderland: A gender Journey Down the Rabbit Hole" by Buzz Mauro and out playwright Norman Allen, followed by a guest panel discussion and audience talkback.