February 25, 2020 at 10:39 am EST | by Peter Rosenstein
Bloomberg could be our best hope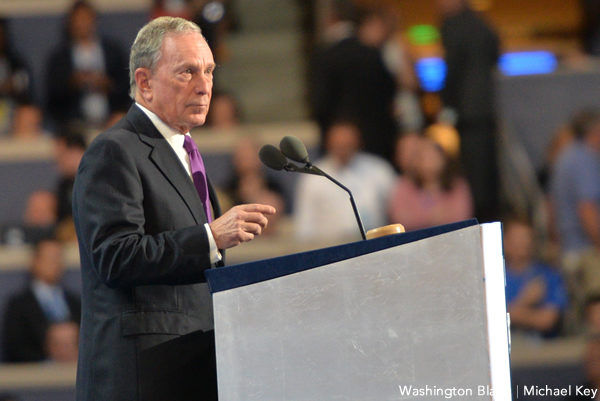 Michael Bloomberg is a flawed candidate in many ways and I am as surprised as anyone that I would consider endorsing him. Yet, looking over the Democratic field still standing I am seriously considering it and clearly not the only one who is. This even after his disastrous debate performance in Las Vegas. Biden's campaign is on a respirator.
More than 130 mayors from around the nation have endorsed Bloomberg representing small cities of 5,000 like Stephanie Bruder, mayor of Bay Harbor Islands, Fla., to Mayor Sylvester Turner of Houston, the fifth largest city. His campaign co-chairs include Wellington Webb, former mayor of Denver; Michael Nutter former mayor of Philadelphia; and Muriel Bowser current mayor of D.C. Those mayors represent a diverse group, including black, white, Asian, Latino and even an immigrant from India, Dr. Kudlip Thusu, Mayor of Dinuba, Calif.
Yet winning the nomination surely won't be easy. In 2020, a candidate needs to win 1,991 pledged delegates by the beginning of the convention in Milwaukee to win on the first ballot. If no one has that after the first vote there are approximately 750 super delegates (elected officials and party officials) who can then vote on the second ballot along with the pledged delegates (those who were won in the primaries and caucuses). According to the New York Times, "Super Tuesday, March 3, 15 states and territories will hold their primaries and caucuses and more than 1,300 pledged delegates are awarded that day. By the end of Super Tuesday, 38 percent of all the pledged delegates in 19 states and territories will have been allocated."
So to have a chance, Bloomberg needs to have a healthy number of earned delegates by the end of Super Tuesday and hope the rest are split between the other candidates so it looks like no one can reach the required number to win on the first ballot. If that happens voters in the later primaries could well coalesce around a candidate like Mike Bloomberg.
Now to even have a chance, Bloomberg must overcome the anger of many in the African-American community for his 'Stop and Frisk' policy, which ruined the lives of many African-American young people. He must account for the accusations of sexism from former employees detailed in a recent Washington Post expose. Yet it is a fact of life especially in politics that 'money talks' and Bloomberg is spreading it around like water. According to a briefing from Bloomberg's campaign he has 2,100 staffers across the nation and 500 in his New York headquarters. There are now 325 in California, 220 in Texas with 20 offices. Since he began his campaign, Bloomberg has been in 63 cities in 26 states and the campaign has held 1,300 events, never asking anyone for a dime.
This kind of spending is unheard of with no end in sight. Bloomberg has committed to spending easily a billion dollars on his campaign to continue right through Nov. 3, even if he is not the nominee. Some say he is trying to buy the presidency but others suggest it is an amazing commitment of personal resources to defeat the lying pig in the White House who is destroying our democracy.
Bloomberg's success will depend on whether Sanders can be held to a less than overwhelming delegate lead after Super Tuesday. If all the candidates continue on the trajectory they are now on, which except for Sanders and Bloomberg is either stagnant or going down, some will have to make the hard decision to drop out. They will lack funds and a real path to the nomination. Warren's perceived bump from the Nevada debate didn't happen and Buttigieg did not get black or Latino votes. South Carolina will determine whether Biden can keep his African-American base in large enough numbers to matter.
All those things will impact how much of a legitimate shot at the nomination Michael Bloomberg has. There appears to be a hunger among non-Sanders Democrats to choose a candidate with a real chance to beat Trump. Bloomberg could be lucky that many will be willing to hold their nose over past sins for the candidate who can do that.
Peter Rosenstein is a longtime LGBTQ rights and Democratic Party activist. He writes regularly for the Blade.