February 26, 2020 at 1:12 pm EST | by Lou Chibbaro Jr.
GLAA to bar Evans from candidate rating process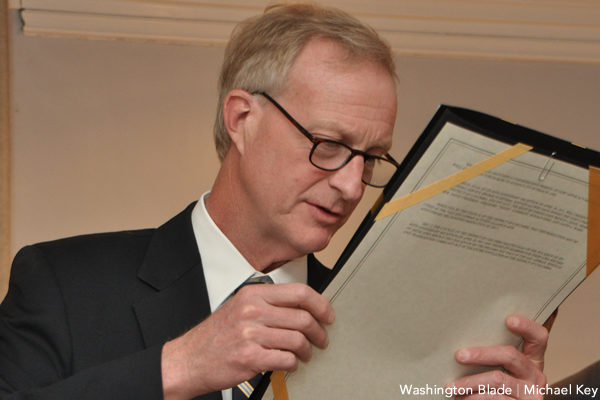 The D.C. Gay & Lesbian Activists Alliance announced on Monday that it would not issue a candidate rating on LGBTQ-related issues for former D.C. Council member Jack Evans (D-Ward 2) because of the Council's determination that Evans committed multiple ethics violations.
Evans resigned from his Council seat in December less than a week before his 12 colleagues on the Council were expected to expel him over what they stated were his serious violation of ethics and conflict of interest rules. In an action that further upset his Council colleagues, Evans announced a short time later he was running for the Council seat from which he had just resigned.
Evans filed papers to run for the seat in the regularly scheduled June 2 Democratic primary and in a June 16 special election to fill the seat for the remainder of its current term, which ends in January 2021.
Evans, a longtime supporter of LGBTQ rights, has received GLAA's highest rating score of +10 in many of his past election campaigns for his Ward 2 Council seat. GLAA bases its ratings on candidates' responses to its questionnaire and on their record on LGBTQ issues.
In what it calls an "Ethics Disclaimer" printed at the top of its 2020 candidate questionnaire, the group states, "GLAA believes that elected officials are stewards of the public trust and therefore must hold themselves accountable to the highest ethical standards."
The disclaimer adds, "GLAA, therefore, will not issue a rating for candidates who, in their capacity as elected officials, were expelled from any elected post, or resigned, for ethics violations that include, but are not limited to, conflicts of interest, self-dealing, and malfeasance."
Although the disclaimer doesn't mention Evans by name, GLAA Vice President for Strategy Rick Rosendall told the Blade the group will not rate Evans due to the ethics violation findings against him by the Council, which Evans disputes.
"Since Jack Evans' tenure on the Council of the District of Columbia, Jack always was and will continue to be the strongest advocate and supporter of the LGBTQIA community," Evans spokesperson Michael Ramirez told the Blade in response to a request for comment on the GLAA action.
"Jack is proud to continue to champion every issue of concern that improves the life of our LGBTQIA community," Ramirez said. "It may seem ordinary now, but without Jack's strong leadership, many hard fought rights and benefits the LGBTQIA community enjoys today, would have been delayed or not realized."
Seven candidates are running against Evans in the Democratic primary, including gay Logan Circle Advisory Neighborhood Commissioner John Fanning. All but one of the candidates challenging Evans in the primary is running against him in the nonpartisan special election.
The latest candidate to enter the race is Brooke Pinto, a former Assistant D.C. Attorney General who has been endorsed by current D.C. Attorney General Karl Racine, a longtime LGBTQ rights supporter.
The other candidates in the race, who also have expressed strong support for LGBTQ rights, include Democrats Jordan Grossman, Daniel Hernandez, Patrick Kennedy, Kishan Putta, and Yilin Zhang. All but Hernandez are also running in the special election. Also running in the special election is Republican Katherine Venice.
Founded in 1971, GLAA, a nonpartisan all-volunteer political organization, is the nation's oldest continuously operating LGBTQ rights advocacy group. It has been rating D.C. candidates running for public office for more than 30 years.