February 27, 2020 at 12:00 pm EST | by Michael K. Lavers
AIDS Healthcare Foundation president travels to Colombian border city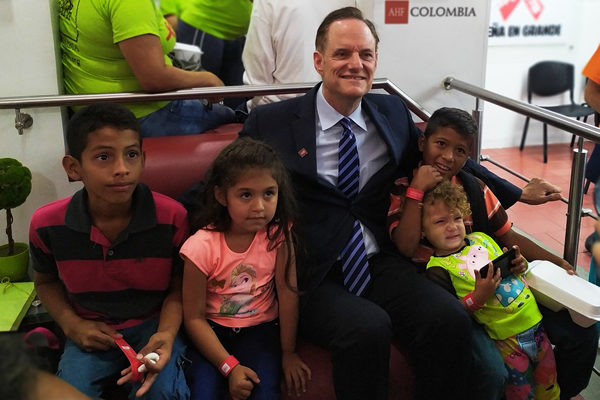 AIDS Healthcare Foundation President Michael Weinstein last month visited a Colombian border city that remains on the frontlines of the Venezuelan refugee crisis.
Weinstein on Jan. 14 visited AIDS Healthcare Foundation's clinic in Cúcuta, which is less than 10 miles from the Táchira River that marks Colombia's border with Venezuela. Weinstein also traveled to the Simón Bolívar International Bridge that links the two countries.
"I've been to a lot of difficult, desperate circumstances," Weinstein told the Washington Blade on Monday during an interview at his Los Angeles office. "I've not seen anything quite like that bridge."
"You think about what does it take for a mother to … trek with a 2-month-old baby or somebody to put an elderly person in a wheelchair knowing that they're going to have to travel this incredibly long distance and not even knowing where their destination is going to be," he added. "There's nothing waiting for them."
The Cúcuta clinic opened in September 2018.
AIDS Healthcare Foundation on its website notes the clinic currently has 892 "registered patients" with 856 of them receiving antiretroviral drugs and nutritional support. AIDS Healthcare Foundation also says 60 percent of the more than 7,250 HIV tests the clinic has given support "the Venezuelan population."
Weinstein told the Blade the clinic serves Venezuelan migrants, Venezuelans who come to Cúcuta and return to their country and local residents. Weinstein said gay men and transgender people are among the clinic's patients.
"(The clinic's) primary mission is ARV treatment and the laboratory because that's what they couldn't get elsewhere," Weinstein told the Blade.
Weinstein noted the Brazilian government donated antiretroviral medications to the clinic before Jair Bolsonaro, the country's anti-LGBTQ president, took office in January 2019. Weinstein told the Blade this aid "hasn't been cut off."
The President's Emergency Plan for AIDS Relief (PEPFAR) has also given AIDS Healthcare Foundation a grant to help run the clinic, but Weinstein noted the funding requires his organization to purchase brand-name drugs that are "10 times" more expensive than generic ones.
Venezuela, which has the world's largest known oil reserves, was once one of Latin America's most prosperous countries. Venezuela's worsening economic and political crisis has prompted millions of people to migrate to Colombia, Brazil and other countries.
Venezuelan HIV/AIDS service providers in Caracas, the country's capital, and other Venezuelan cities with whom the Blade has spoken have said Venezuelans with HIV/AIDS have died because of a lack of antiretroviral drugs in the country. Statistics from the Pan-American and World Health Organizations, the Venezuelan Ministry of Health and other agencies note the number of people with HIV in the country increased from 97,000 to more than 120,000 from 2010-2018.
Police in February 2019 raided the offices of Fundación Mavid in the city of Valencia in Carabobo state and confiscated infant formula and medications for people with HIV/AIDS. Police also arrested three human rights activists who work for the Venezuelan HIV/AIDS service organization.
A source in Venezuela with whom the Blade spoke days before the Fundación Mavid raid said three condoms and a bottle of lubricant costs the equivalent of a month's salary for someone who is making minimum wage. Food and fuel shortages and blackouts are among the myriad other issues that Venezuelans with HIV/AIDS, along with everyone else in the country, continue to face.
The Global Fund to Fight AIDS, Tuberculosis and Malaria in September 2018 approved $5 million to "help alleviate the gaps in the provision of HIV treatment in Venezuela." The Global Fund last month allocated an additional $19.8 million grant over the next three years to fight malaria in the country.
Weinstein told the Blade that access to antiretroviral drugs in Venezuela has begun to improve in recent months, but lab tests and other basic HIV/AIDS-related services remain unavailable. Weinstein also said AIDS Healthcare Foundation is working with Red Venezolana de Gente Positiva, a coalition of Venezuelan HIV/AIDS service organizations, to potentially open a clinic in Venezuela.
Weinstein met with Red Venezolana de Gente Positiva General Secretary Eduardo Franco and Alberto Nieves, executive director of Acción Ciudadana contra el SIDA, a Caracas-based HIV/AIDS service organization, when he was in Cúcuta.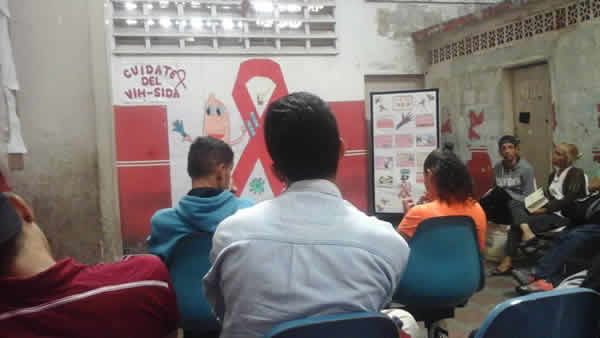 Weinstein told the Blade that Colombians remain "very sympathetic" towards the Venezuelan people and their plight.
"In their hard times the Venezuelans helped them," said Weinstein. "They feel badly for what is happening and what their circumstances are."
Colombia and the U.S. are among the dozens of countries that have officially recognized National Assembly President Juan Guaidó as Venezuela's interim president. Cuba is among the nations that continue to back President Nicolás Maduro.
"There's no optimism about change," Weinstein told the Blade. "Nobody thinks that it's going to improve anytime soon."
Weinstein further described Guaidó as "weak" and added there is little hope that he will be able to oust Maduro from power.
"No one's seeing a light at the end of the tunnel," added Weinstein.