March 4, 2020 at 1:54 pm EST | by Chris Johnson
Buttigieg leaves mark as gay candidate, secures future in politics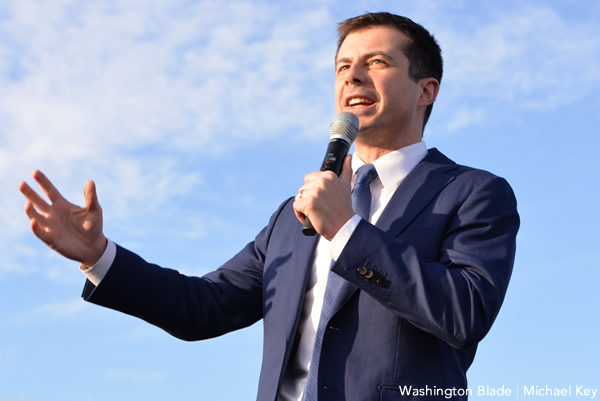 Pete Buttigieg threw in the towel this week after a hard-fought presidential campaign, but observers agree he made a mark on American politics — and not just because he broke barriers as a gay presidential candidate.
Before Buttigieg launched his campaign more than a year ago, few people knew about the gay South Bend mayor with presidential aspirations. But by the time he suspended his campaign, few people were unaware. Those who follow him closely recognize despite his exit, Buttigieg has a bright political future.
Annise Parker, CEO of the LGBTQ Victory Fund, said Buttigieg excelled at taking advantage of being a gay presidential candidate, mobilizing LGBTQ voters and the LGBTQ donor base, but at the same time was "not allowing that to define his campaign."
"He was not the gay candidate," Parker said. "He took advantage, but didn't allow it to swamp the overall message of his campaign."
Buttigieg isn't the first openly gay presidential candidate. That distinction belongs to Fred Karger, who campaigned for the Republican presidential nomination in 2012, although he never was allowed on the debate stage or achieved traction in the polls.
But Buttigieg did achieve other firsts as a gay candidate, such as being the first openly gay person in a debate for presidential candidates of a major party. Demonstrating on stage he was politically astute, Buttigieg was clear, inspirational and, if needed, ferocious. His questioning of Elizabeth Warren on how she intended to pay for her proposed initiatives contributed to the once ascendant candidate's downfall in the polls.
The bigger prize for Buttigieg was his success in the early primary states in Iowa and New Hampshire. Although a fiasco in vote counting marred his victory in Iowa, Buttigieg walked away with the most delegates in the state, making him the first openly gay person to win a state contest in a presidential primary campaign. In New Hampshire, Buttigieg won a close second place to Bernie Sanders.
Tearful over those early victories in Iowa and New Hampshire were many gay men who thought they would never see the day when a gay presidential candidate would do so well.
Among those who witnessed Buttigieg's wins firsthand and recognized their impact was New Hampshire Democratic Party Chair Raymond Buckley, who's gay and said Buttigieg's candidacy "opened the closet door for millions worldwide."
"Pete serves as a role model for all young people wanting to be accepted and loved," Buckley said. "The very act of kissing his husband when he announced radically changed America in that instant. It is not just that Pete is gay that made his candidacy remarkable but for a 37-year-old, small-town mayor from Indiana to rise overnight to become a national contender for the presidency is breathtaking. Winning Iowa, coming in a close second are achievements that have escaped many seasoned candidates for decades."
Being a gay presidential candidate had little precedent and Buttigieg faced criticism at times for being too gay and not gay enough, but many of Buttigieg's supporters were excited about the prospect of electing a gay person to the White House.
In Iowa, for example, as Buttigieg cross-crossed the state, his audiences were the ones who brought up LGBTQ issues and being gay in a positive way. He didn't have to pander for their votes as a gay candidate. That enthusiasm materialized with success on the day of the Iowa caucuses.
At the end of the day, however, Buttigieg won't be the Democratic presidential nominee, nor did he achieve his ultimate goal of winning election to the White House as the first openly gay president.
Parker, however, said that misses the point. Buttigieg, she said, was basically unknown, a "new entry" at the Democratic primary and "didn't have enough runway" to connect with voters to gain the support that would have been necessary.
Calling his entrance into the primary a "standing start," Parker said Buttigieg was nonetheless able to enjoy early success in Iowa and New Hampshire because he had one-on-one conversations in the state, which she said voters there value, and demonstrated he's a "genuine, nice thoughtful guy."
One could say the timing of Buttigieg's exit was an act of self-interest. Polls consistently showed Buttigieg struggled with the black electorate, which was evidenced in the South Carolina primary when Buttigieg walked away with a single-digit performance. A similar drubbing on Super Tuesday would have cemented that image of black and minority voters not liking him, tainting his future political endeavors. By bowing out before the results, Buttigieg avoided that permanent perception.
Buttigieg's record as South Bend mayor was cited as a source of concern for black voters, including his handling of a shooting of a black man by a white police officer, his termination of a black police chief who was investigating racism on the police force and a housing initiative that eliminated low-income homes, many in black neighborhoods.
At the same time, there were indications — including focus group results from Buttigieg's campaign — that black voters had trouble accepting a gay candidate for president.
Parker, however, bristled at the notion black voters wouldn't support Buttigieg calling that "absolute and utter B.S.," insisting black voters at the end of the day would support whomever is the Democratic nominee.
"You have to have hard conversations sometimes," Parker said, demonstrate an awareness and concern for issues black voters care about, but if that happens, black voters will lend support to an LGBTQ candidate.
As evidence, Parker pointed to the election of Chicago Mayor Lori Lightfoot and her own success winning election as mayor of Houston, asserting an LGBTQ candidate is "the best candidate" for the black community.
Looking at it another way, Buttigieg's decision to exit at that time could be seen as a bold decision for the Democratic Party that will play well in posterity.
By throwing in the towel, Buttigieg minimized the split of the moderate vote in the Democratic primary, clearing the way for former Vice President Joseph Biden's tremendous wins on Super Tuesday. Buttigieg essentially sacrificed himself for a candidate who's closer in ideology to Buttigieg than either Sanders or Warren.
Buttigieg's exit, followed the next day by Sen. Amy Klobuchar's (D-Minn.) decision to suspend her campaign, was the catalyst for an avalanche of new support for Biden. With the two candidates no longer a factor in the primary, big name endorsements immediately rolled in for the former vice president.
Among the new endorsements, along with Buttigieg himself, were Rep. Don Beyer (D-Va.), who switched allegiance from Buttigieg to the vice president, Rep. Marcia Fudge (D-Ohio) of the Congressional Black Caucus, former presidential candidate Beto O'Rourke, former Senate Democratic Leader Harry Reid and TV personality Alyssa Milano. LGBTQ endorsements included former Human Rights Campaign President Chad Griffin and Jim Obergefell, the lead plaintiff in the case that led the U.S. Supreme Court to rule in favor of same-sex marriage nationwide.
The Biden campaign counted 125 new endorsements after Buttigieg exited the race on Sunday, bringing the total endorsements to more than 1,500. If Biden continues to remain strong in the Democratic primary after Super Tuesday, or even go on to win the Democratic nomination, Buttigieg could get credit for helping that to happen.
Spencer Kimball, a professor in political and sports communication at Emerson College, said candidates dropping out and subsequently endorsing Biden "had varying effect around the country" on Super Tuesday.
In the case of Buttigieg, Kimball said the candidate's exit gave Biden eight to 10 points in Massachusetts and 10 to 12 points in Maine, allowing him to claim victory in both states. Kimball also pointed to success for Biden in the aftermath of Klobuchar and O'Rourke dropping out.
"California looks to be where the trifecta of endorsements stopped Sanders's momentum of nearing 40 percent of the vote and gave Biden a three to four point bounce," Kimball said. "The impact was much less in the western part of the country. Sanders still performed well in California and held his numbers in Utah and Colorado."
In the aftermath of the earth-shattering campaign and graceful exit, Buttigieg's personal political future is bright. Already speculation has emerged he could pursue statewide office, but may seek chairmanship of the Democratic National Committee, which he sought in 2017, as his next step.
Buttigieg left the door open for a future move in politics in his speech suspending his campaign in South Bend. Supporters could be heard chanting, "2024! 2024!".
Parker said Buttigieg has an "unlimited political future" and she expects him to run for president again, although between now and that run "has the opportunity to do other things."
"I would love to see him considering working in a position in a Democratic administration, or even better, I would prefer to see him on a statewide ballot in Indiana," Parker said.
But Parker denied Buttigieg has given her any indication to her he'd pursue such an office, saying his presidential campaign wasn't a means to achieve something else.
"It may have been at the beginning, but it certainly hasn't been for months now, 'I'm running for president to raise my profile,'" Parker said. "It's been, 'I'm running for president of the United States to unite our country."
Also saying Buttigieg's political future is limitless was Buckley, basing that assessment not just on Buttigieg's presentation, but his ability to manage a campaign behind the scenes.
"Pete should be applauded for his ability to create a compelling message, raise the money, hire the staff and inspire the voters so successfully," Buckley said. "Pete's future is limitless, he will have the support to win for many years to come."
Parker said Buttigieg has a unique knack for connecting wide swaths of the American public, which she said will serve him well in his next endeavors.
"He showed a remarkable ability to connect urban and rural voters, to connect voters across different racial and ethnic backgrounds," Parker concluded. "He was, over and over again, the one candidate who was speaking to all of America, rather than speaking to Democrats."