March 4, 2020 at 12:46 pm EST | by Lou Chibbaro Jr.
New D.C. U.S. Attorney meets with LGBTQ activists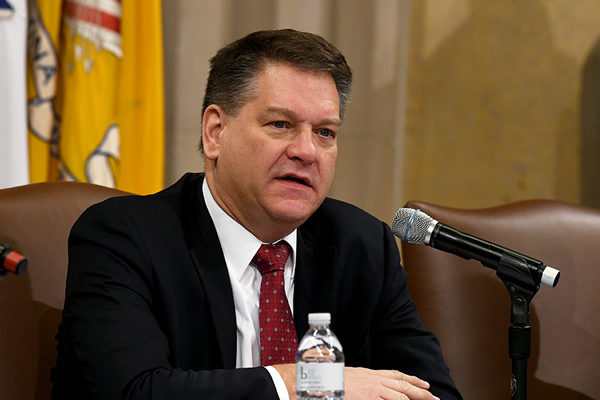 Timothy Shea, the recently named U.S. Attorney for the District of Columbia, told at least a dozen LGBTQ community leaders at a Feb. 27 meeting in his office that he plans to continue the policy of his predecessor in reaching out to the LGBTQ community on hate crimes and other issues of concern to the community, according to people who attended the meeting.
U.S. Attorney General William Barr on Jan. 30 named Shea as interim U.S. Attorney for D.C. to succeed Jessie K. Liu, who was praised by LGBTQ activists for reaching out to the LGBTQ community to address concerns about hate crimes targeting that community, especially transgender women of color.
Unlike other U.S. cities, the federally appointed U.S. Attorney for D.C. acts as the lead prosecutor in both local and federal criminal cases, including what activists have said has been a growing number of cases where LGBT people have been targeted for hate crimes.
"I thought the meeting was a positive step for the U.S. Attorney and a productive meeting," said Ward 1 Advisory Neighborhood Commissioner Kent Boese, who serves as president of the Gertrude Stein Democratic Club, the city's largest local LGBTQ political group.
"Shea stated he was beginning his term in office by making it a priority that he wanted to meet with some of the constituent groups, and made the LGBTQ community leaders a priority that he wanted to start with," Boese said.
"In his introduction to us he certainly said a lot of the right things with respect to his background and interests," said transgender activist and Ward 3 ANC commissioner Monika Nemeth, who serves as a Stein Club vice president.
Dupont Circle ANC commissioner Mike Silverstein, who, like Boese and Nemeth, is a member of the city's ANC Rainbow Caucus, said Shea expressed a strong commitment to aggressively prosecute hate crimes targeting LGBTQ people, including transgender women of color who Shea recognized have been frequently targeted for hate crimes.
Silverstein said Shea told the meeting he would continue his office's Hate Bias Task Force's quarterly community meetings started by Liu, his predecessor.
"It was as much a getting to know you session and a session where he wanted us to know that this was something of concern to him," said Silverstein, who noted that it was the U.S. Attorney's office at Shea's direction that initiated the meeting.
Others who attended the meeting included Jordan Nye and Joe Vardner of the D.C. LGBT Bar Association; Bobbi Strang, president of the Gay and Lesbian Activists Alliance; Thomas Yabroff, an official with the Mayor's Office of LGBTQ Affairs; Charmaine Eccles of Casa Ruby LGBT community services center; and ANC Rainbow Caucus members Japer Bowles and Rob Hudson.