March 6, 2020 at 9:32 pm EST | by Thom Murphy
Troye Sivan pal Lauv drops debut EDM-laced album this week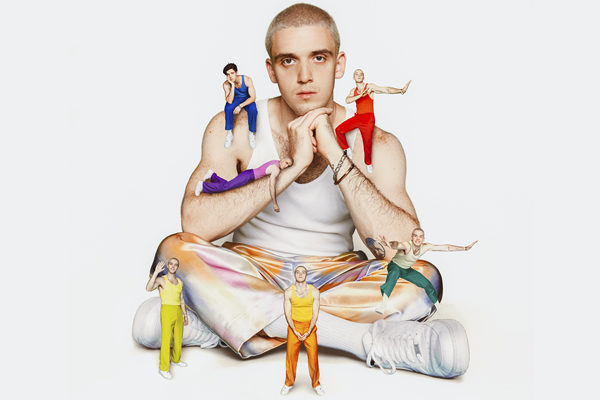 When The Chainsmokers released their soon-to-be multi-Platinum single "Roses," it felt as though EDM influence — a genre which has seen massive resurgence in the past decade — had been fully incorporated into the mainstream. With strong production values and generic lyrics, The Chainsmokers fully domesticated the EDM festival scene. In their distinctive softcore EDM, it's hard not to see a through line to Lauv whose debut album "~how i'm feeling~" drops today.
Even if his name is not as recognizable as some of his collaborators, which include Troye Sivan, Korean boyband BTS and Alessia Cara, his voice is now ubiquitous. His hit single "I Like Me Better," released in summer 2017, is still a regular feature of radio and bar play. It's his distinctive falsetto that is heard on the BTS hit "Make It Right," which has been streamed nearly 90 million times on Spotify. And his recent collaboration with Troye Sivan "I'm So Tired…," released as the lead single for "~how i'm feeling~," has gone Platinum. It's a mesmerizing success, currently sitting at over 450 million streams on Spotify, even more remarkable for an artist who is just now releasing his full-length debut.
If the new album is any evidence, Lauv — who has been coy on Instagram saying exactly how he identifies despite the uber gay artwork and color scheme on his album — has certainly not been idle the past few years. The new album has 21 tracks, clocking in at over an hour — robust by any measure. The 25-year-old singer styles himself as Gen-Z (though he's technically — at age 25 — a Millennial) and his music seems to appeal explicitly to a college demographic. While retaining a soft, EDM-influenced pop sound, Lauv has traded up tiresome, generic lyrics in favor of a more personal message. The album frequently confronts issues of anxiety and depression without becoming overly heavy.
The song "Sad Forever" is a good example. As he sings in the chorus, "I don't want to be sad forever/I don't want to be sad no more/I don't want to wake up and wonder/what the hell am I doing this for/I don't want to be medicated/I don't want to go through that war." The song maintains a tone of affirmation throughout.
"Drugs & The Internet," the first track on the album, is another that deals with personal difficulties: "traded all my friends for drugs and the internet/ah shit, am I a winner yet?" This move toward a more personal, even biographical tone in pop music anticipates, perhaps, a trend in pop music as Gen Z (who report significantly higher levels of anxiety and depression) becomes an increasingly important consumer and shaper of music.
But within what is largely a cadre of soft-EDM pop, Lauv nevertheless infuses the album with musical variety. "El Tejano," which features Sophia Reyes, is a bilingual song with a latin-influenced rhythm, not unlike Camila Cabello and Shawn Mendes' popular "Señorita." "Changes" is a slightly slower tune that takes a break (somewhat) from the slow thump of the electronic rhythms that structure most of the album. Likewise, "Julia" makes a lovely contrast with its light piano accompaniment. It's a rare glimpse into Lauv's versatility as an artist, something that will become important for later albums.
But that's not to say that Lauv's brand of EDM-pop has been exhausted — I imagine that it will continue to be a popular subgenre from another several years. Pop music had a parasitic relationship to rap in the late 2000s, but in the mid 2010s, EDM became the new host. And Lauv's version of it is certainly one of the most compelling, particularly in wedding impeccable production with more than nonsense filler lyrics.
"Sims" is a particularly brilliant example of this. It's a clever play on traditional pop love narratives: "I wish that you and I lived in The Sims/we could build a house and plant some flowers and have kids/but we're both at some trashy Halloween party downtown/and I'll probably never see you again." The happy married life of his parents' generation can only be rediscovered on a retro PC game like the Sims. It's an album that has been tailor-made for a different generation.