U.S. agency seeks to cut LGBTQ protections in union contract talks
NLRB denies meeting with employees concern about anti-LGBTQ move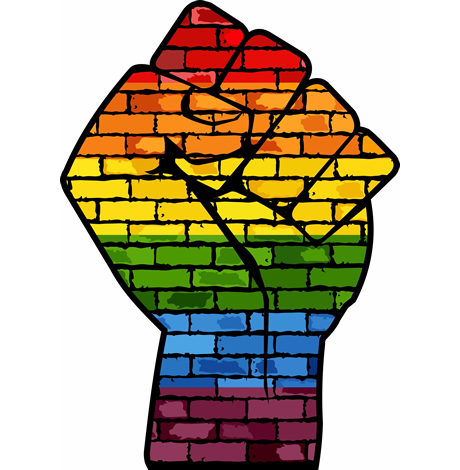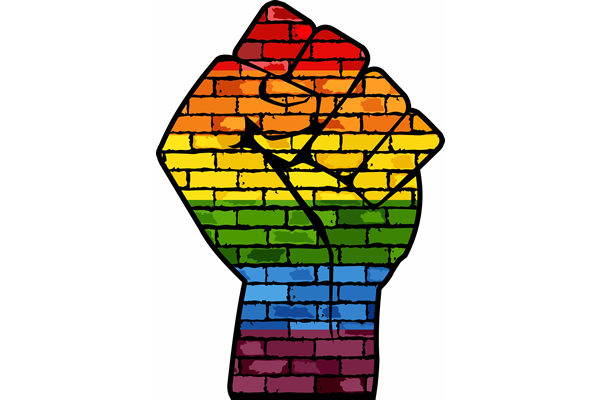 The National Labor Relations Board is seeking under the Trump administration to axe LGBTQ non-discrimination language — as well as protections based on race, sex and religion — from its union contract with professional attorneys within the U.S. agency as part of collective-bargaining negotiations, according to union representatives.
The union, known as the National Labor Relations Board Professional Association, is made up of about 120 attorneys at the NLRB headquarters in D.C.
"They're taking it all out," one NLRBPA member said. "They're basically saying it's duplicative, it's covered by statute, so we don't want to do anything through grievance and arbitration. If you think there is discrimination, then you need to a file complaint with the EEOC."
The NLRBPA is pleading with Rep. Jamie Raskin (D-Md.) and Sen. Dianne Feinstein (D-Calif.) to step in and urge the agency to keep those non-discrimination protections in place within the union contract. Individually, LGBTQ employees with concerns over removal of the non-discrimination protections also sought to meet with management on the issue, but were rebuffed, union members told the Washington Blade.
For the time being, NLRB is required to maintain the non-discrimination protections from the previous contract, even though that contract expired last year. But that situation is expected to change soon. As a result of executive orders signed by President Trump last year, federal employee unions are required to engage in negotiations with their respective agencies to form new contracts.
In a pair of letters dated March 5, the NLRPA calls on Raskin and Feinstein to engage in oversight of the agency as it seeks to eliminate those non-discrimination protections. One letter calls the proposal "a giant step backward in the fight to ensure that LGBTQ workers receive equal treatment under the law."
"It is a mark of shame that employment discrimination against LGBTQ employees, including federal employees, has been tolerated for so long, and to callously take any protections away after so long a struggle for equal treatment would be unconscionable," one letter says. "In that spirit, we would be most grateful for any oversight of the agency and help that you can provide to defend the workplace rights of our LGBTQ brothers and sisters."
The letters also express other concerns. Among them is NLRB proposing to eliminate a standing joint labor-management Equal Employment Opportunity Committee, a reversal the union says turns "historically a cooperative relationship between management and the union into an adversarial relationship." The NLRB also proposes to undercut the grievance and arbitration system in other ways, the letter says.
Raskin, in a statement to the Blade responding to the letter, said NLRB's proposed removal of LGBTQ protections is unjust, especially from a U.S. agency charged with enforcing federal labor law.
"Trump's administration has tried from the start to purge all mention of LGBTQ rights from federal law and policy," Raskin said. "Now, by proposing to eliminate protections for LGBTQ employees from its collective bargaining agreements, the NLRB — which is supposed to be a leader for workplace fairness—becomes the latest perpetrator of the administration's political assault on equal protection and equal employment rights for the LGBTQ community."
NLRB, according to members of the union, justified its proposed removal of the non-discrimination protections on the basis that employees could seek recourse against discrimination under Title VII of the Civil Rights Act of 1964, a federal law that bars discrimination on the basis of race, color, religion, sex and national origin.
But that law as it stands affords no protections based on sexual orientation or gender identity. Although the U.S. Supreme Court is considering litigation that will decide whether anti-LGBTQ discrimination is a form of sex discrimination, thus illegal under Title VII, there is no certainty that will happen.
Should the Supreme Court rule Title VII doesn't cover anti-LGBTQ discrimination, NLRBPA attorneys would have no recourse under federal law for LGBTQ discrimination claims.
NLRBPA employees — even though they work within D.C. — also aren't covered by the D.C. Human Rights Act. Although the law bars anti-LGBTQ discrimination, the D.C. Human Rights Act doesn't have jurisdiction over federal entities, such as NLRB.
Over the course of contract negotiations, one NLRBPA member said, management was unmoved by the argument LGBTQ non-discrimination protections are needed in the union contract because the Supreme Court might be against them under Title VII.
"There's a possibility we're not going to be covered by statute, so we will have no protections whatsoever," the NLRBPA members said. "And my understanding was the agency response was, 'We can't control what the Supreme Court does."
According to the NLRBPA, non-discrimination protections based on sexual orientation have been part of the NLRBPA contract since 2002 and non-discrimination protections based on gender identity have been part of the contract since 2017. Although that contract was terminated in 2019, the agency remains legally obligated to enforce it until a new contract agreement with the union is reached.
"So you can imagine our dismay when we received contract proposals from management eliminating the contractual provisions prohibiting discrimination based on sexual orientation and stating that any 'prior MOUs, agreements, or settlements executed prior to the latest date below are not incorporated into this agreement,'" the letters say.
Outside of union negotiations, the letter says, a group of LGBTQ employees sought to meet with senior management to discuss concerns over the removal of the non-discrimination language, but were unsuccessful.
Adam Naill, an NLRB attorney and NLRB union official, affirmed to the Blade via email a group of LGBTQ employees were denied a meeting with management outside the negotiations.
"A number of LGBTQ folks at the agency attempted to meet with NLRB senior leadership to just express their concerns about the proposal and how they're feeling — frightened and alarmed — about management's position on this and were rebuffed, senior leadership said they wouldn't meet with employees about the issue," Naill said.
The NLRB justified denying the meeting, one NLRBPA member said, by giving assurances the agency is committed to LGBTQ equality and saying the meeting would be inappropriate amid ongoing contract negotiations.
But the NLRBPA member expressed doubt about that commitment to LGBTQ equality based on attorneys in the workforce overheard making homophobic statements.
"Among some of the rank and file attorneys, those people who very likely in the coming years will probably be promoted to supervisors, there's been several times overhearing some very problematic homophobic, misogynist statements coming from them," the NLRBPA member said.
The office of Feinstein didn't respond Monday to the Blade's request to comment on the proposed removal of LGBTQ protections. The NLRB declined to comment for this article, citing a practice of withholding commenting on contract negotiations with unions.
Jerame Davis, executive director of the LGBTQ labor group Pride at Work, condemned NLRB in a statement to the Blade, but said this move is consistent with the policy of the Trump administration.
"As taxpayers, we should expect that all working people — including LGBTQ working people — would be protected from discrimination in a federal government job," Davis said. "But it is particularly insulting that these protections are being stripped from the working people who protect our country's workforce from unfair labor practices. There is little that has been consistent with this administration, but their attacks on LGBTQ people have come regularly, like clockwork."
The union for the professional attorneys at NLRB is different from the union for the 1,200 employees in the field offices, which is the known simply as the National Labor Relations Board Union, or NLRBU.
According to NLRBPA, the sister union is also currently engaged in contract negotiations, but they're still bargaining over ground rules and haven't made substantive proposals. The Blade emailed NLRBU seeking a comment on the situation.
NLRB chair John Ring and NLRB general counsel Peter Robb are set to testify on Wednesday before the House Appropriations Committee on the Trump administration's budget request. It remains to be seen whether the agency officials will be questioned on the proposed non-discrimination omission from the union contract.
North Dakota lawmakers okay regulation banning Conversion Therapy
This rule change will stop the vast majority of mental health providers in North Dakota from subjecting LGBTQ youth to conversion therapy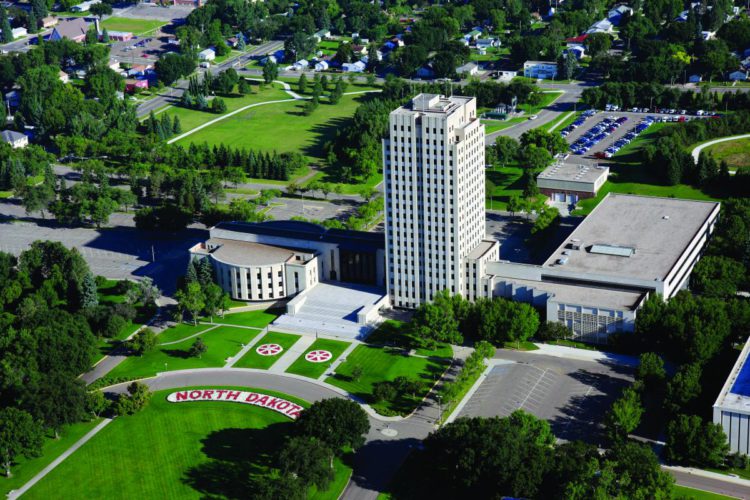 BISMARCK, ND. – The North Dakota House Administrative Rules Committee voted 8-7 on Tuesday, June 8, to authorize the rule proposed by the North Dakota Board of Social Work Examiners, implementing new regulations prohibiting licensed social workers from subjecting LGBTQ youth to the widely discredited practice of conversion therapy.
The North Dakota Board of Social Work Examiners, which oversees licensing for social workers in the state, created the new rule which states that "it is an ethical violation for a social worker licensed by the board to engage in any practices or treatments that attempt to change or repair the sexual orientation or gender identity of lesbian, gay, bisexual, transgender, and questioning individuals."
The West Hollywood based Trevor Project, the world's largest suicide prevention and crisis intervention organization for lesbian, gay, bisexual, transgender, queer & questioning (LGBTQ) young people, had worked with Democratic House Minority Leader Rep. Josh Boschee, the National Association of Social Workers ND Chapter, the North Dakota Human Rights Coalition, and local advocates like Elizabeth Loos to advance these critical protections for LGBTQ youth.
"This rule change will stop the vast majority of mental health providers in North Dakota from subjecting LGBTQ youth to the dangerous and discredited practice of conversion therapy. This practice is not therapy at all— it's abusive and fraudulent," said Troy Stevenson, Senior Advocacy Campaign Manager for The Trevor Project. "There is still more work to be done in North Dakota, but this bold action will help save young lives. The Trevor Project is committed to an every state strategy to protect LGBTQ youth from conversion therapy and North Dakota has proven that progress is possible anywhere."
"Thank you to the North Dakota Board of Social Work Examiners for restricting licensed social workers in North Dakota from being able to practice conversion therapy! LGBT North Dakotans, especially youth, are safer now as you hold licensees responsible to the NASW Code of Ethics," said Minority Leader Boschee.
The proposed ban on therapist-administered conversion therapy in North Dakota was met with opposition by several of the committee's most socially conservative members, the Grand Forks Herald reported.
Rep. Dan Ruby, R-Minot, told the paper that he worries the new prohibition is limiting because it would prevent people seeking "some kind of treatment" from getting help. Bell said the rule is written so clients who are LGBT or questioning their sexual orientation or gender identity are not inhibited from seeking care.
Rep. Bernie Satrom, R-Jamestown, said he's concerned the rule would interfere with religious counseling, adding "there are some cases where people want to change."
"There are licensed counselors that are also Christians, and basically my concern in all of this is that we're telling the Christian counselors 'you can be a licensed counselor, but you can't practice your Christianity,'" Satrom said.
Satrom and West Fargo Republican Rep. Kim Koppelman said approving the social workers' ban on conversion therapy is outside of the committee's scope and ought to be scrutinized by the full Legislature.
Boschee, the North Dakota Legislature's only openly gay member, told the Grand Forks Herald that he was disappointed in some of his colleagues for standing behind the "harmful" practice of conversion therapy and trying to muddy the conversation over what is a simple self-imposed rule for social workers. The Fargo Democrat said he was ultimately pleased that seven lawmakers joined him in upholding the proposed ban.
Research:
According to The Trevor Project's 2021 National Survey on LGBTQ Youth Mental Health, 13% of LGBTQ youth reported being subjected to conversion therapy, with 83% reporting it occurred when they were under age 18. LGBTQ youth who were subjected to conversion therapy reported more than twice the rate of attempting suicide in the past year compared to those who were not.
According to a peer-reviewed study by The Trevor Project published in the American Journal of Public Health, LGBTQ youth who underwent conversion therapy were more than twice as likely to report having attempted suicide and more than 2.5 times as likely to report multiple suicide attempts in the past year.
'We're still very much in the healing phase'
Saturday marks five years since Pulse nightclub massacre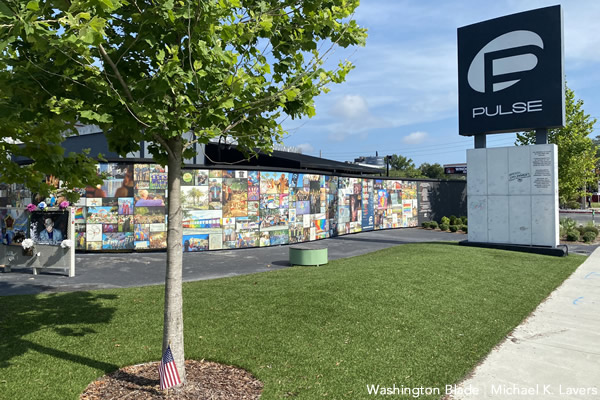 Saturday marks five years since a gunman killed 49 people inside the Pulse nightclub in Orlando, Fla.
A remembrance ceremony will take place at the site, which is now an interim memorial. A number of other events to honor the victims will take place in Orlando and throughout Central Florida over the coming days.
"We're still very much in the healing phase and trying to find our way," Pulse owner Barbara Poma told the Washington Blade on Tuesday during a telephone interview.
The massacre at the time was the deadliest mass shooting in modern U.S. history.
Nearly half of the victims were LGBTQ Puerto Ricans. The massacre also sparked renewed calls for gun control.
Poma told the Blade that she expects construction will begin on a "Survivor's Walk" at the site by the end of the year. A museum — which she described as an "education center" that will "talk about the history of the LGBT community and its struggles and stripes for the last century or so … about why safe spaces were important to this community" and what happened at Pulse and the global response to it — will be built a third of a mile away.
"We really feel it is important to never forget what happened at Pulse and to tell the story of that," said Poma.
Poma noted the onePULSE Foundation of which she is the executive director met with representatives of the 9/11 Tribute Museum and the Oklahoma City National Memorial and Museum to discuss the memorial. Poma when she spoke with the Blade acknowledged the plans have been criticized.
"This kind of opposition is not unique to these kind of projects," she said.
"It's just important to know that really what we're trying to do is make sure what happened is never forgotten and those lives were never forgotten," added Poma.
Poma on Tuesday declined to comment on the lawsuits that have been filed against her, her husband and the onePULSE Foundation in the wake of the massacre.
DeSantis' anti-LGBTQ policies overshadow anniversary
The Blade this week spoke with Equality Florida CEO Nadine Smith, state Rep. Carlos Guillermo Smith (D-Orlando) and other activists and elected officials in Florida and Puerto Rico who were part of the immediate response to the massacre.
Equality Florida raised millions of dollars for survivors and victims' families. CEO Nadine Smith on Tuesday told the Blade during a telephone interview that Equality Florida in the massacre's immediate aftermath pledged to honor the victims "with action by uprooting hatred at its source and from that time we have invested deeply in safe and healthy schools."
"Schools are a shared cultural experience where the attitudes of ignorance and fear and animosity and violence towards others either get challenged or encouraged," said Smith. "Five years later I look at how far this work has come and at the same time, I'm very aware of the backlash that we are facing, particularly in our schools with laws targeting trans youth specifically."
Republican Florida Gov. Ron DeSantis on June 1 signed a bill that bans transgender athletes from participating in high school and college sports teams that correspond with their gender identity. The governor the following day vetoed funding that activists say would have funded programs for Pulse survivors and homeless LGBTQ youth.
Carlos Guillermo Smith, a gay man who represents portions of Orlando, on Tuesday described DeSantis as "callous."
"The governor's actions are a reminder that five years after the attack at Pulse nightclub, we have a lot of work to do to push back against homophobia and transphobia," said Carlos Guillermo Smith. "The Orlando community is very supporting and accepting of the LGBTQ community, but when you see what's happening at the Governor's Mansion in Tallahassee, you realize that there's a lot of work to be done."
Pedro Julio Serrano, associate director of Waves Ahead, an LGBTQ service organization in Puerto Rico, described the massacre's impact in the U.S. commonwealth as "permanent in our collective memory." Serrano also noted violence against trans Puerto Ricans remains rampant.
"We are now the epicenter of anti-trans violence in the U.S. and its territories," said Serrano. "After five years, we still confront this hatred that doesn't seem to stop. We will continue to fight until all of us are safe."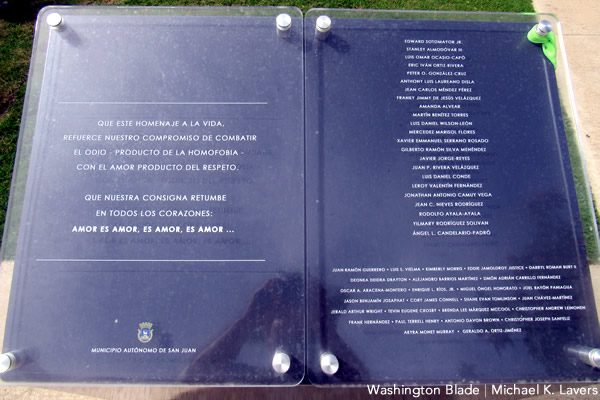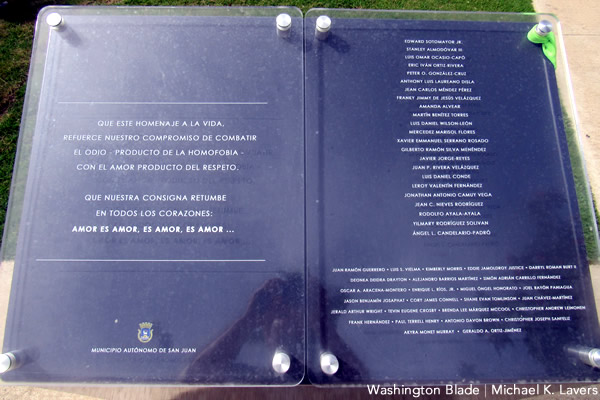 Tony Lima, a long-time Florida-based activist who is currently CEO of Arianna's Center, an organization that serves trans women of color in Florida, the South and Puerto Rico, helped organize vigils and blood drives in the days after the massacre.
"We knew how important it was to aid our family in Orlando in this immediate crisis," Lima told the Blade on Monday. "Orlando and South Florida are intrinsically connected. We often share resources in nightlife, events, advocacy and a lot of the same people … so I think there was a natural synergy there."
Lima, like Nadine Smith and Carlos Guillermo Smith, sharply criticized DeSantis for signing the anti-trans bill and for vetoing funds for Pulse survivors and homeless LGBTQ youth. Lima also lamented the lack of progress on gun control.
A gunman on Feb. 14, 2018, killed 17 people at Marjory Stoneman Douglas High School in Parkland, Fla. Lima told the Blade there have been two deadly mass shootings in South Florida in recent days.
"We have a huge problem when it comes to gun control in this country, and sadly five years later we haven't made a whole lot of progress," he said.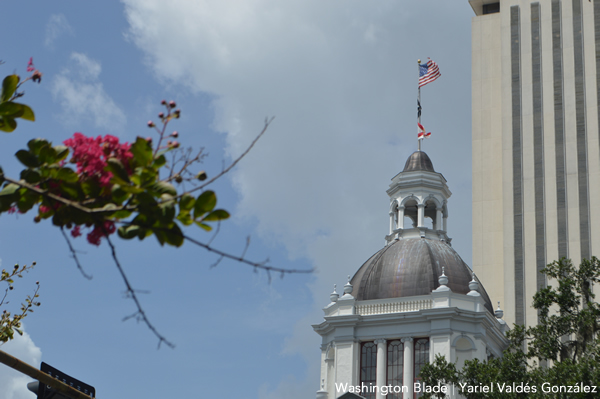 Orlando's support of LGBTQ rights part of 'bigger call to action'
Felipe Sousa-Lazaballet is the senior specialist for inclusion, diversity and equity for the city of Orlando's Office of Multicultural Affairs. He is also Mayor Buddy Dyer's LGBTQ liaison.
Orlando City Hall on June 1 raised the Pride flag in commemoration of Pride month.
Sousa-Lazaballet noted the fountain in Lake Eola Park in downtown Orlando was the colors of the trans Pride flag in commemoration of the International Transgender Day of Visibility. Orlando in 2019 became the first city in Florida to include National LGBT Chamber of Commerce-certified businesses in its municipal contracting and procurement programs.
"All of that is part of that bigger call to action, which is we want to honor the 49," said Sousa-Lazaballet. "But we also want to with action by making the city an even more welcoming place for all."
Sousa-Lazaballet, Carlos Guillermo Smith and Nadine Smith all told the Blade the way that Orlando, Central Florida, the country and the world responded to the massacre remains a source of pride.
"I think about how many messages there were in the aftermath that called on the worst instincts in people to be fearful of each other, to hate people as a group, to cower and to hide and I will never forget and have been changed by the Orlando community, how the nation and in fact globally people responded to the absolute opposite," said Nadine Smith. "That is a light that I hold on to."
Poma echoed Nadine Smith.
"We hope that our goal is to create that beacon of light that can come out of such darkness," said Poma. "Darkness is a really dangerous place to get stuck in and so while we all wish what happened on June 12 never happened, it did and it's now our moral and social responsibility to do something with that and that for me is creating light and change from what we all endured."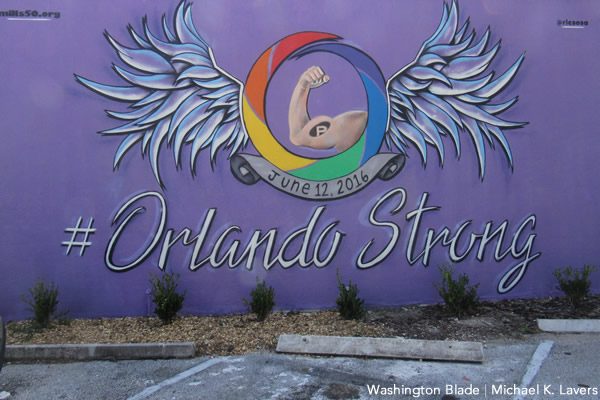 Senate passes bill designating Pulse as a national memorial
"The tragedy at Pulse rocked our community and served as a reminder of the work we have to do to uproot hate and bigotry."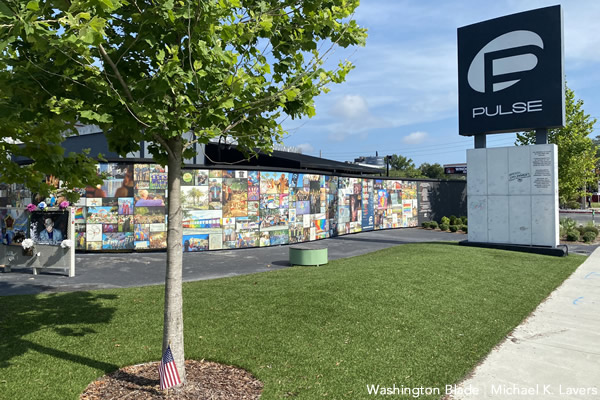 WASHINGTON – In a rare bipartisan move, a bill that designates the former Pulse nightclub in Orlando, Florida a national memorial was passed by unanimous consent in the U.S. Senate Wednesday.
Florida's two U.S. Senators Marco Rubio (R-FL) and Rick Scott (R-FL) introduced Senate Resolution 265 recognizing the fifth anniversary and honoring the 49 victims of the mass shooting attack on the Pulse Nightclub June 12, 2016.
Companion legislation authored by California U.S. Senator Alex Padilla (D-CA), and also Congressman Darren Soto's (D-FL) House Resolution 49 that passed by voice vote on May 13 was also passed by the Senate.
"The tragedy at Pulse rocked our community and served as a reminder of the work we have to do to uproot hate and bigotry. We're proud of the bipartisan coalition of Florida Congressional leaders for leading the effort to recognize this hallowed ground as a national memorial site.," Brandon J. Wolf, the Development Officer and Media Relations Manager for LGBTQ advocacy group Equality Florida and a Pulse survivor told the Blade. "Our visibility matters. May the 49 lives stolen never be forgotten. And may we always honor them with action."
Wolf was inside the club at the time of the shooting and lost his two best friends, Juan Ramon Guerrero and Christopher Andrew (Drew) Leinonen, who were among the 49 murdered during the rampage. Wolf had managed to escape but the event has forever left him scarred.
Since that terrible night Wolf has been a force for advocacy in gun control and LGBTQ equality rights and is a nationally recognized leader in those endeavors to include by President Joe Biden.
"Pulse is hallowed ground and what happened on June 12, 2016 must never be forgotten. " Wolf added.
Florida's Senator's both released statements:
"The terrorist attack at Orlando's Pulse nightclub was a heinous act of violence and hatred against members of the LGBTQ community," Marco Rubio said. "Forty-nine innocent lives were lost on that horrific day. As the fifth anniversary approaches, we must continue to honor the memory of those who were taken far too soon. And while work still remains to root out evil, I am inspired by Orlando's continued resiliency, pride, and strength."
Rick Scott, who was Florida's governor at the time of the mass shooting said, "Nearly five years ago today, our state, nation, the City of Orlando, and Hispanic and LGBTQ communities were attacked, and 49 innocent and beautiful lives were lost. It was an unspeakable tragedy," he said.
"An evil act of terrorism designed to divide us as a nation and strike fear in our hearts and minds. But instead, we came together, and supported each other through heartbreak and darkness, to preserve and rebuild. Today, we still stand strong, together, to remember the 49 young lives lost that tragic day and honor their memory with passage of our resolution and our bill to establish the 'National Pulse Memorial.' It is my hope that this memorial will forever serve as a tribute to the victims and a reminder for us all to always stand for love and kindness over hate and evil in this world."
Although the United States Senate marked the upcoming fifth anniversary by honoring the victims and shooting survivors with passage of the legislation which now goes to President Joe Biden for his signature, in Florida, Repuiblican Governor Ron De Santis has taken a different tack.
Last week, DeSantis vetoed funding for LGBTQ programs from the state budget including money earmarked for mental health programming to support survivors of the Pulse Massacre, to house homeless LGBTQ children, and for Orlando's LGBTQ Community Center.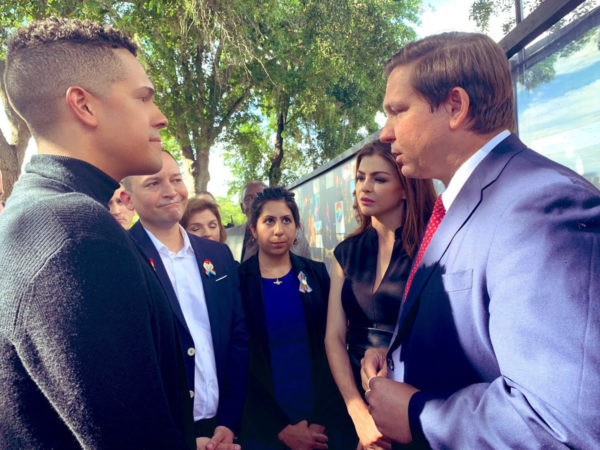 These actions following his signing a bill on June 1, the start of LGBTQ Pride month- an education bill amended to include a previous stand alone bill, specifically targeting transgender girls and young women, banning them from playing on female sports teams.
"Let's be clear about what this is: Governor DeSantis has declared war on Florida's LGBTQ community." said Wolf. "Before the 2019 Remembrance Ceremony, Governor DeSantis stood on hallowed ground, steps from where I escaped the building in 2016, and promised me that he would always support those of us impacted by the Pulse nightclub shooting. Today, almost two years later to date, he vetoed mental health services for us. I will never forget."