March 11, 2020 at 9:20 pm EDT | by Kathi Wolfe
Over the moon about Buttigieg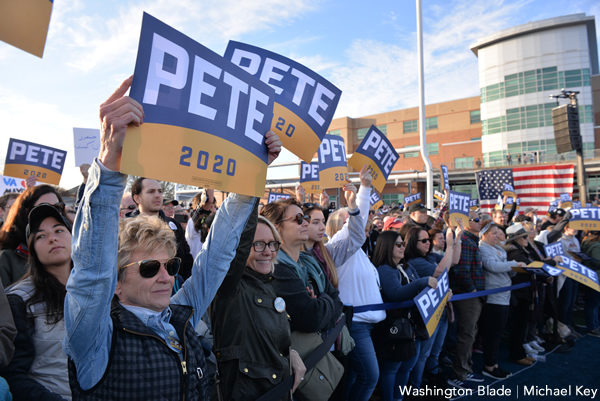 In these bleak times, I've stopped streaming "The Golden Girls." Between the coronavirus, Trump, transphobia, and homophobia, even Bea Arthur doesn't make me smile.
Yet, Pete Buttigieg's presidential campaign from its launch last April until its end days before Super Tuesday made my face light up and put a bounce in my step. Even when I thought that he had problems connecting with people of color or had been sexist toward the female presidential candidates in the debates. I'd wager that I'm far from alone – that many in the queer community were joyful about Buttigieg's presidential bid.
Why were so many of us over the moon about Buttigieg? Because he made history! Buttigieg was the first`out gay presidential candidate to be in a campaign debate for a major political party. Fred Karger, a Republican, was the first openly gay presidential candidate, Chris Johnson reported in the Blade. But Karger wasn't allowed in debates.
"History is the nightmare from which I'm trying to awake," Stephen Dedalus says in James Joyce's "Ulysses." But, Joyce wasn't gay and he didn't know Buttigieg. Buttigieg's campaign was so historic for so many LGBTQ folk that we may want to bask in this sweet dream forever.
You don't often get to see history being made in real time. Yet, watching Buttigieg launch his presidential bid was as historic as seeing Obama become the first black president.
Today, we have queer judges, bishops, teachers and football players. We can marry who we love. Grandmas love Ellen's TV show. Grandfathers come out to their sons. Jared Polis, the governor of Colorado, is openly gay. Even so, when we can be fired in over half of the states in this country simply for being queer and far too many LGBTQ kids are bullied in schools – Buttigieg's campaign for the highest office in the land was awe inspiring.
Back in the day, when I was growing up in the 1960s in Southern New Jersey, I wouldn't in my wildest dreams have imagined that an openly gay man would have run to be president of the United States. Few of us knew any LGBTQ people (if we did, they were closeted). Then, "queer" was what you called "perverts," not what you proudly called yourself. As I've written before in the Blade, at that time an out queer person leading a city, letting alone running for president, "would have seemed more improbable than flying cars. (We'd seen flying cars on the 'Jetsons.')."
I don't believe in voting for anyone just because they're queer. I don't know if I'd have voted for Buttigieg. He dropped out before I voted on Super Tuesday. I do know that from the get-go, I respected Buttigieg for his intelligence, decency, military service and thoughtfulness about how a more just society could be created.
Above all, there was his husband Chasten. I'm not saying that all LGBTQ folk should rush to get married. Or that being married is superior to being single. But, that being said, Buttigieg talking about his marriage and Chasten chatting about falling in love with Buttigieg was a powerful and prideful message to hetero and queer Americans.
Some of the reaction to Buttigieg's campaign (Rush Limbaugh's homophobic comments) didn't surprise me. Yet, I was surprised by (though perhaps, I shouldn't have been) by the sniping against Buttigieg from our community. I'm talking about the flak he got for not being gay enough – for being married and a person of faith.
I don't believe that LGBTQ people, politicos or not, need to be married or religious. We should be who we want to be. But, telling one another that we're not queer enough is toxic. It's important to hold queer politicians and candidates accountable for their political views and policies. Carping at Buttigieg's perceived lack of gayness is eating our own.
Rather than sniping at each other, let's celebrate Buttigieg's historic moment.
Kathi Wolfe, a writer and a poet, is a regular contributor to the Blade.