March 11, 2020 at 2:45 pm EDT | by Michael Kearns
Bidding adieu to the inspiring Mart Crowley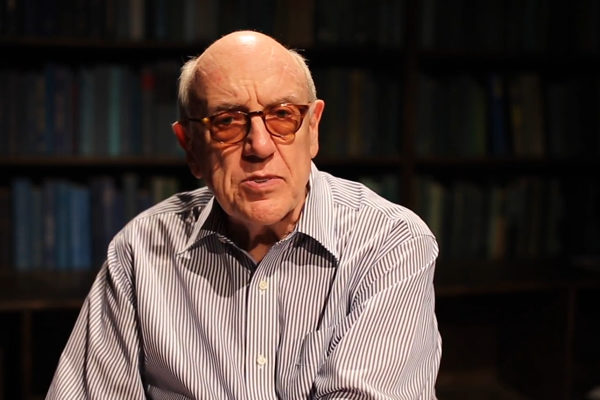 "…If we…if we could just…not hate ourselves so much. That's it, you know. If we could just learn not to hate ourselves quite so very much."
Perhaps it's that line, spoken in the final moments of The Boys in the Band — written by Mart Crowley who died on March 7 at 84 years old — that has infused the 1968 play with its immortal reputation as the first gay play, like it or not, to depict us with a degree of verisimilitude.
In retrospect, it's interesting to note that my exposure to Crowley's Boys occurred while I was studying acting at Goodman School of Drama at the Art Institute of Chicago, between 1969 and 1971. Rarely having seen more than one gay male character on the stage or the screen at a time, for an impressionable young actor to witness eight (or nine) of them was astounding. Not only could you see yourself up there on the stage or on the Silver Screen, you could see who you might become (ye gods) or, if you were an aspiring thespian, who you might one day portray.
While Goodman was teeming with a homosexual population (staff, faculty, students), that didn't translate to any form of gay liberation even as Stonewall came and went during my tenure there. The male acting students who flamed in the hallways butched it up in the classrooms (even under the tutelage of the most effete of instructors) and when playing a homo, they would play the character like they imagined a straight man would play gay so their portrayal resulted in an inauthentic mess which more often than not received high praise.
So, you can imagine when I saw some real queer actors, in addition to some actors who could really play queer, in roles that were written as authentically as any modern American gay voice ever to emerge from a typewriter.
It was a turning point in my consciousness—a Stonewall moment, if you will—and the reason that I would spend the next 50-plus years defending Crowley's brilliant play.
While Boys is what Crowley is most celebrated for, he also spent time in Hollywood as a producer on Hart to Hart and wrote several other plays including a lovely memoir, A Breeze from the Gulf.
The grousing that I heard about The Boys in the Band had a familiar ring to it, resembling the voices of the characters depicted in The Boys in the Band: the poisoned barbs, the wicked one-liners, the character assassinations when Michael throws a drunken birthday party for his bestie, Harold, the Queen of Mean. And most of these negative pronouncements came from my gay brethren.
So what was the beef? "Those guys were so stereotypical, so gaaaaaaaay." "They were so swishy." "They were mean." "They were self-loooooathing." "I don't want people to think I act like them."
From the time I first saw Crowley's play and today, I cannot count the number of parties I've attended that have very closely, if not almost identically, resembled the one he so eloquently paints in The Boys in the Band. If there's a difference—and I suppose there is—it's that we live on an equal playing ground now with the knowledge that everyone hates themselves to a degree. From the innumerable talk shows devoted to the subject and the hundreds of self-help books, not to mention the television shows devoted to deliverance from low self-esteem, it is a catastrophic epidemic in this country and not exclusively the province of gay men.
The condition that Michael and his cohorts suffer from is the human condition. This is not to suggest that Crowley didn't intend for Michael to have internalized this notion in 1968 (the year Boys takes place), five years before the American Psychiatric Association removed homosexuality from its list of mental illnesses. It was virtually impossible for us to believe, or behave, otherwise—again, something Crowley depicts with meticulous honestly. His "boys" ooze vulnerability.
Over the decades, I had a spectacular ride with Boys, beginning in the early 1970s with a staged reading in Provincetown that was scheduled for one performance and lasted most of the summer. Later in the decade, after having seen the movie several times, I found myself in a windowless office in Hollywood doing temp work to pay the bills, gossiping with the cute guy in the adjoining office who was doing the same thing. His voice was so familiar.
Oh my God, it turned out to be Frederick Combs, the accessible one in Boys—the one who brought LaCoste shirts into fashion, the one everyone fell in love with—and the one who directed me in Robert Patrick's T-Shirts and Harvey Fierstein's The International Stud (Part One of Torch Song Trilogy), the two one-acts that put me on the map.
In the 1980s, I played Michael again—this time in Des Moines, Iowa, back-to-back on a bill with Robert Chesley's Jerker in which I played J.R. Under the umbrella title Then & Now, it was a long and energizing evening. Finally, in the '90s, I did a celebrity reading fundraiser for the Victory Fund (again playing Michael) produced by Steve Tyler with Bruce Vilanch, Gordon Thomson, Chad Allen, Greg Louganis, and Michael Jeter.
In 1998, I was honored to introduce Mart at the Palm Springs International Film Festival, which celebrated the 30th Anniversary of The Boys in the Band.
And so now I bid adieu and express appreciation to an inspiring playwright who granted me permission to discover Michael by playing Michael at various junctures over three decades.
Michael Kearns is an actor, playwright and author.