March 13, 2020 at 3:45 pm EDT | by Peter Rosenstein
Suggested Biden response to Sanders at Sunday debate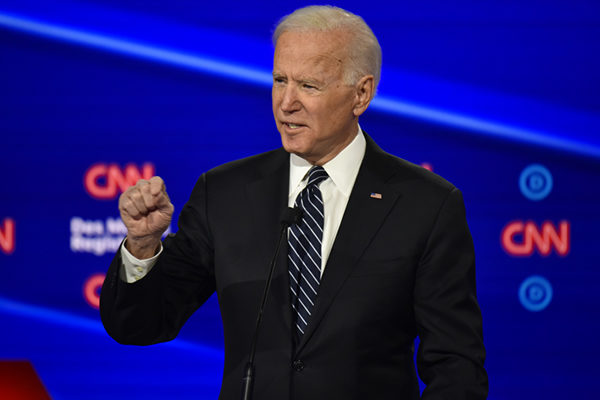 Bernie: I want to thank you for fighting for over 30 years for the American people. You have been a conscience for everyone in government. Because as you say we've been friends for many years you know it's not about whether we share the same goals for the country, we do, but rather in some cases we differ on how to reach those goals. We both want a country that provides equal opportunity for all. A country that ensures both an equal criminal justice system and economic justice. The time is now for us to join together to fight for those goals. We both understand if Donald Trump is not defeated there is no chance of moving forward on any of the goals we and our supporters have been fighting for.
There is one thing we differ on and that is the groups you lump together and call the establishment. I want to thank those who have been voting for me in large numbers; the African-American community, suburban women, and those working class union men and women in Michigan who are clearly not the establishment. African Americans, women, immigrants and the LGBTQ community rather than being the establishment have had to fight for their rights against all odds for years. They are often still marginalized. While they have fought long and hard to gain some equality and had some success with the help and support of the Democratic Party, the fight for full equality still goes on and has a long way to go.
In your recent speech you asked me for a commitment to the issues you have been fighting for. While I make that commitment please know the first thing I will do as president is work to restore some normalcy and sanity in our country and the world. I will have America rejoin the world of nations and once again the world will understand America keeps its promises and stands side-by-side with the free world as together we fight everything from the coronavirus, to climate change, to defending liberty and equality. Once again America will be a leader in the fight for equal justice and equal rights.
We agree healthcare must be considered a right. I am committed to fight for a government sponsored healthcare plan, which will result in all Americans having access to affordable good healthcare for themselves and their families. You asked whether I would veto your Medicare-for-All bill were the Congress to pass it and send it to my desk. You know as well as I that is a hypothetical that will never happen. But if it turns into legislation the Congress passes then my answer is NO! I would not veto it. But you also know the plan you have proposed for years has never had more than 14 co-sponsors so I would ask you and your supporters, the youth of the country, to work with me to develop a plan that will accomplish what they and we need and want and then get it passed.
I am committed to making the fight against climate change a top priority. It is the crisis we must deal with now to protect our planet before it is too late. In addition to the plan I have proposed which people can see on my website my administration will work with the top scientists in the world as America takes a lead in this fight. My commitment as part of my plan has been to have the United States eliminate fossil fuel use by 2050 but reality has shown us we will have to do it faster and I will work with those scientists to develop and propose a plan to do that.
I will fight to raise the minimum wage to $15 and ensure all Americans an opportunity to participate fully in our economy. My administration will fight for and create opportunities for those who have been left out. My administration will work with experts to ensure fairness for those in our gig economy. We will fight for an equal chance for everyone to attend the education program they want and need and not be burdened with a lifetime of debt for their choices. That will include everything from apprenticeship programs, free community college, and a four year free or affordable college degree. We know a good education is what allows people to participate fully in our economy. I am committed to ensuring all parents have access to affordable childcare and we will pass a national parental leave bill.
We will submit legislation to Congress and work hard to pass it which ensures the wealthy and corporations pay their fair share which they are not doing now. This is another area which I hope you will work with me on to craft the legislation that can pass the Congress and move us in the right direction. We can and must succeed in this.
Bernie I recognize the issues you have worked on for the thirty years you have been in the Congress. I recognize even though you have never passed any major legislation in the areas you are campaigning on you have had huge success in passing amendments to improve other legislation. Together we can change that and hopefully you will work with me and my administration to craft and pass major legislation on the issues you have fought for over the years. Together we can do that.
To the youth of the country I make this solemn commitment. You are the future, my grandchildren are the future. I ask for your support and commit as President I will help develop and promote the next generation of diverse leaders this country needs. You will be a part of my administration and I will listen when you speak. That is the only way America will both thrive and succeed for generations to come.
With your help and commitment together we can make a difference for you, your children, and even your parents and your grandparents. While we can still save our planet I ask you to join me in the fight to defeat Donald Trump so together we ensure you will inherit a better and more just world than the one we have today.
Peter Rosenstein is a longtime LGBTQ rights and Democratic Party activist.