SPRING ARTS 2020: Galleries galore
David Amoroso, Delita Martin, Volkmar Wentzel among artists in current exhibitions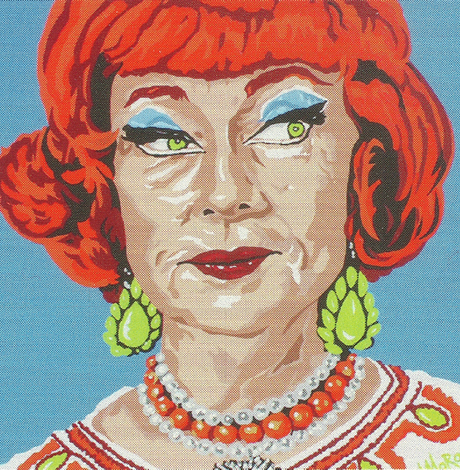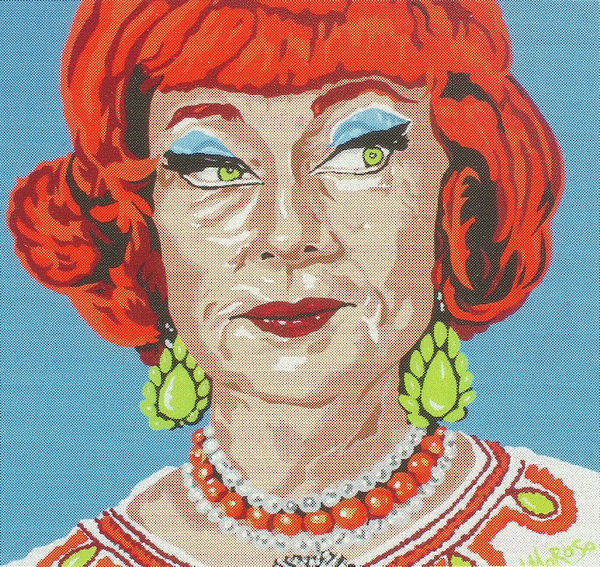 Local gay artist David Amoroso pays homage to '70s TV with his exhibit "Raised by TV" at Artists & Makers Studios (11810 Parklawn Dr., Rockville, Md.) featuring paintings of Agnes Moorehead ("Bewitched"), Florence Henderson ("The Brady Bunch"), Fred Rogers ("Mister Rogers' Neighborhood"), Bea Arthur ("Maude"), the cast of "The Jeffersons," the cast of "Charlie's Angels," Carol Burnett, Jean Stapleton ("All in the Family"), Mary Tyler Moore and more. The exhibit runs through March 26. Amoroso also displays his work in the back room at Miss Pixie's.
The Teresa Lozano Long Gallery of the National Museum of Women in the Arts (1250 New York Ave., N.W.) displays "Delita Martin: Calling Down the Spirits" through April 19. This exhibit contains seven large prints of black individuals, which Martin created and decorated using a variety of means in order to "create a new iconography for African Americans based on African tradition, personal recollections and physical materials." Admission is $10 for adults, with discounts for students and seniors. Members and those 18 and under enter free.
The American University Museum at the Katzen Art Center (4400 Massachusetts Ave., N.W.) exhibits both the paintings of late AU Professor Emeritus Robert Franklin Gates (in a showing titled "Paint What You See") and the work of late National Geographic photographer Volkmar Wentzel through May 24. The AU Museum is open to the public and admission is free.
The National Gallery of Art (6th and Constitution Ave., N.W.) hosts "True to Nature: Open-Air Painting in Europe, 1780–1870" through May 3 in the inner tier of the ground floor of its West Building. This exhibit features around 100 oil sketches of landscapes across Europe, created by artists among the likes of Jean-Baptiste-Camille Corot, John Constable, Simon Denis, Jules Coignet and André Giroux. Admission is free.
CulturalDC presents "Rendition" by Zoë Charlton at CulturalDC's Mobile Art Gallery in Union Market (5th and Neal St., N.E.) through March 22. According to CulturalDC, this collection of sculptures and assorted artwork "addresses cultural identity, race, commodity and cultural tokenism." Admission is free.
The Phillips Collection (1600 21st St., N.W.) showcases "Moira Dryer: Back in Business" through April 19, describing the assortment of paintings and sculptures as "the first comprehensive museum exhibition to consider the early work of Moira Dryer." Admission to this exhibit and other ticketed exhibits is $12 for adults, with discounts for students and seniors. Museum members and those 18 and under enter free.
Zenith Gallery's Upper Northwest Gallery (1429 Iris St., N.W.) displays "Carl Alexander: The Last Washington Color School Painter" through March 21, on which day a closing reception will be held from 2-6 p.m. Alexander studied under famous artist Morris Louis as an early member of the Washington Color School movement, which went on to become world-renowned. Admission is free.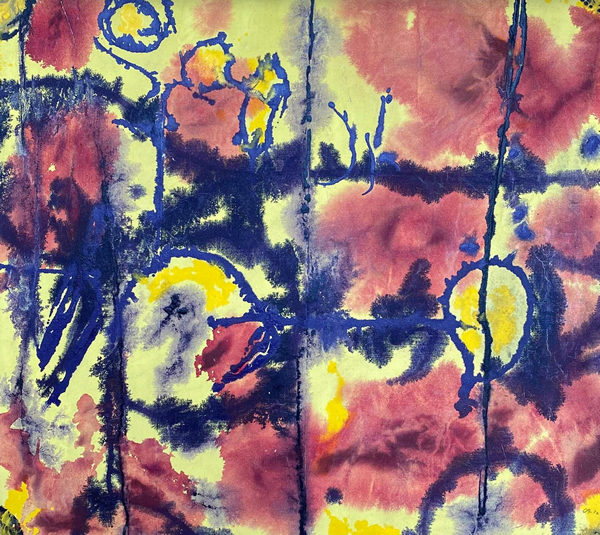 Hillwood Museum (4155 Linnean Ave., N.W.) exhibits "Natural Beauties: Exquisite Works of Minerals and Gems" through June 7. The items presented in this showing "are crafted from materials like jade, agate, onyx, rock crystal, amethyst, jasper, malachite and lapis lazuli." Suggested donation is $18 for adults, with lesser amounts requested of seniors, college students and children ages 6-18. Children under 6 and Hillwood members are not asked to donate.
The National Gallery of Art (6th and Constitution Ave., N.W.) hosts "Raphael and His Circle" through June 14 in Gallery 22 on the ground floor of its West Building. The gallery celebrates the 500th anniversary of the artistic great's death with a display of 25 artworks, including four drawings and five paintings by Raphael himself. Admission is free.
The Smithsonian American Art Museum's Renwick Gallery (17th and Pennsylvania Ave., N.W.) presents "Hearts of Our People: Native Women Artists" through May 17. The Renwick Gallery refers to this exhibit — a collection of more than 80 artworks crafted through varied means throughout history — as "the first major thematic show to explore the artistic achievements of Native women." Admission is free.
The Textile Museum at the George Washington University Museum (701 21st St., N.W.) showcases "Delight in Discovery: The Global Collections of Lloyd Cotsen" through July 5. Cotsen "assembled thousands of textile fragments, garments and other artworks that reflected his admiration for indigenous cultures and vanishing artistic traditions," with the intent "to create opportunities for a wider audience to appreciate 3,000 years of human creativity." Suggested donation is $8 for adults. Museum members, children and current GW students, faculty and staff are not asked to donate.
ARTECHOUSE (1238 Maryland Ave., S.W.) displays "Hanami: Beyond the Blooms" through May 25. According to ARTECHOUSE, in this exhibit, "hand-made ink illustrations by Yuko Shimizu are transformed digitally to follow vibrant cherry blossom flowers on an exciting and interactive journey through land, sea and air" — just in time for cherry blossom season. Admission is $20 for adults with discounts for students, seniors, military members, children and tickets purchased online.
After being closed to the public for almost four months to allow for repairs, the National Building Museum (401 F St., N.W.) reopens today with "The Architects' Photographer," which will be exhibited through March, 2021. According to the National Building Museum, this showcase will both feature the work of professional architectural photographer Alan Karchmer and examine "the practice of architectural photography writ large."
Transformer (1404 P St., N.W.) hosts "Which yesterday is tomorrow?" by Dahlia Elsayed and Andrew Demirjian from March 14-April 25. According to Transformer, this exhibit "reimagines the Silk Road caravanserai as a potential site for the exchange of ideas and culture," taking over the interior of Transformer with its furnishings, soundtrack and aromas in the process. An opening reception will be held from 5-8 p.m. on Saturday, March 14.
The Kreeger Museum (2401 Foxhall Rd., N.W.) presents "Objects from the Studio: The Sculptor's Process" from March 17-May 23, describing it as a showing that "brings together maquettes, sketches and other objects from sculptors' studios to explore how outdoor sculptures are made, focusing on works from The Kreeger Museum's Sculpture Garden." The "suggested donation" is $10 for adults, with less requested of students, seniors and military members. Members are not asked to donate.
The Smithsonian American Art Museum (8th and F St., N.W.) showcases "Alexander von Humboldt and the United States: Art, Nature and Culture" from March 20-Aug. 16. This exhibit is the first to examine the impact that Humboldt, a famous Prussian explorer, had on "the visual arts, sciences, literature, politics and exploration" between 1804-1903. Admission is free.
The National Gallery of Art (6th and Constitution Ave., N.W.) displays the work of Lynda Benglis from March 22-Jan. 24, 2021. It displays 33 works made between 1966-2003 revealing "how Benglis has forged new forms by constantly exploring different techniques, materials and mediums." Admission is free.
The Arthur M. Sackler Gallery (1050 Independence Ave., S.W.) exhibits "Meeting Tessai: Modern Japanese Art from the Cowles Collection" from March 28-Aug. 2, describing this showcase as "the first one held at a major museum in the United States in more than 50 years to explore the significance of pan-East Asian influences — a pertinent topic in today's interconnected world — through the work of Tessai and modern Japanese painting." Admission is free.
The Smithsonian American Art Museum's Renwick Gallery (17th and Pennsylvania Ave., N.W.) is suspending "1.8 Renwick," an installation by Janet Echelman, from the ceiling of the Rubenstein Grand Salon from April 3-Aug. 14, 2022. This massive work consists of "knotted and braided fiber with programmable lighting and wind movement above printed textile flooring," with a shape inspired by data gathered from the earthquake that rocked Japan on March 11, 2011. Admission is free.
Hirshhorn Museum (7th and Independence Ave., N.W.) presents "One with Eternity: Yayoi Kusama in the Hirshhorn Collection" from April 4-Sept. 20. Describing Yayoi Kusama as "a visionary artist whose revelatory practice has captivated audiences around the world," the Hirshhorn Museum announced that this showing would "affirm Kusama's legacy within the Museum's collection and art history with three significant new acquisitions." Admission is free, but due to this exhibit's inclusion of small, enclosed spaces, same-day timed passes — available at the Hirshhorn Museum on a first-come, first-serve basis — are required for exhibit entry.
Waverly Street Gallery (4600 East-West Hwy #102, Bethesda, Md.) showcases "Visual Paradise" by Stephane Themeze from April 5-May 2, with an opening reception from 6-9 p.m. on April 10 and an artist's reception from 1-3 p.m. on April 26. According to Waverly Street Gallery, the works in this photography exhibit encapsulate Themeze's conviction that "there is visual pleasure to be had at almost every corner and moment of one's daily life." Admission is free.
PHOTOS: International LGBTQ Leaders Conference opening reception
Politicians and activists from around the world met and mingled at the JW Marriott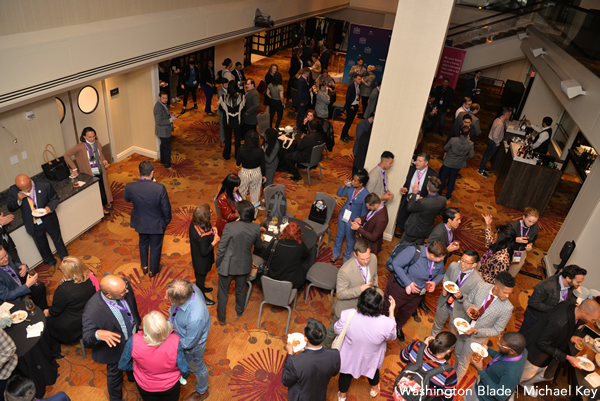 The LGBTQ Victory Institute held an opening reception for the 2021 International LGBTQ Leaders Conference at the JW Marriott on Thursday.
(Washington Blade photos by Michael Key)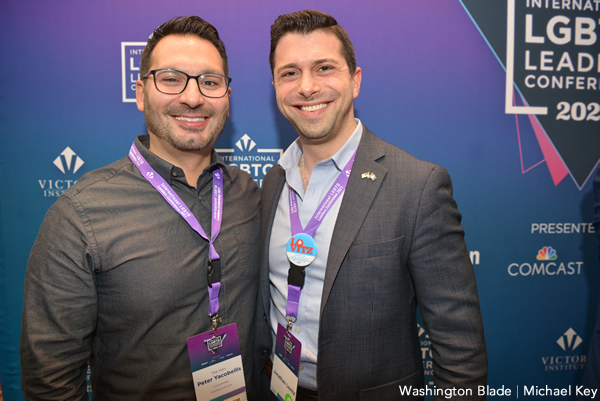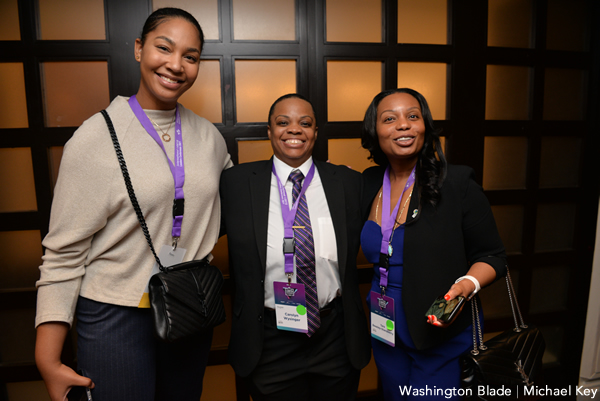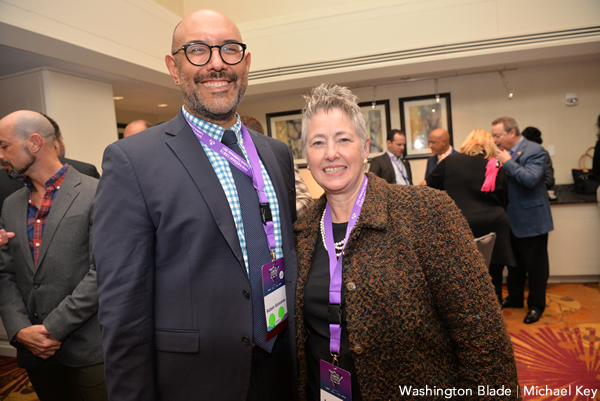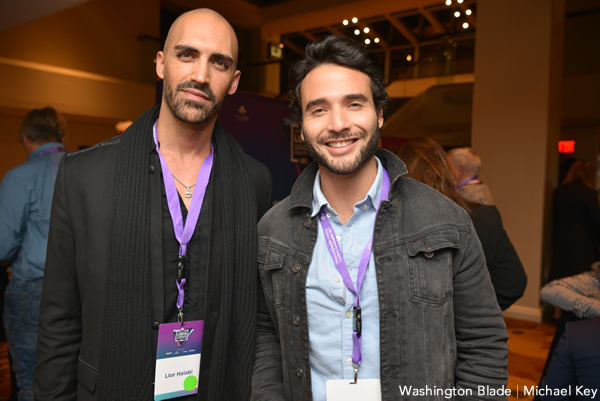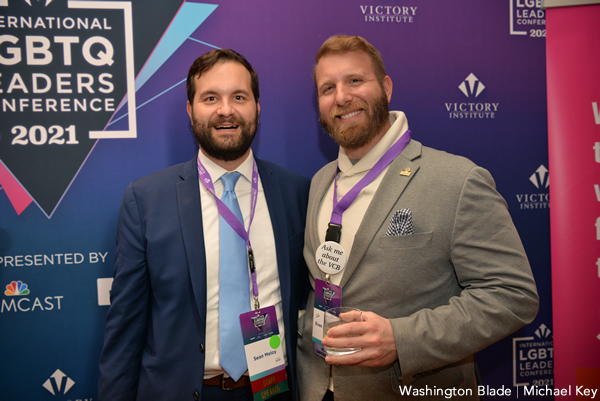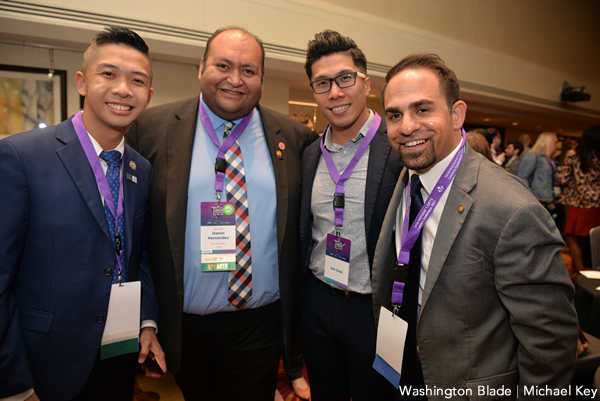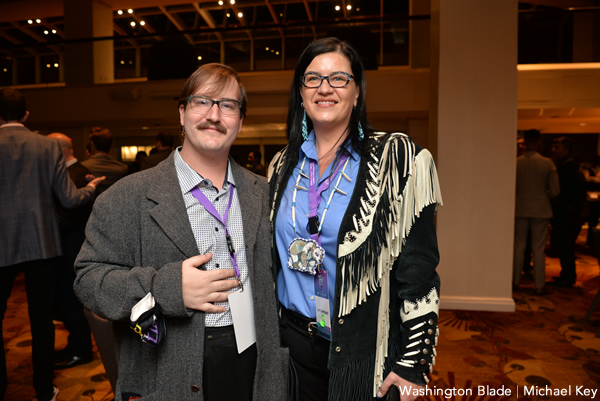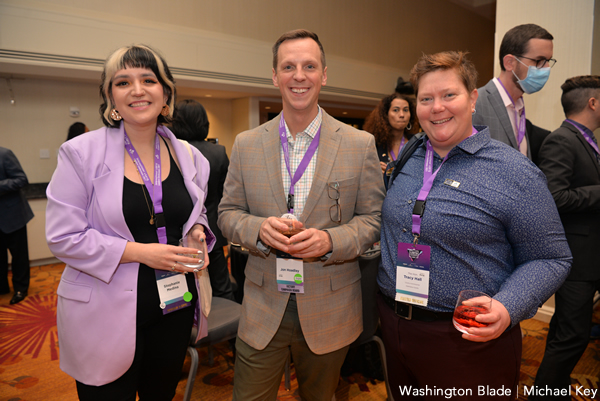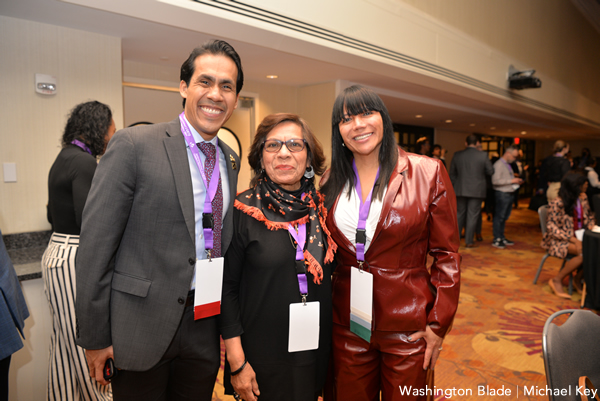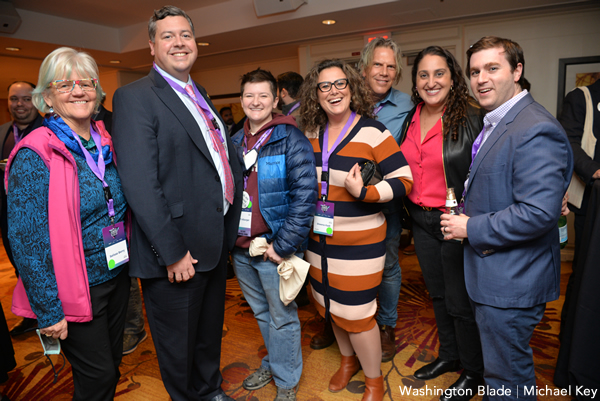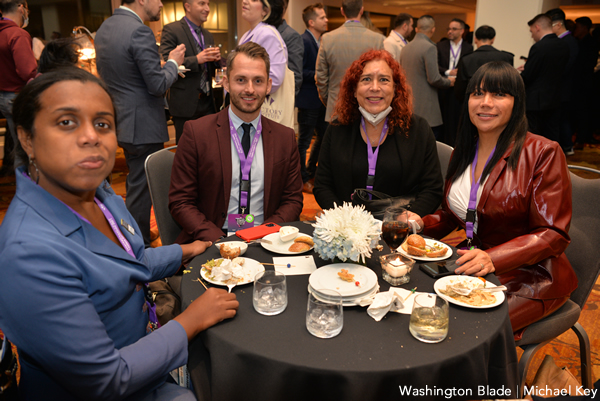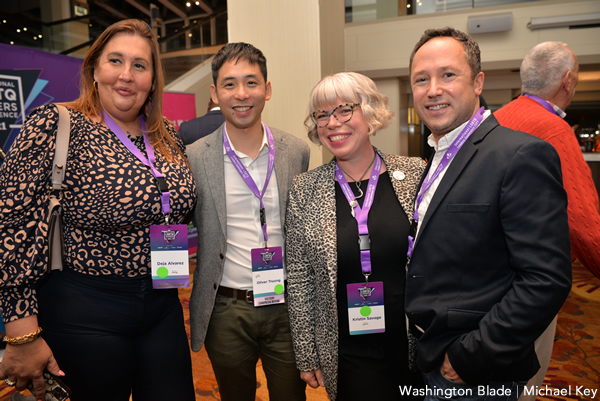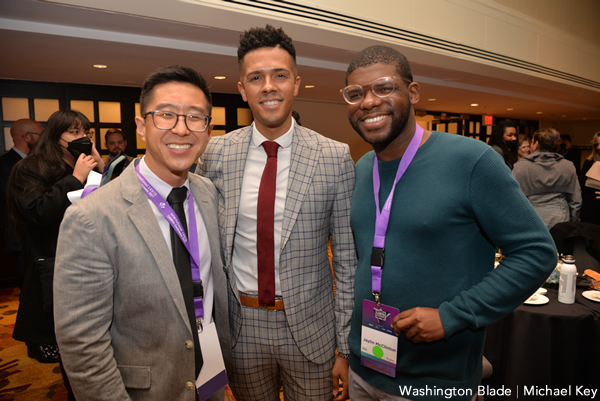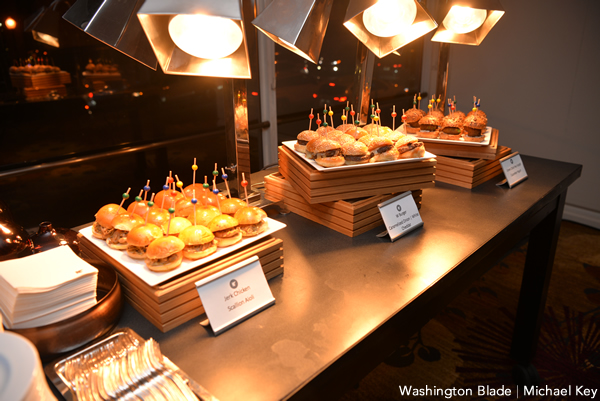 Meet the husbands and creative partners behind 'Christmas Angel'
A funny, redemptive world premiere with a diverse cast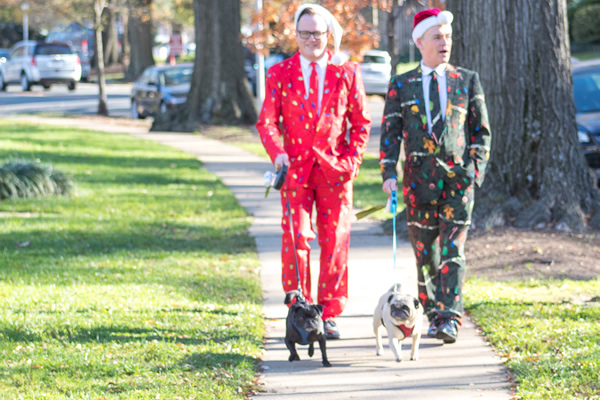 'The Christmas Angel'
Dec. 9-19
Creative Cauldron
410 South Maple Avenue
Falls Church, VA 22046
Tickets:  $35. Students $20.
Masks and proof of vaccination are required
creativecauldron.org
"Ours is like a lava lamp," says composer Matt Conner describing the collaborative creative process he shares with musical writing partner and husband Stephen Gregory Smith. "We move together in motion in a continual ebb and flow."
A couple for 23 years, married for eight, and making musicals together for 11, the talented pair's current offering is "The Christmas Angel," opening on Dec. 9 at Creative Cauldron in Fairfax.
A musical adaptation of the same-named 1910 novel by Abbie Farwell Brown, it's the story of Angelina Terry (Kanysha Williams), a wealthy embittered recluse who learns the lessons of Christmas from a box of old toys that she casts into the street. Also featured in the hour-long one-act are Ryan Sellers as Horton, Angelina's butler, and Carl Williams who plays her brother. The angel and toys are brought to life by an ensemble of a dozen teens plucked from the company's musical theater training program.
Via phone from their home in Arlington, Smith and Conner shared thoughts on their new show and working style. In attendance are pug dogs Edgar Allan Pug and Lord Byron, whom they call Eddie and Byron in public – otherwise "it's just too much," says Conner whose ultimate fantasy involves living on a pug farm where he'd write music and present the occasional show.
Rather than finish each other's sentences, the duo (both Helen Hayes Award winners – Smith for acting and Conner for directing) expound on one another's thoughts.
While Conner composes the music, Smith writes the book and lyrics, and together they co-direct. "But there's no end and beginning where my job ends and his begins," says Smith. "What we do complements each other's work."
Still, there are differences. Smith's approach is focused. He writes pages at night and edits in the morning. Conner's method is more relaxed, preferring to sit at the keyboard and talk rather than writing things down. But throughout the creative process, there's never a moment when the project isn't on their mind. They can be watching TV or buying milk when an exciting idea pops up, says Conner.
A clever nod to Dickens, the novel is more than just a female "Christmas Carol," says Smith. And in some spots, he's beefed up the 55-page book, fleshing out both storyline and characters including the toys whose shabby appearance belies a youthful confidence.
He adds, "Every holiday season you go to the attic and pull down the box, or boxes in my case, of holiday decorations and it's all old but it's new. That's the nostalgic feeling of toys from the attic that we're trying to find through the show."
The music is a combination of traditional carols performed by a hand bell chorus, and original Christmas songs that intentionally sound very familiar. The score includes songs "Don't Hide Your Light," "The Sweetest Gift," and "Yestermore" – the moment when the past, present, and future come together.
Also, there's Angelina's Bah! Humbug! number "Fiddlesticks," her great renunciation of the holidays. She believes the world a disappointing place to be, and the sooner realized the better.
Conner and Smith aren't new to Creative Cauldron. Through the company's Bold New Works project, the team was commissioned to write five world premiere musicals in just five years. The result was "The Turn of the Screw," "Monsters of the Villa Diodati," "Kaleidoscope," "Witch" and "On Air."
Judging from some of the titles and their slightly macabre content, it seems the duo was better poised to write for Halloween than Christmas, but nonetheless, they were commissioned. Creative Cauldron's producing director Laura Connors Hull brought them the obscure yet charming book that surprisingly had never before been reworked for stage or celluloid, and the pair got to work last spring.
Conner and Smith agree, "The show is a lot of things rolled up into one."
Not only is it a funny, redemptive world premiere with a diverse cast, but it's also a story largely unknown to today's audiences. Additionally, the show boasts intergenerational appeal while holding messages about Christmas, family, and finding light when you're in a darker place.
More information about Conner and Smith, including links to their music and popular podcast "The Conner & Smith Show," can be found on their terrific website at connersmithmusicals.com.
'Capote's Women' is catnip to older pop culture fans
Revisiting iconic author's seven 'swans'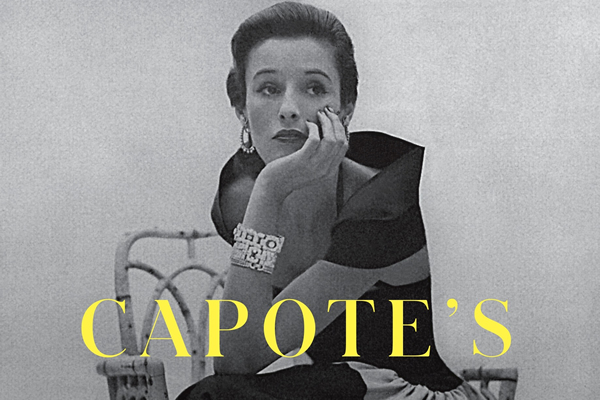 'Capote's Women'
By Laurence Leamer
C.2021, Putnam $28/356 pages
Her lips are locked tight.
Your best friend knows all your secrets, and she's keeping them; you told her things you had to tell somebody, and she's telling nobody. You always knew you could trust her; if you couldn't, she wouldn't be your BFF. But as in the new book "Capote's Women" by Laurence Leamer, what kind of a friend are you?
For months, Truman Capote had been promising a blockbuster.
Following his success with "Breakfast at Tiffany's" and "In Cold Blood," he was "one of the most famous authors in the world" but he needed a career-booster. The novel he was writing, he teased, would be about "his swans," seven wealthy, fashionable women who quite personified "beauty, taste, and manners."
His first swan was Barbara "Babe" Paley, whom he'd met on a trip with the David Selznicks to Jamaica. For Capote, "Babe was the epitome of class," simply "perfect" in every way; it helped that the famously gay writer was no threat to Paley's "madly jealous" husband.
Babe's "dearest friend" was Nancy "Slim" Keith, who quickly learned that if a lady wanted her confidences kept, she didn't tell Capote anything. She shouldn't have trusted Babe, either: When Slim left for a European trip, Babe asked if Slim's husband could accompany Babe's friend, Pamela Hayward, to a play.
Slim was aware of Pamela's predatory reputation, but what could she say?
Of course, Pamela, another of Truman's swans, stole Slim's man, a scandal that Capote loved.
Gloria Guinness was highly intelligent, possibly enough to be a spy in Nazi Germany. Lucy "C.Z." Guest was an upper-crust "elitist" with a "magical aura." Marella Agnelli "was born an Italian princess"; Lee Radziwill, of course, was Jacqueline Kennedy's sister.
Through the late 1960s, Capote claimed to be writing his masterpiece, his tour de force based on his swans, but several deadlines passed for it. He was sure Answered Prayers "would turn him once again into the most talked-about author in America."
Instead, when an excerpt from it was published, his swans got very ruffled feathers.
Every time you stand in line for groceries, the tabloids scream at you with so much drama that you either love it or hate it. Or, in the case of "Capote's Women," you cultivate it.
And that's infinitely fun, as told by author Laurence Leamer.
Happily, though, Leamer doesn't embellish or disrespect these women or Capote; he tells their tales in order, gently allowing readers' heads to spin with the wild, globe-hopping goings-on but not to the point that it's overdone. While most of this book is about these seven beautiful, wealthy, and serially married women – the Kardashians of their time, if you will – Capote is Leamer's glue, and Truman gets his due, as well.
Readers who devour this book will be sure that the writer would've been very happy about that.
"Capote's Women" should be like catnip to celeb-watchers of a Certain Age but even if you're not, find it. If you're a Hollywood fan, you'll want to get a lock on it.