March 17, 2020 at 12:32 pm EDT | by Ed Gunts
Baltimore's Grand Central nightclub will move 5 blocks away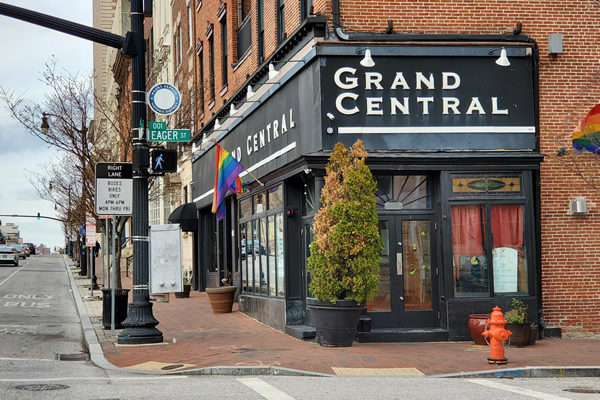 Grand Central, the gay nightspot in Baltimore's Mount Vernon neighborhood that faced possible closure after a real estate developer bought the property a year ago, will live on in a new location.
Landmark Partners, the developer that acquired both the club and the property in February 2019, announced March 12 that Grand Central will move five blocks south to a building previously occupied by Flavor, a lesbian-oriented lounge that closed recently at 15 E. Centre Street.
Grand Central's current home at 1001-1003 North Charles Street was scheduled to close permanently in April to make way for construction of an eight-story office building called City House Charles. Landmark said in its announcement that the relocated Grand Central would open in April but did not specify a date.
With Baltimore's closing of all bars in the city to prevent the spread of coronavirus, Grand Central was locked shut on Monday and likely won't reopen before the move to Centre Street. The opening date for the Centre Street location also depends on when bars throughout the city are allowed to reopen.
The announcement about the move came after Baltimore's liquor board gave preliminary approval to a request to transfer Flavor's liquor license to two men who will operate the relocated Grand Central and are familiar to many members of Baltimore's LGBTQ community.
The new license holders are: Marc Hayes, general manager of Grand Central for the past 15 months, and Michael Palmisano, founder of Palmisano Productions, a business that specializes in producing and promoting LGBTQ events such as drag shows, drag brunches and Pride events, according to its website. The license is being transferred from Vanna Belton and Kyle Kessenich, Flavor's license holders.
As part of the move, Grand Central will be both a restaurant and a nightclub, offering food service that it doesn't provide now. According to Landmark's announcement, it will offer lunch and dinner on the first level as well as live entertainment in its upstairs lounge.
The transfer will become final once the Centre Street property passes inspections mandated by the liquor board. It clears the way for Landmark to begin construction of its 37,300-square-foot development, which combines the front portions of Grand Central's building with construction of an eight-story office building at the rear of the property. Landmark said it expects to begin construction of the office project in April, presumably after Grand Central has completed its move.
Baltimore businessman Don Davis started Grand Central in 1991, when he opened Central Station Pub at 1001 N. Charles Street. He expanded his business in 2003 by purchasing and adding the former Stagecoach bar at 1003 N. Charles Street to create one 15,000-square-foot nightclub called Grand Central.
After the 2015 closure of the nearby Hippo nightclub, which became a CVS branch, Grand Central was the largest surviving gay nightclub in Mount Vernon. It was a popular gathering spot for the LGBTQ community of central Maryland, but Davis decided to sell it after years of poor health.
When they bought the property in February of 2019, Jon Pannoni and George Watson of Landmark Partners said they would keep Grand Central open until they are ready to start work on their proposed development – raising questions about what would happen to the club after that.
Hayes had been brought in by Davis to manage the club during Davis' final months, and he continued as general manager for Pannoni and Watson. He told the liquor board members that he has more than 25 years' worth of experience managing businesses in Baltimore and Washington.
Finding a suitable location close to Grand Central's current home and obtaining a liquor license were keys to keeping the club open for Baltimore's LGBTQ community rather than seeing it disappear, as was support from Landmark, the new operators say.
"We're thankful and appreciative of Landmark Partners and all they've done to enhance the Grand Central experience and…help us establish GC2," Hayes said in a statement.
Watson, of Landmark, said he and Pannoni felt it was important to keep Grand Central going.
"Grand Central isn't a bar, it's [a] tight knit and supportive community and safe space for a community that is vital to the fabric of Baltimore," he said. "We look forward to celebrating this new era for Grand Central and all who have and will come to regard it as 'home.' "