March 17, 2020 at 2:55 pm EDT | by Kevin Majoros
GAME CHANGERS: Mike Correlli of the Baltimore Flamingos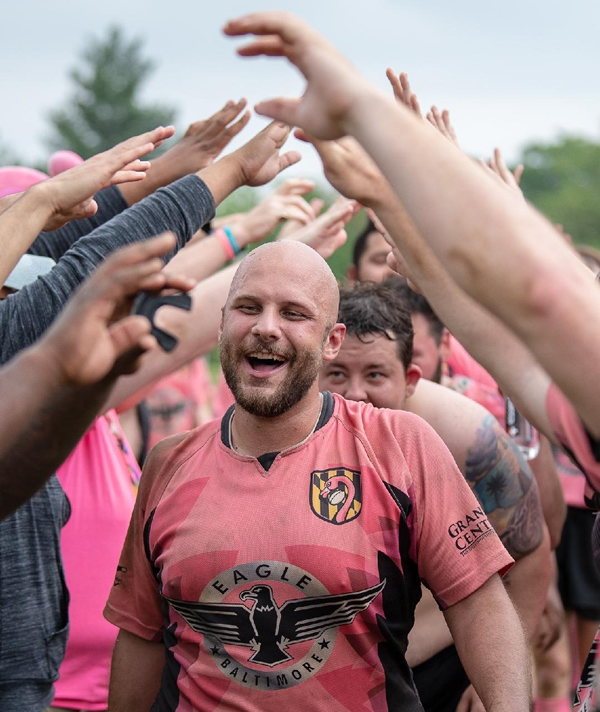 Everyone who plays sports dreams of a "Field of Dreams" moment — this week in Game Changers, we meet a gay athlete who had his on the rugby pitch.
The LGBT-based Baltimore Flamingos RFC launched in the summer of 2016 when a group of hopeful players attended a Rugby 101 session in Baltimore with players from the Philadelphia Gryphons and Washington Scandals.
After nine months of practices and matches, charter member Mike Correlli became the first Flamingos player to score a try (grounding the ball in the opposition's in-goal area) in competitive play at the Colonial Cup 2017 in Philadelphia.
"I was desperately trying to get out of the game because I had thrown my back out in an earlier match. I ended up catching a really easy pass and found a hole in their defense to score the try," Correlli says. "It was my movie moment and people were crying because it was our first try. It is one of those life images that I think back on when I'm down. It always brings a smile to my face."
Correlli grew up in a family of lacrosse fans in Perry Hall, Md. He played high school soccer for one year but had no interest and didn't find any other sport that fit. He describes his college years at Towson State University as getting by, video gaming and nerd culture.
After graduating with a degree in journalism, he began looking for a way to get in shape and thought he would benefit from a group setting. He attended that first Flamingos Rugby 101 clinic and his life took a new turn.
"It was really the first time I was seeing an organization that was primarily a gay organization. After the clinic, I went directly to a sporting goods store and bought cleats," Correlli says. "Rugby offers a strong sense of community and camaraderie. My Facebook friends list is completely different than it was four years ago."
Correlli, who works as an account manger at a startup company, plays in the second row forward (lock) or 8-man positions with the Flamingos who compete in Division IV of the Mid-Atlantic Conference league. He served as a captain in 2019.
"I wasn't expecting leadership to be so rewarding," Correlli says. "Teaching people and watching them fall in love with the sport is an incredible experience."
Tournament play is also part of being a Flamingos player and Correlli has competed throughout the Eastern Seaboard and Mid-Atlantic States. In 2018 he traveled to Amsterdam with the team for the Bingham Cup and is looking forward to their next global event in Ottawa in August.
"This sport has given me a better sense of self-confidence and I am more able to stand up for myself, both emotionally and physically," Correlli says. "Rugby is also helping to bring the LGBT community together in Baltimore, which includes our Flamingos fans and supporters. There is a need and we are fulfilling it."