March 24, 2020 at 12:44 pm EDT | by Michelle Siegel
Hogan orders all non-essential Md. business closed, $175 million in relief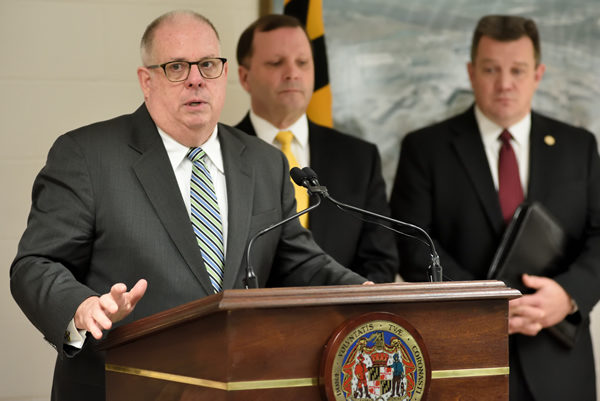 Maryland Gov. Larry Hogan on Monday ordered all non-essential businesses in the state to close
"Today's actions of closing non-essential businesses are absolutely necessary to protect the health of Marylanders and to save lives," Hogan said during a press conference on Monday.
This is not a shelter-in-place order, as clarified by interpretive guidance from the Maryland governor's Office of Legal Counsel, but "all Marylanders are urged to remain home, and employers are urged to promote work-from-home arrangements to the greatest extent possible."
Non-essential businesses are defined by the order as "all businesses, organizations, establishments and facilities that are not part of the critical infrastructure sectors identified by the U.S. Department of Homeland Security's Cybersecurity and Infrastructure Security Agency."
Under these guidelines, tattoo parlors, tanning salons, barber shops, beauty salons and recreational establishments are non-exempt and were ordered to close by 5 p.m. on Monday.
This order amends and restates an executive order from March 16, in which Hogan ordered bars, restaurants, movie theaters and gyms in the state to shut down most services. Restaurants and bars may continue to serve food and beverages via carry-out, drive-through and delivery services.
Hogan also announced a relief package totaling more than $175 million, which a press release clarified as intended to "assist small businesses and workers affected by the COVID-19 pandemic."
"There is a great deal of fear and anxiety, and the truth is, none of us really know how bad this is going to get or how long it's going to last," Hogan said. "But I can promise you that there are a great many dedicated people doing tremendous things, working around the clock and doing their very best to help keep Marylanders safe."
Additional orders announced Monday prohibit price gouging on everyday household items and essentials, as well as initiate the establishment of a field hospital at the Baltimore Convention Center and an alternate care site at the Hilton Baltimore Inner Harbor.