March 24, 2020 at 5:46 pm EDT | by Lou Chibbaro Jr.
At least 5 test positive for coronavirus at Whitman-Walker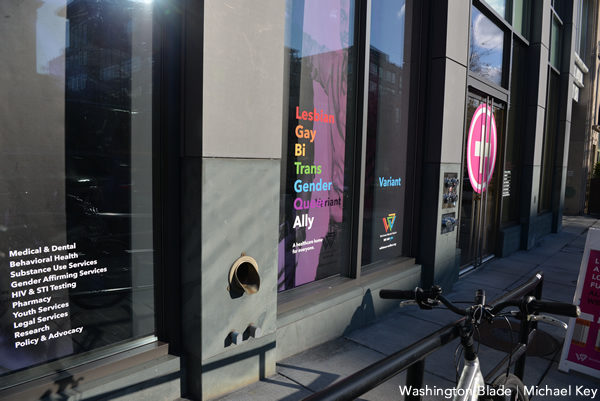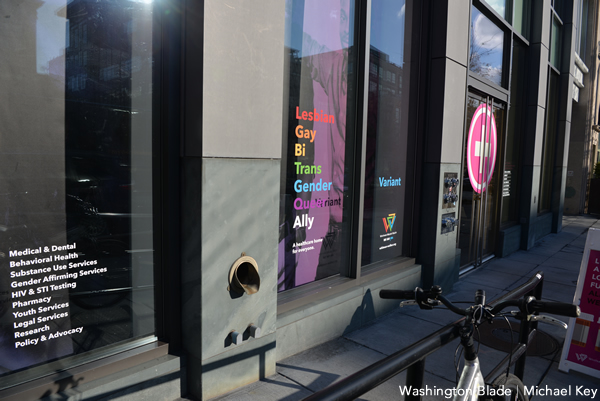 Whitman-Walker Health, D.C.'s community health center with a special outreach to LGBTQ people and people with HIV, told the Washington Blade on Tuesday that at least five or more of its patients have tested positive for coronavirus.
The disclosure of the positive test results came one day after Whitman-Walker began operating newly launched in-house respiratory clinics at two of its offices to test and treat its patients for coronavirus.
"Whitman-Walker Health has tested nearly three dozen people, but the number is changing each hour," spokesperson Jewel Addy told the Blade. "We have had more than five tests come back with a positive result," Addy said. "We are still waiting on results from two dozen of those tests, as processing is taking as much as seven days."
Addy was referring to one of two private medical testing companies, LabCorp, which the D.C. Department of Health has recommended private healthcare providers to send coronavirus tests and tests for other illnesses to be processed.
Dr. Sarah Henn, Whitman-Walker's Chief Health Officer, said Whitman-Walker has a longstanding contract for medical testing related services with LabCorp and the company was working hard to increase its capacity to handle the large number of coronavirus tests at this time. She said the company's goal is to reduce the turnaround time for the test to three to four days or less.
On Monday, Whitman-Walker announced on its website that its newly launched respiratory clinics are located at its headquarters building at 1525 14th St., N.W. and at its Max Robinson Center at 2301 Martin Luther King Jr. Ave., S.E. in Anacostia.
Addy said that due to the health emergency related to the coronavirus outbreak, Whitman-Walker, like other local health facilities, is arranging for most of its patient visits to take place remotely through a "telehealth" system it has put in place that involves consultations by phone and online communication.
"We have moved all scheduled appointments to telehealth from March 23 through May 29," Addy said. "We are not accepting new patients at this time," she said.
"We are running a respiratory clinic for any current Whitman-Walker patients who are experiencing symptoms associated with COVID-19," Addy said, adding, "All respiratory clinic visits are appointments only. Our health centers are closed for any walk-in services."
The two respiratory clinics will be among only a few of Whitman-Walker's patient services that will involve in-person visits for the time being," Addy said.
The D.C. Department of Health has announced that COVID-19 is a reportable disease and private health providers, including Whitman-Walker, are required to report all cases of COVID-19/coronavirus that they diagnose to the DOH, which is keeping track of the coronavirus outbreak in the city.
Also similar to other organizations, businesses, and government offices in the D.C. metro area, Addy said most of Whitman-Walker's employees that do not see patients are currently working remotely rather than coming to the office.
As of Tuesday morning, D.C. Mayor Muriel Bowser announced at a news conference that there were 21 new positive cases of coronavirus in D.C. over the past three days, bringing the city's overall positive case total to 137.
Also as of Monday, the total reported cases in Maryland reached 289 and the Virginia total was 254.
In its disclosure on Tuesday that more than five of its patients have tested positive for coronavirus at its respiratory clinics, Whitman-Walker did not disclose the patients' sexual orientation or gender identity. It's widely known that a large number of LGBTQ people make up Whitman-Walker's patient population.
The first known case of an LGBTQ person testing positive for coronavirus in either D.C. Maryland, or Virginia surfaced on Friday in Richmond, when the local TV station ABC 8 News reported a gay male couple disclosed they placed themselves in isolation at home after learning they tested positive.
"It's been a very surreal experience and to be one of the first to have it locally," Joseph Papa told ABC 8 News.
Papa told the television station he and his husband, JS Fauquest, who are in their 30s, came down with coronavirus-related symptoms when they returned home after traveling on separate trips for their jobs to New York and Philadelphia.
At the recommendation of their doctors the two will remain quarantined in their home in Richmond until both show no signs or symptoms of coronavirus for three days in a row, ABC 8 News reported.
Information about Whitman-Walker's respiratory clinics and its newly implemented telehealth system for treating patients can be obtained here: whitman-walker.org/telehealthhowto and whitman-walker.org/covidserviceupdates.