March 25, 2020 at 8:55 am EDT | by Joey DiGuglielmo
QUEERY: Meg Metcalf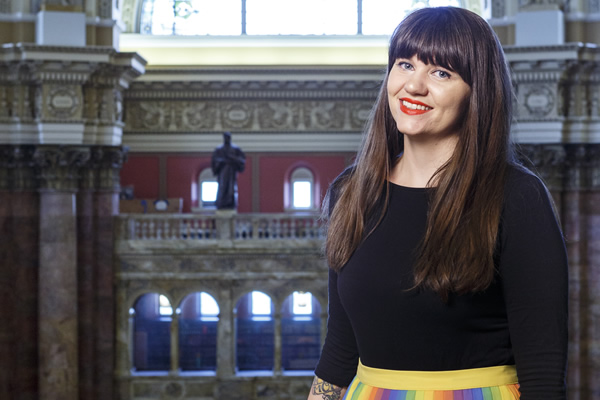 Meg Metcalf says the LGBT holdings at the Library of Congress are "incredible."
"From the papers of gay rights pioneers like Frank Kameny and Lilli Vincenz to the recently acquired AIDS Memorial Quilt Archive, the library is a research destination for anyone interested in LGBTQ+ history and culture," Metcalf says.
Metcalf is being honored as one of this year's Queer Women of Washington by the D.C. Mayor's Office of LGBTQ Affairs, the Washington Blade and the Mayor's Office of Women and Policy Initiatives. Look for the full list at washingtonblade.com next week.
"I'm honored to be recognized … for my work in elevating the LGBTQ+ collections at the Library of Congress," the 31-year-old Milwaukee native says.
Metcalf, who identifies as non-binary, came to Washington five years ago for "my dream job."
Metcalf works as a reference librarian in the main reading room providing research assistance, both general and with women's, gender and LGBT studies. Metcalf is also the library's collection specialist and recommending officer and works in collection development, outreach, teaching and programming. They're especially proud of a recently launched LGBTQ+ Studies Web Archive Collection, which preserves historical items digitally.
Of course, like just about everything else, the Library is closed now for COVID-19 and Metcalf is working from home. Metcalf says it's a great time to ask a free question online.
Metcalf and partner Dee Martin live together in Trinidad. Metcalf enjoys reading, spending time outside and exploring D.C. plant life in their free time.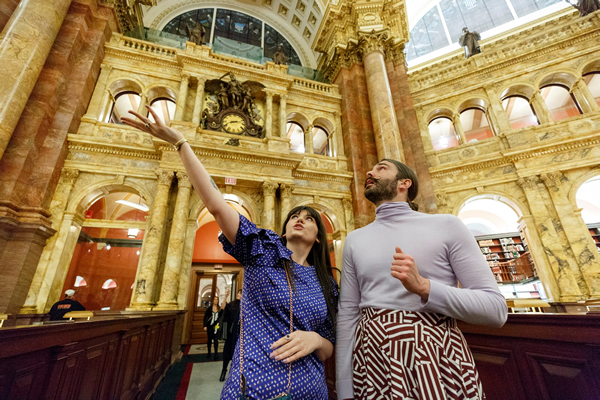 How long have you been out and who was the hardest person to tell?
I've been out as queer since high school, but I only came out as non-binary recently. This may sound cheesy, but I think for me, the hardest person to come out to was myself. I was never ashamed of being queer, but I experienced a great deal of confusion and frustration around my gender identity. I'm so grateful to all the other gender non-conforming femmes out there who gave me the community I so desperately needed.
Who's your LGBTQ hero?
It's so hard to pick one, but I'm a major Barbara Gittings fan. In addition to being an activist and organizer with the Daughters of Bilitis, she also edited their national publication The Ladder from 1963-66. We have a full run of The Ladder on reference in the Main Reading Room. Come see it and ask for Meg!
What LGBTQ stereotype most annoys you?
That we don't grow old or have long-term relationships.
What's your proudest professional achievement?
I am particularly proud of working with Netflix and the LGBT Congressional Staff Association in April 2019 to bring the cast of "Queer Eye" to the Library for an event focused on LGBTQ+ youth.
What terrifies you?
Greed
What's something trashy or vapid you love?
Apparently the show "Xena: Warrior Princess" isn't known for being high art? I beg to differ. Xena and Gabrielle forever!
What's your greatest domestic skill?
I'm a pretty good cook!
What's your favorite LGBTQ movie or show?
"Please Like Me" written by/starring Josh Thomas and more recently, the Showtime series "Work in Progress."
What's your social media pet peeve?
Trolls
What would the end of the LGBTQ movement look like to you?
We have so far to go, I doubt whatever I could envision would be accurate. I don't foresee it happening in my lifetime, that's for sure.
What's the most overrated social custom?
Events that center drinking. If the only thing to do at an event is drink, I'm just not interested.
What was your religion, if any, as a child and what is it today?
None/none
What's D.C.'s best hidden gem?
Local organizers like No Justice No Pride and D.C. Dyke March and the community they've built.
What's been the most memorable pop culture moment of your lifetime?
Probably the transition to the 21st century. I was in middle school but I still remember the Y2K hype.
What celebrity death hit you hardest?
Toni Morrison, David Bowie and Prince.
If you could redo one moment from your past, what would it be?
I can't think of a single moment but I have often wished looking back that I would have felt more comfortable asking for help when I needed it or making my boundaries more clear to those around me.
What are your obsessions?
Collecting queer ephemera, especially items published in the 1960s or earlier. I'm also mildly obsessed with my dog Janet.
Finish this sentence — It's about damn time:
… we had affordable housing and health care for everyone.
What do you wish you'd known at 18?
As a self-identified hard femme, I wish I had known back then that femmes can be thems, too! Which is to say, that femmes can be non-binary. I was really struggling with my gender identity back then, and I didn't really feel like I had the language or the community to express those feelings.
Why Washington?
I came here for my dream job at the Library of Congress, but living in D.C. is hard to beat. There's so much to love here: the thriving dyke community (which I have met primarily through D.C. Dyke March events), the world-class museums, the gorgeous biodiversity — I love it here.