March 25, 2020 at 12:25 pm EDT | by Peter Rosenstein
Trump's epic fail – a moron is president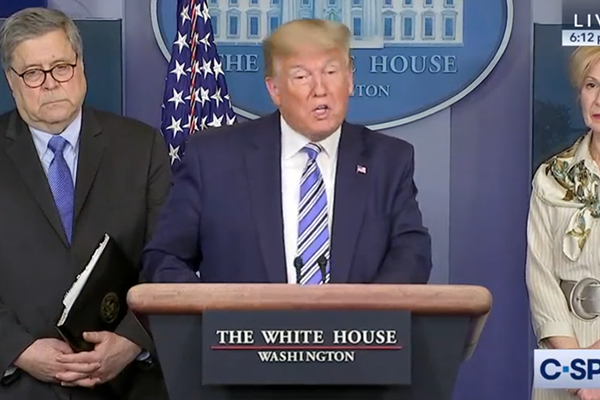 Watching and listening to Donald Trump, you can't be faulted if you think you entered an alternate universe.
You imagine this must be someone's idea of a sick joke. Then when you realize he is the actual president and responsible for handling this crisis you can't help but get a sinking feeling in your gut. You know with overwhelming dread we will be hearing from him until noon on Jan. 20, 2021.
Trump just can't help himself. He is an incompetent bully; an egomaniac with no trace of empathy. He sounds like a carnival barker and every time he opens his mouth, he's saying, 'Come one, come all, to the Donald Trump show.' In every press conference he rambles and blusters endlessly. It is only fortuitous if we are lucky experts like Dr. Anthony Fauci speak for a few minutes and give us the facts we need before Trump reclaims the podium. Last week he was asked by NBC Reporter Peter Alexander "What do you say to Americans that are scared?" Instead of offering calming words, he barked, "I'd say you are a terrible reporter. I think that's a very nasty question, and I think that's a very bad signal that you're putting out to the American people." He then went further and "blasted NBC News and its parent company, Comcast, in general." Once he got that off his chest he went on another tirade about all the terrible reporting he is seeing, fake news and how awful the press is. Not one word to the American people about how he hopes they are coping with this crisis and staying healthy.
Trump won't change. As the federal government works to catch up with this pandemic we rely on governors and mayors to take the lead. D.C. Mayor Muriel Bowser has been a stalwart as has Gov. Larry Hogan in Maryland, Gov. Andrew Cuomo in New York, and Gov. Gavin Newsom in California. All are waiting for and begging Trump to bring the full power of the federal government to bare. The problem is he doesn't know what to do. He waited until Friday, March 20 to invoke the Defense Production Act, which could help with production of ventilators, masks, gowns and all the PPE our medical professionals and first responders need to do their jobs safely, yet he hasn't actually used its powers.
Remember as late as February 28th in South Carolina Trump was still calling the coronavirus a "Democrat hoax." The New York Times reported Trump first publicly talked about the virus in Davos, Switzerland when he was asked by a reporter, "Are there worries about a pandemic at this point?" The president responded: "No. Not at all. And we have it totally under control. It's one person coming in from China, and we have it under control. It's going to be just fine."
Had we begun planning and acting then we would be much better off than we are today. So do I hold Trump responsible for what is happening today? You bet I do and so should all the American people. The Washington Post reported "on January 24th the Senate Health Committee holds a private, all-senators briefing featuring Centers for Disease Control Director Robert Redfield and infectious disease expert Anthony S. Fauci. Then on February 7th Senator Burr (R-NC) in a Fox News op-ed with Sen. Lamar Alexander (R-Tenn.) says Americans are "rightfully concerned" about coronavirus but that, "Thankfully, the United States today is better prepared than ever before to face emerging public health threats, like the coronavirus, in large part due to the work of the Senate Health Committee, Congress, and the Trump Administration." Clearly all lies and neither they nor Trump acted in any urgent way.
Many will contract the virus and many will die and some of those deaths will be on Trump's hands. Instead of acting, he stuck his head in the ground hoping it would all just go away. While we should take our anger out on him on Nov. 3, today we must support each other, follow rules to keep us safe, and move forward. We are strong and will get through this together.
Peter Rosenstein is a longtime LGBTQ rights and Democratic Party activist. He writes regularly for the Blade.