April 25, 2020 at 1:58 pm EDT | by Lou Chibbaro Jr.
U.S. Attorney objects to release of defendant convicted of anti-LGBTQ hate crime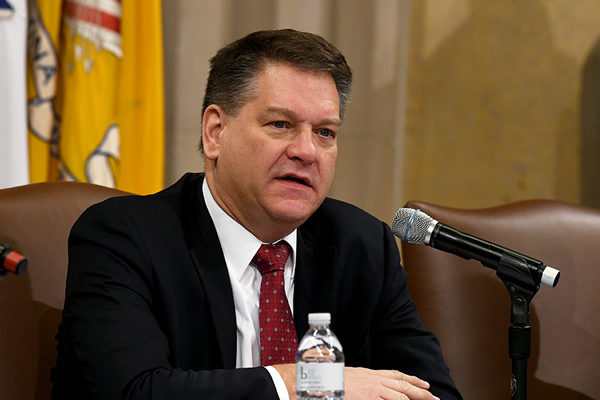 U.S. Attorney for the District of Columbia Timothy J. Shea, the city's lead prosecutor, earlier this month informed his office's Hate Bias Task Force that he objected to a decision by a judge to grant the early release of a defendant convicted of a bias-related assault against an LGBTQ person.
In an April 7 letter to members of the Task Force, which serves as a citizens' advisory body, Shea indicated that the identity of the perpetrator and the judge could not be released because the judge agreed to a defense request that the perpetrator be sentenced under the D.C. Youth Rehabilitation Act. The act allows judges in certain cases to seal the court records of a case involving defendants between the age of 18 and 24.
Shea's office released a copy of his letter to the Washington Blade.
"On February 13, 2020, the defendant was convicted by a jury of one count of simple assault with a bias-related enhancement for punching the victim, who he knew or perceived to be a member of the LGBTQ community, so hard that she briefly blacked out," Shea said in his letter to Hate Bias Task Force members.
"On February 28, 2020, the Court sentenced the defendant, pursuant to the Youth Rehabilitation Act, to 270 days of incarceration, suspending execution of the sentence except for 90 days," Shea wrote in his letter. He said the court – meaning the judge – also sentenced the defendant to undergo three years of supervision upon release from incarceration.
"Thus, according to the terms of the original February 2020 sentence, the defendant was to have served 90 days of incarceration, followed by three years of supervised release," Shea continued in his letter. "However, on March 13, 2020, the defendant filed a motion seeking a reduction in his sentence, citing the COVID-19 pandemic as a rationale," Shea said.
"Our office opposed his motion," Shea said in his letter. "However, on April 1, 2020, over our Office's objections, the Court granted the defendant's motion and re-sentenced him, pursuant to the Youth Rehabilitation Act, to 270 days of incarceration, this time suspending execution of all of the sentence except for time served, followed by three years of supervision upon release."
Shea noted that the court's action resulted in the defendant being released from jail on April 1 after having served only about 30 days or one-third of his original sentence.
"While I understand how unsettling this result is for the victim-survivor, the LGBTQ community, and our community as a whole, I wanted to share this information with you and reassure you that our Office continues its commitment to the prosecution of hate- and bias-related crimes even as our nation and the world face the COVID-19 pandemic," Shea concluded in his letter.
A Shea spokesperson said the office has a policy of not disclosing the names of crime victims in cases that it prosecutes.
Shea's letter comes at a time when public health officials have called for the temporary release of people from jails in D.C. and states across the country who were convicted of non-violent crimes on grounds that incarceration places them at greater risk of coronavirus infection.
D.C. transgender activist Bobbi Elaine Strang, who serves as president of the Gay & Lesbian Activists Alliance and who has attended meetings of the U.S. Attorney's Hate Bias Task Force, said she shares Shea's concern about the judge's decision to grant the defendant early release.
"The defendant committed a violent offense and we have no assurance that he would not continue to be a danger to the LGBTQ community," Strang told the Blade. "However, simple assault is not a capital crime and crowded prison environments facilitate the spread of the coronavirus, significantly increasing the odds of mortality," she said.
The city's Youth Rehabilitation Act of 1985, which the D.C. Council amended and Mayor Muriel Bowser signed in 2018, seeks to give first offenders between the ages of 18 and 24 who are convicted of a crime other than first and second degree murder, first and sexual degree sexual abuse, and first degree child sexual abuse a "second chance" of rehabilitation.
The law authorizes a judge to determine whether a defendant sentenced under the act who successfully completes his or her sentence is eligible to have their criminal record permanently sealed with a waiver on having to disclose their arrest and conviction when applying for a job, a loan, or any other benefit that might be denied to someone with a criminal record.