Se celebró el Orgullo LGBTQ en El Salvador desde casa
El Salvador G organizó una celebración virtual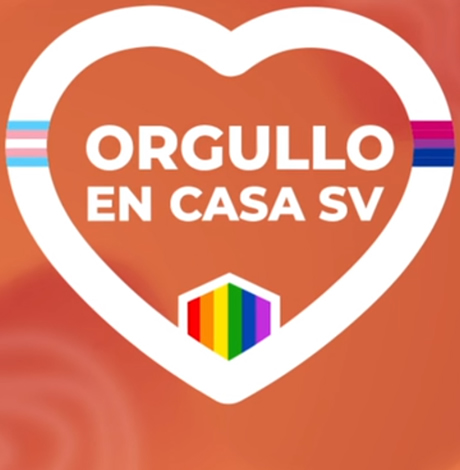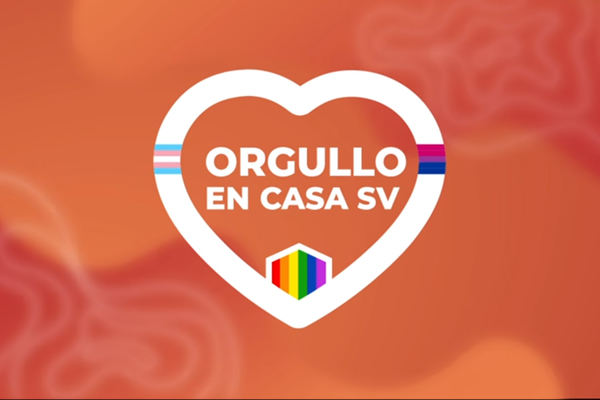 SAN SALVADOR, El Salvador — El Orgullo LGBTQ en El Salvador, se celebró en Internet al igual que en el resto mundo este año; debido a la pandemia que se está viviendo a nivel mundial, todas las instituciones que se encargan de la organización de la marcha en sus respectivos países comenzaron a tener reuniones virtuales para sondear la manera en cómo se podía solventar la celebración y mostrar el orgullo de manera virtual, sin exponer a nadie a salir a las calles como cada año.
En El Salvador, muchas de las organizaciones LGBTQ que están conglomeradas en la Federación Salvadoreña LGBTI han dedicado más tiempo a solidarizarse en la recolección de víveres y artículos de primera necesidad para apoyar a sus bases que se han visto afectadas, tanto por la pandemia, al igual que por las tormentas que han azotado al país. Una de estas organizaciones es Asociación Entre Amigos.
"Hemos estado trabajando en las emergencias, que no hemos tenido ni oportunidad de pensar que es junio, pero como Federación se realizó algo, al igual que otras organizaciones compañeras", comentó al Washington Blade, William Hernández, director de Asociación Entre Amigos.
Por ello El Salvador G, un portal salvadoreño que se ha destacado durante 11 años como medio de comunicación de la población LGBTQ y al mismo tiempo siempre han participado de la celebración del Orgullo LGBTQ en el país, este año fue el encargado de llevar la celebración de manera digital.
"Desde febrero comenzamos a tener reuniones virtuales con nuestros pares organizadores del Pride en otros países, para ver cómo iban solventando en ese momento, como Australia y otros más", informa al Blade, Nicolás Rodríguez, director de El Salvador G. "Propusimos que no se cancelaran las marchas, sino que se pospusieron a finales de año para aquellos países que no tienen invierno en esa época".
Al tenerse una respuesta favorable de diversos colegas organizadores se acepta la cancelación en junio toda celebración de calle y se traslada a nivel virtual, "por ello se realizó el 27 de junio el Global Pride a nivel internacional, en donde El Salvador tuvo su participación por la noche y El Salvador G, lo transmitió en vivo", comenta al Blade Rodríguez. "De ahí nace la idea de una maratón de videos llamada #OrgulloEnCasaSV, proyecto al cual se han sumado colectivos de artistas, colectivos de ONG's, entre otros, por lo cual ha sido muy utilizado el hashtag".
En esta iniciativa a través de la página de Facebook de El Salvador G, se estuvieron presentando diversas entrevistas en vivo a organizaciones, a gente histórica en el movimiento de El Salvador, que han contado un poco de la incidencia que se ha venido haciendo con el pasar del tiempo.
"La iniciativa de El Salvador G es muy buena, nosotras participamos de un conversatorio que se realizó y también con videos para El Orgullo en Casa SV", expresó en una pequeña entrevista con el Blade, Karla Guevara, directora ejecutiva de la Asociación Colectivo Alejandría.
Por su parte COMCAVIS TRANS junto al Centro Cultural de España en El Salvador trabajaron en una muestra fotográfica virtual titulada "Diversificando nuestra existencia con el Orgullo", para lo que la directora ejecutiva de la organización, Bianca Rodríguez, comentó al Blade que, "con este portafolio se pretende mostrar la situación de precariedad en que se encuentra inmersa la población bajo diferentes temáticas como el desplazamiento forzado, su cotidianidad, la situación laboral por el COVID-19, entre otros".
De esa manera se visibilizó otro rostro del día del Orgullo, con las diferentes realidades que las personas LGBTQ, en especial personas trans, viven en El Salvador; al mismo tiempo se reivindica la existencia de cuerpos diversos y las diferentes expresiones del amor entre las personas, la muestra fotográfica aún está en línea a través de la página https://www.comcavistrans.org/.
El Ministerio de Cultura del Gobierno de El Salvador, presentó junto a la embajada de la República de Cuba y con el apoyo de la Asociación ASPIDH Arcoíris Trans, la 3ª Muestra Digital de Cine LGBTIQ+ El Salvador, la cual se presentó del 26 al 30 de junio, todas las producciones eran para un público mayor de 21 años, los enlaces para ver las películas eran solicitados por medio de mensajes privados al Facebook del Ministerio a las 8:00 p.m. de las fechas establecidas.
La muestra se inauguró con el estreno salvadoreño titulado "SoulMeet", un corto de ficción dirigido por Jesús Vanegas; además, el documental salvadoreño "Rosa", que fue considerado el mejor documental independiente en el Festival de Cine Independiente en New York, en 2006, el cual fue dirigido por Erika Saca, Chiki Vásquez y Orlando Álvarez.
A esta visibilidad en redes sociales, también se sumó la Iglesia Episcopal Anglicana de El Salvador, quienes del 22 al 27 de junio estuvieron publicando reflexiones bíblicas hechas por personas LGBTQ que pertenecen al Ministerio de Diversidad Sexual de la misma, cerrando el 28 de junio con una Eucaristía en línea dedica al Orgullo LGBTQ, en donde la predica principal fue dada por el coordinador de dicho ministerio y las oraciones llevadas por parte de las chicas y chicos del mismo.
Por medio de videos y un escrito, la Federación Salvadoreña LGBTI mostró su posicionamiento ante la conmemoración virtual del 28 de junio; video en el cual presentan datos históricos del porqué de la marcha en el país, al igual cifras de asesinatos a personas LGBTQ en el país, 145 registrados entre 2016 y 2018 y solo en los primeros meses de 2020 se registraron 4 asesinatos de personas gays y trans; según datos de la Secretaria de Inclusión Social a través de la Dirección de Diversidad Sexual, entes clausurados por el gobierno de Nayib Bukele.
Y aunque toda celebración de la diversidad existente y la reivindicación se trasladó al ámbito virtual este 2020, el objetivo principal sigue siendo el mismo,
"Las marchas han servido no solo para celebrar nuestra vida, sino también para manifestarnos y demandar nuestro reconocimiento como ciudadanas y ciudadanos que indistintamente de nuestras orientaciones sexuales, de nuestra identidad y/o expresión de género, somos seres humanos a quienes se nos debe garantizar el ejercicio pleno de nuestros derechos", expresó en un vídeo compartido por la Federación Salvadoreña LGBTI, Erick Ortiz, coordinador general de Colectivo Normal y pre candidato a diputado por Nuestro Tiempo.
Victory Fund honors gay Guatemalan congressman at D.C. conference
Aldo Dávila a vocal critic of country's government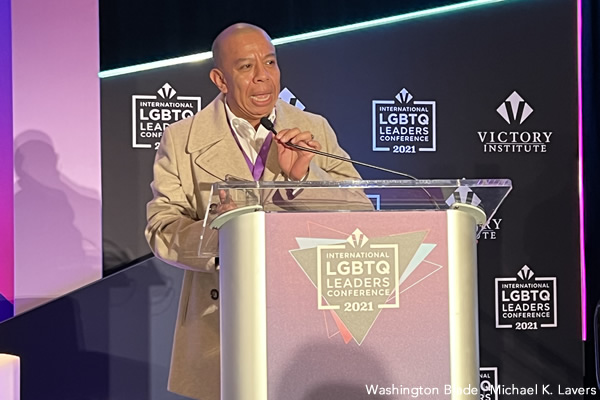 The Victory Fund on Friday honored an openly gay Guatemalan congressman who has faced death threats because of his efforts to fight corruption in his country.
Dávila — a member of the Winaq movement, a leftist party founded by Rigoberta Menchú, an indigenous human rights activist and Nobel Peace Prize winner — in 2019 became the first openly gay man elected to Guatemala's congress. Dávila, who also lives with HIV, had previously been the executive director of Asociación Gente Positiva, a Guatemala City-based HIV/AIDS service organization.
Supporters of President Alejandro Giammattei have lodged several formal complaints against Dávila after he publicly criticized the government over corruption, its response to the pandemic and other issues.
Three men on April 19 approached Dávila's vehicle near Guatemala's National Library and tried to rob him. One of Dávila's bodyguards shot one of the men, but the two other assailants fled the scene before police officers and passersby arrived.
Dávila told the Washington Blade in September during an interview at a Guatemala City hotel that he and his partner installed cameras in their apartment after someone killed their dog.
Two female police officers who arrived at the hotel with Dávila sat in the lobby while he spoke with the Blade. The government a few weeks later reduced his security detail.
"Guatemala is living through the worst democratic crisis in the last 40 years," said Dávila after he accepted the Victory Fund's Global Trailblazer Award at its 2021 International LGBTQ Leaders Conference that is taking place in-person at the JW Marriott in downtown D.C. "Guatemala right now is being paralyzed by corruption and impunity and my voice is uncomfortable because of this."
Dávila became emotional at the end of his remarks.
"I will keep fighting for our rights," he said.
Openly gay man elected to Honduran congress
Víctor Grajeda will serve as Congresswoman-elect Silvia Ayala's substitute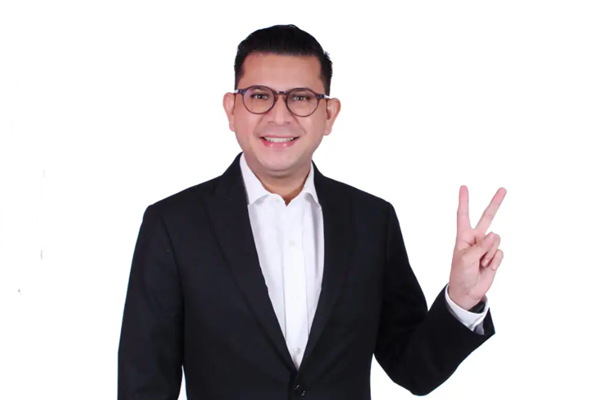 An openly gay man in Honduras made history on Sunday when he won a seat in the country's Congress.
Grajeda will serve alongside Congresswoman-elect Silvia Ayala of the leftist Free Party (Partido Libre), who represents Cortés department in which the city of San Pedro Sula is located, as her substitute.
Reportar sin Miedo, the Washington Blade's media partner in Honduras, and Agencia Presentes, reported Grajeda received more than 100,000 votes. Grajeda is one of five openly LGBTQ candidates who ran for Congress.
"I am looking to open spaces and eliminate discrimination based on sexual orientation or identity," said Grajeda.
Tegucigalpa Mayor Nasry Asfura, a member of outgoing President Juan Orlando Hernández's ruling National Party (Partido Nacional), on Tuesday conceded defeat to President-elect Xiomara Castro of the Free Party.
Castro's husband, former President Manuel Zelaya, was ousted from power in a 2009 coup.
Activists with whom the Blade has spoken say LGBTQ Hondurans continue to flee the country and migrate to the U.S. in order to escape rampant violence and discrimination and a lack of employment and educational opportunities. Castro, among other things, has publicly endorsed marriage rights for same-sex couples in Honduras.
Canadian government introduces bill to ban conversion therapy
Prime minister says discredited practice as 'discriminatory and degrading'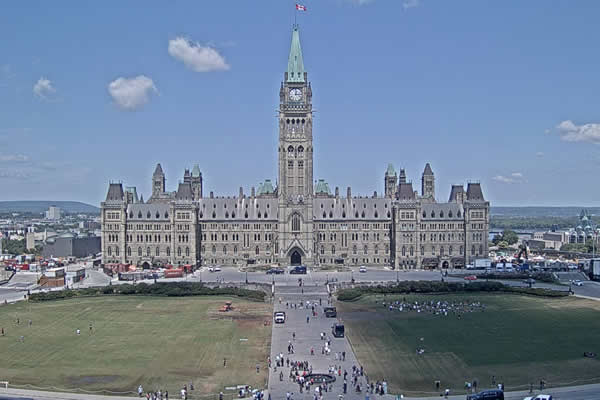 The Canadian government on Monday introduced a bill that would ban so-called conversion therapy in the country.
The bill that Attorney General David Lametti and Women and Gender Equality and Youth Minister Marci Ien introduced would amend Canada's Criminal Code to specifically ban:
Causing another person to undergo conversion therapy
Removing a minor from Canada to subject them to conversion therapy abroad
Profiting from providing conversion therapy
Advertising or promoting conversion therapy
A press release the Canadian government issued said the bill would allow courts "to order the seizure of conversion therapy advertisements or to order their removal from computer systems or the internet."
"The pain and trauma caused by conversion therapy practices continue to have a devastating impact on LGBTQ2 communities across Canada," said Ien. "Our government is focused on promoting equality rights and tackling discrimination against lesbian, gay, bisexual, transgender, queer and two-spirit people. Criminalizing this practice upholds basic human rights, while also ensuring that every Canadian is free to live their authentic lives."
Prime Minister Justin Trudeau in a tweet said conversion therapy "is discriminatory and degrading, and has had devastating impacts on LGBTQ2 Canadians."
"It has no place in our country," he said.
Conversion therapy is discriminatory and degrading, and has had devastating impacts on LGBTQ2 Canadians. It has no place in our country – and that's why, today, @DavidLametti and @MarciIen introduced legislation to ban it once and for all. More details: https://t.co/28jSblDPyR https://t.co/hLhzT1nJbD

— Justin Trudeau (@JustinTrudeau) November 30, 2021
Tourism Minister Randy Boissonnault, who previously advised Trudeau on LGBTQ issues, also applauded the bill's introduction.
"Conversion 'therapy' is akin to torture," said Boissonnault. "I encourage all of my colleagues in the House (of Commons), to support this bill that will move to criminalize conversion therapy in Canada once and for all."
I've said it before, and I will say it again. Conversion "therapy" is akin to torture. I encourage all of my colleagues in the House, to support this bill that will move to criminalize conversion therapy in Canada once and for all. 🏳️🌈 pic.twitter.com/AbCwaMf30w

— Randy Boissonnault 🏳️🌈 (@R_Boissonnault) November 29, 2021
Trudeau, who won re-election in September, has previously called for a prohibition of the widely discredited practice. The Canadian Senate earlier this year tabled a separate conversion therapy ban bill.
The House of Commons on Wednesday unanimously approved the recently introduced bill. It now goes to the Senate.
Canada would join Malta and a handful of countries that ban conversion therapy.