July 16, 2020 at 12:53 pm EDT | by Patrick Folliard
Arena Stage turns to film during COVID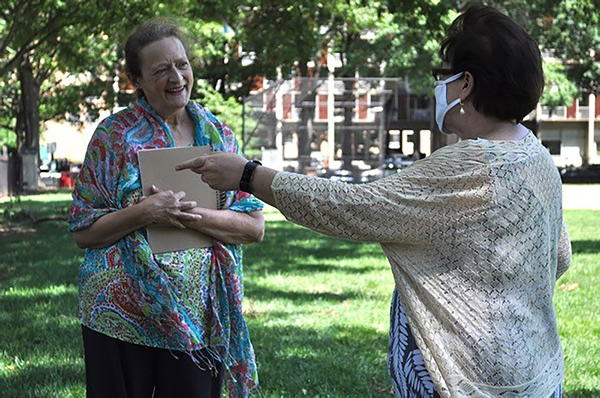 After live performances ceased to be an option in mid-March, Arena Stage turned to film. In doing so, they've created two compelling time capsules from the age of COVID-19 – the first, a docudrama of personal snapshots drawn from a single day; and the second, a revealing piece exploring young people's thoughts, reactions, and experiences over the first three months of the pandemic.
The decision to film came to Arena's artistic director Molly Smith in a flash. She explains, "I'm a voracious newspaper reader. I love the way papers do thumbnail sketches of people and thought we could do that in theater. But since we're closed, I thought maybe we could shoot something outside?"
Smith hastily reached out to Arena's deputy artistic director Seema Sueko, and together they discussed logistics while assembling a list of exceedingly diverse, real-life DMV-area subjects along with local playwrights and actors to inspire, create and perform 10 compelling monologues for film. The quietly impactful, fast-paced effort would be titled "May 22, 2020."
Shot outdoors over one long day in various spots close to Arena Stage in Southwest, D.C., the 55-minute film features beautifully realized portrayals including, among others, two essential workers (Rachel Zampelli and Dawn Ursula); a D.C. detective (KenYatta Rogers), a children's book author (Nancy Robinette); a beekeeper (Edward Gero); and a federal contractor, played by out actor Holly Twyford, whose COVID-19 symptoms won't go away. Their insights are varied and unexpected and simultaneously relatable to what we've all experienced in the past months. There's a worrying familiarity to their stories, and a glimmer of hope.
"The film is local in every way – place, actors and experience. When something is hyper local it becomes universal. It would have been an entirely different film had it included other cities. Every place has its own COVID-19 story and this is ours," says Smith who has spent most of the pandemic social distancing with partner Suzanne Blue Star Boy.
She adds, "It's important to go on living even during this time of sickness and death," and her film is a glowing manifestation of that intention.
Arena's other world premiere film, "Inside Voices: a film by Arena Stage's Voices of Now ensembles," is a 45-minute docudrama based on the real-life pandemic experiences of students from middle school through university. Directed by Arena's Ashley Forman and Mauricio Pita, the film employs words, music, dance, and animation to explore themes of isolation, alienation, friendship and courage.
A longtime Arena program, Voices of Now provides a theatrical platform for youth and young artists. Ordinarily, the longtime program culminates with students coming together to perform and discuss their work in May, but this year the student artists required a new medium to express themselves.
While Forman came up with the idea to make a film, Pita was quick to agree: "We were in the middle of the development process in March," he says, "And we didn't want to stop. Clearly the pandemic changed the stories; we saw the opportunity to capture a moment in time in a different way."
"We went from meeting on Zoom to having the artists send video clips from their phones – all the material had to go through their teachers: That's 130 students with 20 clips each. Do the math. It's a ton of transcription and writing. Our job was to make it cohesive and thought provoking."
But for Pita, 35, theater has never been about sitting at a computer eight hours a day.
"Here's the plot twist: Now I'm almost always in front of my computer," he says with a laugh. "But that I'm able to make art and have an income during the pandemic is a huge gift." Working exclusively from home, he goes out to walk his dog and to make grocery runs. COVID-19 has touched him personally. (Pita lost an uncle and close friend to the virus in March); he doesn't question its potential lethality.
Originally an actor, he made a conscious decision to move away from the footlights: "I never felt in control as an actor. Because I am gay and Latino, I was cast in a lot of stereotypical gay Latino roles, and I played into that because I needed to survive. As director and educator, I can help to change the narrative."
Film was unknown terrain to him. And although Arena hired an editor to work on "Inside Voices," Pita remained heavily involved in all aspects of production. He felt he owed it to the artists. But despite the long hours and steep learning curve, he says "I'd do it again. And, I think, we might have to."
You can watch "May 22, 2020" and "Inside Voices" for free at arenastage.org