July 29, 2020 at 4:41 pm EDT | by Staff reports
QUEERY: Darren Paul-Vance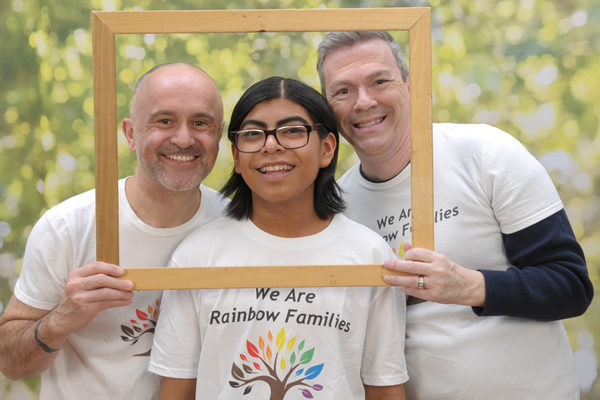 Darren Paul-Vance is executive director of Rainbow Families, which since 2004 has held its "Family Conference and Gathering," a day of workshops and opportunities to connect with businesses that serve the community. Things are bit different this year, given the coronavirus restrictions.
"With the pandemic we considered cancelling this year, but our members spoke up and said they wanted a conference, even if it looked a bit different," he said. So, a virtual Family Conference will be held Aug. 8 and 9.
"We realize many are in online meeting overload, so we positioned it for people to come and go — attend the discussions important to them, if even just for an hour or two," he added. Registration is just $35; visit rainbowfamiliesconference.org for information.
Darren Paul-Vance married his husband John Paul-Vance in 2010, as soon as it was legal in D.C. They've been together since 1997 and have a son named Alex.
"My husband John and I adopted our son at birth from Guatemala 14 years ago and quickly felt a need to connect with other LGBT families," Darren Paul-Vance said. "We saw a post for a Rainbow Families picnic; we were struck by the power of having our son — and us — be among other families like ours."
He became executive director in June of 2018. "I try to listen to our members as I want to be certain we're providing the services and programs they want through all life stages, yet carefully navigate that growth so we never forget our history and our mission."
The family lives in Waldorf, Md. Darren Paul-Vance enjoys cooking, music and travel in his free time. The family normally takes yearly vacations to Lake Michigan and to Hawaii to visit his husband's family, but those plans are on hold due to coronavirus. Otherwise, the couple enjoys "hanging out with our hysterical, fabulous teenage son."
How long have you been out and who was the hardest person to tell?
I came out as a process in my mid 20s in the midst of the AIDS crisis. The best thing I did was join the Gay Men's Chorus of Los Angeles, where I finally felt safe, part of a community, and where I could learn. Hardest to tell? My parents. And the girl I was dating. Who then came out to me as a lesbian. That conversation went better than anticipated.
Who's your LGBTQ hero?
Harvey Milk
What LGBTQ stereotype most annoys you?
I used to have several. Then I realized that was my internalized homophobia.
What's your proudest professional achievement?
Leaving 25 years of solid corporate work, to run a small-but-mighty nonprofit and to feel like finally, what I'm doing matters.
What terrifies you?
Four more years of Donald.
What's something trashy or vapid you love?
Reruns of Mom, Big Bang Theory, Frasier. And Spam, but my husband is Hawaiian so . . .
What's your greatest domestic skill?
Cooking
What's your favorite LGBTQ movie or show?
Show: Team "Schitt's Creek" all the way, followed by "Pose."
Movie: Too many, but would "Funny Girl" count?
What's your social media pet peeve?
Promoting anti-racism and queer rights as 'sponsored content' to boost corporate image.
What would the end of the LGBTQ movement look like to you?
There should never be an end to our movement
What's the most overrated social custom?
"How are you?" (Do people really want the answer?) And hand-shaking. Can I throw in reply-all, too?
What was your religion, if any, as a child and what is it today?
Favorite response from someone I care for very much: "I believe Jesus was a historical figure."
What's D.C.'s best hidden gem?
Del popolo's pizzas and their burrata appetizer
What's been the most memorable pop culture moment of your lifetime?
Queen at Live Aid tops my list. Watching "Saturday Night Fever" for the first time. Oh, and "Spartacus" — I knew I was gay right there. Thank you, Kirk. I don't follow instructions well, I know I'm supposed to be providing one answer to these.
What celebrity death hit you hardest?
Matthew Shepard. Perhaps Rock Hudson if only because that represented the onslaught. John Lewis has me thinking so much about courage, persistence, grace.
If you could redo one moment from your past, what would it be?
Not throwing a couple bucks into Apple 30 years ago? I think I'll keep the real answer close to the vest.
What are your obsessions?
Cars – especially huge 1970s American ones, the "Graham Norton Show," the "Mary Tyler Moore" show, "Pose," seeing my teenager's eyes roll when I replicate Doja Cat's moves
Finish this sentence — It's about damn time:
for Donald to be away from power and influence.
What do you wish you'd known at 18?
It all goes by in a flash. Let s**t go.
Why Washington?
Its vibrancy, activism, diversity, architecture, history and our envied, cool, dry summers