July 31, 2020 at 3:59 pm EDT | by Philip Van Slooten
Rayceen Pendarvis refuses to give up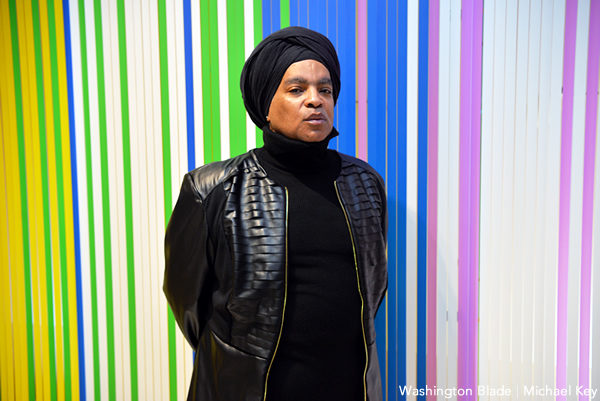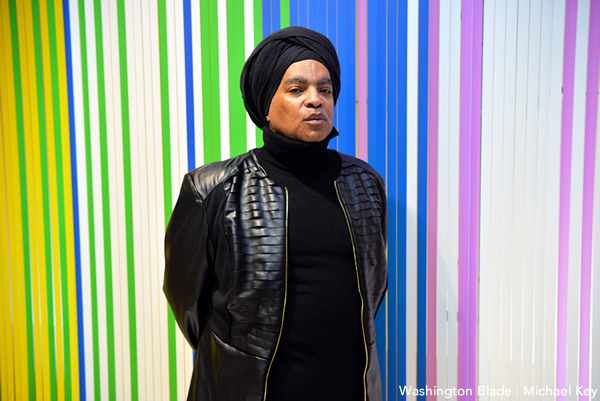 Local LGBTQ host and activist Rayceen Pendarvis spoke with the Washington Blade this week about the recent Black Lives Matter protests and reflected on the importance of including Black trans voices in this historic D.C. and national discussion.
For Pendarvis, this discussion is also personal.
Days after the Trump administration forcibly removed protesters from an area near Lafayette Square on June 1, the activist led a diverse crowd in a prayer for healing in the newly renamed "Black Lives Matter" Plaza.
"Father God, for those who are Black, white, straight, gay and for those who are nonbelievers, let us come together and heal this country," Pendarvis said to many who bowed their heads while a few held hands. "The human race needs to heal and needs to understand the importance of those who are black and brown in this country."
The host of the popular "Ask Rayceen" show also moderated a virtual forum on June 30 which brought together public officials, law enforcement and members of the community to discuss ongoing violence against Black trans women. Pendarvis told the Blade it was important to bring people together and give a voice to those who need it.
"I am a father of five and a mother of D.C.," Pendarvis, who prefers not to use pronoun labels, said proudly. "I feel like I represent everybody. It's important when you represent your community that you give voice to all. I listen to everyone's story and I create safe spaces. I feel that it is important … that every essence of who I am represents the LGBTQIA community in its fullness."
Pendarvis is a D.C. native whose personal history is intermingled with the history of the nation as it has played out in the capital city.
The 70-year-old Washingtonian has seen the 1963 March on Washington, has marched for marriage equality and has been a part of every Pride celebration in the city, including Black Pride, Trans Pride, Youth Pride, Latinx Pride and Capital Pride.
"I understand the importance of marches," Pendarvis said. "I understand the importance of rallies and of making our voices heard and our bodies seen. I know that this moment is on the eve of change and we are in a moment of transition and of a new beginning."
However, other queer people of color in D.C. have mentioned the pain, fear and frustration which have exploded in cities across the U.S. since the killing of George Floyd by white police officers on May 29 in Minneapolis.
Kenya Hutton, who is the program director for D.C.'s Black Pride, spoke of the anxieties he feels as a gay Black man when pulled over by the police. He said the recent protests brought those anxieties to the forefront and he had to work through them with his partner who is white.
"When the protests hit D.C., one night I was taking my dogs out for a walk and there were police on the corner and my anxiety got up," Hutton told the Blade. "And I couldn't walk down there with my partner. I just got scared."
He said his partner, who is originally from Kentucky, was supportive, especially on that night, but lately they've had "very in-depth conversations."
Pendarvis has had these difficult conversations as well and says reflectively, "I'm in a place of understanding why we just can't give up."
The activist and host, who is used to tackling difficult subjects with care, said this moment may be challenging, particularly for young people, but it is a challenge worth facing.
"For a long time folks have become so comfortable because so many people fought for all these freedoms we have today," Pendarvis explained. "But when your freedom is now threatened, you understand what we have gone through and that now becomes a part of your journey and your strength. So now we must all stand together, walk together, march together and come through this better. Pain gives birth to joy."
But Pendarvis also pointed out that this moment is incomplete without the voices of those who are Black and transgender.
"Because their lives matter," Pendarvis said. "We cannot say that Black lives matter and exclude our black trans brothers and sisters … It's very challenging because unfortunately so many lives are being taken. What about the lives that are being taken that we don't know about, that don't make it to the news, that go unreported and misgendered?"
"You have to give them voice," Pendarvis added. "It is important that their voices matter, more than ever. Especially now."
Pendarvis mentioned the names of Marsha P. Johnson and Silvia Rivera, two transgender women of color who were apart of the early Stonewall legacy, and stated, "It's a dishonor to their lives if we don't stand together in this experience under the umbrella of Black lives matter."
Thinking of the children she raised as well as the younger generation out marching for their rights and their lives, Pendarvis said it was important for them to know their history and have these conversations with their elders, saying that is the path toward healing.
"It's healing because when you feel disvalued, or you feel as if you don't belong, when you look in the face of someone who has felt the same experiences fifty years ago, you will understand why you stand and look at them today," Pendarvis said. "Because you are looking in the face of someone who paved the way."
But even during these difficult times of protests, tear gas and backlash, Pendarvis remains hopeful and "proud of our city," particularly following Mayor Muriel Bowser's painting of "Black Lives Matter" down the street leading toward the White House.
"I was so proud of that moment," Pendarvis said. "And when I came and was a part of the demonstrations and the march and was asked to give a prayer of healing, [I] stood on the stage before 200,000 people and saw all of those people, young, old, black, white, straight, gay — not caring about party affiliation but standing in the human experience … my heart cried. My soul cried."
Pendarvis said this was because being able to feel the spirits of so many people, who have gone through so much tragedy before, also being present on that day.
"I did not feel alone," Pendarvis explained. "And being able to speak the names of trans men and women whose lives had been taken … it allowed everyone to experience why their lives mattered. That they were someone's child, that they were someone's brother, sister, cousin — that they mattered."
As a D.C. native experiencing this historical moment along with the rest of the nation and world, Pendarvis sees the city as one that "represents pride, justice, diversity and freedom, and that's so important, especially now more than ever."