August 12, 2020 at 9:35 am EDT | by Brock Thompson
You know what Dupont needed? A Nordic restaurant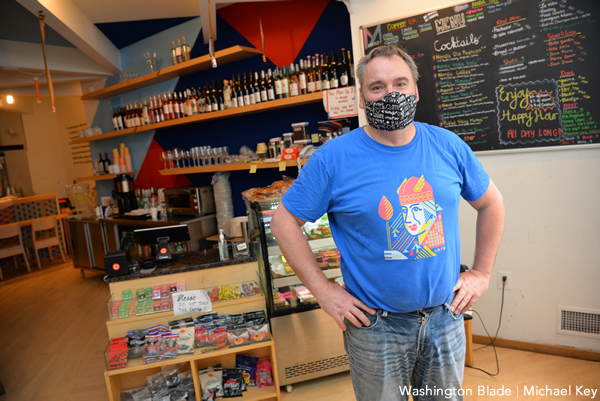 Editor's note: This is the second in an occasional series on how local small businesses are coping in the time of COVID.
There's a Danish word "hygge," pronounced hue-guh, it's sort of a concept meant to describe the feeling you get whether alone or with friends, at home or out, that the moment is cozy, charming, or just special.
And you can't really miss Mikko, the Nordic restaurant on the corner of 17th and R streets in the old gayborhood, a special place to many D.C. gays. Former chef to the Finnish embassy, a position he held for more than a decade, Mikko Kosonen opened Mikko almost two years ago. I sat down recently to chat with Mikko about all things Black Lives Matter, COVID, gay, and Nordic. 
Just passing by, you're immediately drawn to the color scheme. Reds, blues, whites, some yellow — all the colors of Nordic flags are there. I'm not a restaurant critic to be sure, but the food was fresh and fantastic, served by an upbeat and energetic staff. Mikko treated me to a salmon and poached egg sandwich followed by pancakes with a raspberry sauce. Each bite held little pieces of some Nordic heaven. The inside shop is full of Nordic products, from sodas to mustards to mints and candies. I bought a bag of children's candy known as 'Dracula Pillers' or Dracula Pills.
Like any restaurant in the area, COVID hit his interests hard. In less than a week, he saw eight months of catering events cancelled. To make it work, he pivoted toward to-go meals and grocery items. "I never thought I'd be 50 years old and selling eggs. But here we are." A government pandemic relief loan helped. He cut hours, but Mikko took pride in telling me that no one on his staff was laid off. 
Slowly but steadily, catering requests are coming back. That's the bread and butter of the business, if you will. Given his unique taste-of-home cooking, you can imagine Mikko is quite popular with the World Bank, the IMF, and a whole host of embassies. While I was sitting with Mikko, he was fielding text messages from the Austrian ambassador. Asked about the prospect of further opening up of city businesses, 'knock on the voood', Mikko said in a charming accent.
Given the Black Lives Matter movement, Mikko is aware of his privilege as a gay white male from a northern European country, you know, the kind of immigrant President Trump openly prefers versus those from "shithole countries" as Trump called them. Nevertheless he does have a perspective, gesturing toward the work going on at the now shuttered Cobalt, to the dry cleaners on the corner, "none of this would be possible without immigrants." An important reminder to be sure.
Stopping by on a recent Saturday, every table was full, despite being a rather muggy D.C. July morning. When it comes to fitting in, Mikko was proud to be on 17th Street, and proud to show off his new outdoor dining tables, again with the Nordic colors and depictions of classic Finnish cartoon characters. He also had nothing but praise for his ANC commissioner Randy Downs. It was with his help that Mikko was able to secure more outdoor seating by converting the parking area out front, something he very much wants to retain post-pandemic. I think everyone would like that.
I've always preferred Dupont's 17th Street to the more bustling 14th Street; 17th Street, that stretch of the old gayborhood between R and P street, is tree-lined, quaint, and just calmer. And the businesses, bars, and restaurants that occupy that stretch, like Annie's or Floriana's, just seem more authentic than their corporate counterparts a few blocks away. Mikko was happy to bring a little gay back to Dupont. He called his restaurant and 17th Street, "a perfect match for each other." And why not — they're both authentic, and charming. And just, well, hygge.