August 20, 2020 at 4:21 pm EDT | by Chris Johnson
Kennedy to Trump: Drop your administrative actions harming trans people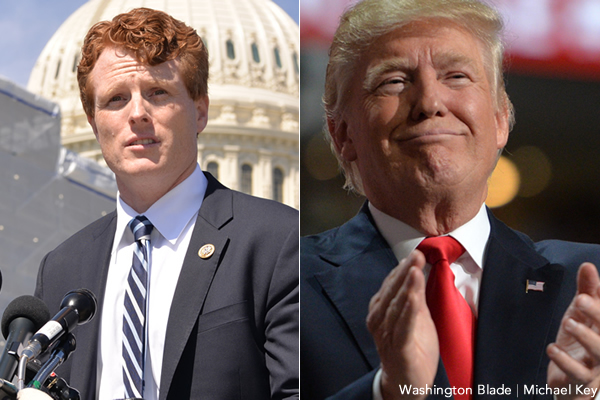 Rep. Joseph Kennedy III (D-Mass.) is leading his colleagues in criticizing President Trump for refusing to withdraw his administration's anti-transgender actions after the Supreme Court's ruling for LGBTQ rights in Bostock v. Clayton County — as well as additional actions that may be consideration during his re-election bid.
"[Y]our administration has continuously pursued the roll back of transgender protections, more than any other in modern history," Kennedy writes in a letter dated Aug. 20 obtained exclusively by the Washington Blade. "We demand that you not only abandon all attacks on the transgender community that your administration is considering, but to revoke the enacted policies we outline below as well."
Kennedy, chair of the Congressional Equality Task Force, runs through a litany of anti-transgender actions that have occurred under President Trump's watch since he took office.
Among them is reversing Obama-era guidance assuring transgender kids access to school restrooms consistent with their gender identity; the transgender military ban; refusing to enforce Title VII of the Civil Rights Act to protect transgender people; and HUD regulations allowing homeless shelters to refuse to place transgender people consistent with their gender identity.
"Almost every segment of the transgender population has been targeted by your administration," Kennedy writes. "Transgender students, transgender elders, transgender military service members, transgender asylees, transgender workers, transgender patients. Even homeless transgender Americans have been the target of your administration's anti-transgender animus."
The Supreme Court's decision in Bostock v. Clayton County determined anti-LGBTQ discrimination is a form of sex discrimination under the law. Although the immediate application was employment, it should apply to all laws barring sex discrimination and force the Trump administration to retreat on actions harming transgender people. So far, however, the Trump administration hasn't changed any regulations.
A key point of the letter is a recent report in Politico Magazine finding supporters of Trump's re-election are split on whether make anti-transgender animus a campaign issue. Among those pushing for this strategy is Terry Schilling, executive director of American Principles Project, although others such as Ivanka Trump and Jared Kushner don't the support the idea.
"Should you continue your assault on transgender people and other vulnerable communities, rest assured we will continue to fight relentlessly for justice and equal protections at every turn," Kennedy writes.
Co-signing the letter is Reps. Deb Haaland (D-N.M.), Alan Lowenthal (D-Calif.), Mike Quigley (D-Ill.), Jan Schakowsky (D-N.Y.), Bonnie Watson Coleman (D-N.J.), Ro Khanna (D-Calif.), Eleanor Holmes Norton (D-D.C.), Mary Gay Scanlon (D-N.Y.), Jackie Speier (D-Calif.) and Jennifer Wexton (D-Va.).
Kennedy, who's challenging Sen. Ed Markey (D-Mass.) for the Democratic nomination to run for the U.S. Senate, writes the letter ahead of the Massachusetts state primary on Sept. 1 in an increasingly tight race. According to a SurveyUSA poll, Markey has a two-point lead over Markey with just days to go before the primary.
The White House didn't respond to the Washington Blade's request to comment on the letter.