August 20, 2020 at 12:13 pm EDT | by Chris Johnson
Trump retweets video praising him as 'most pro-gay president' in history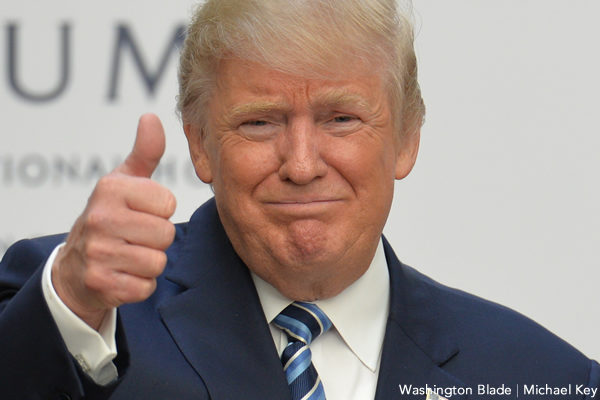 President Trump retweeted a video late Wednesday featuring Richard Grenell, the former U.S. ambassador to Germany turned Trump attack dog on Twitter, as "the most pro-gay president in American history."
"My great honor!" Trump wrote succintly in the tweet.
My great honor!!! https://t.co/kh2a5yumef

— Donald J. Trump (@realDonaldTrump) August 20, 2020
The video, produced by Log Cabin Republicans, makes the case Trump is the better candidate for LGBTQ rights by contrasting his record to Joe Biden's — although many details about both individuals are omitted or distorted. The video has more than 3.2 million views as of Thursday, according to the conservative activist group Turning Point USA.
Grenell, who as acting director of National Intelligence had the honor of being the first openly gay Cabinet official in U.S. history, lays into the 2020 Democratic presidential nominee what he says is for not doing enough on LGBTQ rights during his long career of public service.
A key quote Grenell references is a 1974 reported comment from Biden, unearthed by the conservative Washington Free Beacon earlier this year, in which he's quoted as saying as a U.S. senator his "gut reaction" is gay people would be "a security risk" if given access to intelligence. (Grenell leaves out the part of the 46-year-old quote where Biden reportedly said he hasn't "given this much thought" yet.)
"Joe must have been terrified when Donald Trump appointed me as acting director of national intelligence," Grenell says. "The fact I'm gay didn't even faze Donald Trump. Joe Biden certainly didn't congratulate the appointment, or even acknowledge it."
Grenell references past quotes from Biden in which he opposes same-sex marriage, saying nothing about Biden's remarks in 2012 on "Meet the Press" coming in favor of marriage equality, which preceded four states legalizing it at the ballot in the election that year.
After denouncing Biden, Grenell makes the case Trump has a pro-LGBTQ record, arguing he "has done more to advance the rights of gays and lesbians in three years than Joe Biden did in 40-plus years in Washington."
In contrast to Biden, Grenell says Trump is "the first president in American history to be pro-gay marriage from his first day in office," an apparent reference to comments he made in 2016 after his election when he said he's "fine" with same-sex marriage and considers the matter settled.
Trump, however, had opposed same-sex marriage throughout his 2016 campaign and said he'd "strongly consider" appointing justices that would overturn the Supreme Court ruling in favor of marriage equality.
Grenell also gives Trump credit for the global initiative to decriminalize homosexuality in the 69 countries where it remains illegal, which Grenell spearheaded during his time in the administration. Trump did bring up that initiative in a 2019 speech before the United Nations, as the video references.
"Gays and lesbians can be put to death in nine countries just for being who we are, so why did Joe Biden fail to make this issue a priority?" Grenell asks, ignoring how Biden numerous times in public remarks has denounced human rights abuses against LGBTQ people, including those in Chechnya, El Salvador, Malaysia and Uganda.
Grenell concludes by seeking to rally gay conservatives, asserting "there are millions are patriotic gay Americans who sick of being told to sit down and shut up by those who want control use, those who are afraid of our voice."
"Proud gay people don't like to be silent, they like to be loud," Grenell says. "They like to be loud. Yesterday's champions of diversity are today's intolerance. Well, I love this country and I'm not going to silent."
That would be consistent with Grenell's approach to politics since he left the administration. Grenell has tussled with critics in fiery exchanges on Twitter, even initiating exchanges with LGBTQ advocacy groups, for what he says is not giving Trump fair credit for work on LGBTQ issues.
Trump's anti-LGBTQ actions during his administrations have been widely reported. Among them are the transgender military ban, arguing before the U.S. Supreme Court LGBTQ people shouldn't be covered under federal civil rights law, opposing the Equality Act and siding taxpayer-funded religious adoption agencies seeking to refuse placement into LGBTQ homes.