August 20, 2020 at 8:54 am EDT | by Peter Rosenstein
Power couple working to elect Biden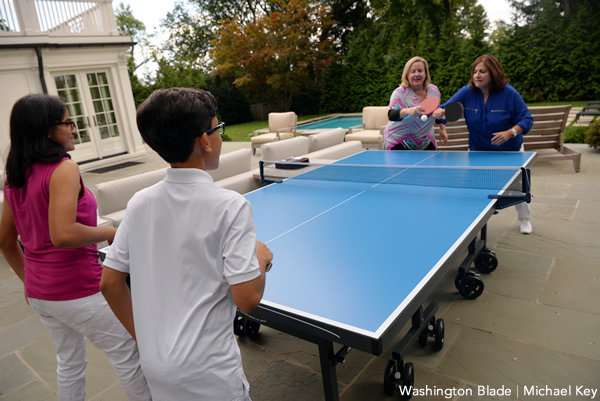 As Democrats staged their virtual convention this week, two prominentparty activists and fundraisers continued to work behind the scenes to elect Joe Biden president.
Claire Lucas and Judy Dlugacz are a power couple widely known thanks to their work for human rights and equality. Each is a success independently, and together they have accomplished much to advance civil rights, women's rights and LGBTQ rights. Now their focus is on limiting Donald Trump to a single term as president.
Lucas has dedicated her career to fighting for equality at home and abroad. She was the recipient of one of the U.S. government's highest honors, the "Distinguished Honor Award," for her pioneering work on global LGBTQ equality when working at USAID. She is an international development expert, coalition builder, entrepreneur and philanthropist with more than 20 years of experience in both the private sector and government.
"It is now more important than ever that we all come together and work hard to further the values and ideals that so many in this country cherish," Lucas said.
Dlugacz is a lifelong advocate, activist, and entrepreneur who has built a career on the simple but powerful ideal of doing good in the world. For more than 40 years, she has used her business acumen and passion for LGBTQ equality and acceptance to build two successful companies and contribute to landmark achievements nationally and internationally in the area of LGBTQ rights.
"My goal in life may not be easy to achieve, making things better for all, but it is what has motivated all my work for more than 40 years," Dlugacz told the Blade.
These two women were born and grew up on opposite coasts. Lucas was born in Los Angeles and grew up in Southern California. Dlugacz was born in New York and grew up on Long Island. They were both successful when they met in 2008 on an Olivia cruise, fell in love, and have now been together for nearly 12 years.
Lucas is a force in the Democratic Party and is using her contacts and abilities to help elect Biden president.
"It is critically important that the Biden/Harris ticket win so that we can continue to improve on the progress we made before Trump was elected and began taking us backwards," Lucas said.
She has spent years as a leader in the Democratic National Committee and working for other Democratic presidential candidates. Lucas was extensively involved in the Hillary for America campaign, serving on its National Advisory Council, among other roles. She also assisted Sen. John Kerry in his bid to become president and served as his National Finance Co-Chair in 2004 and was an elected delegate to the Democratic National Convention in 2004.
Gay Democratic activist Earl Fowlkes, past president of D.C.'s Gertrude Stein Democratic Club and former chair of the DNC's LGBT Caucus, has worked with Lucas for years.
"There are few people like Claire Lucas who can be counted on for anything you ask of them," he said. "She has made a huge difference in the Democratic Party with her work to ensure women and the LGBTQ+ community have their voices heard."
Lucas is currently chair of the LGBTQ Council at the Democratic National Committee; DNC Deputy National Finance Chair; and a member of the Joe Biden for President Finance Committee. Along with good friend Bruce Cohen (the Academy Award-winning producer), in just the last several months she has hosted and executive produced three large, star-studded fundraisers for Biden, raising millions of dollars for the campaign.
There is more to Lucas besides supporting Democrats around the country. She also runs her own consulting firm, where she works creating inclusive and profitable communities. She is a recognized international expert having designed and implemented U.S. government and multilateral policy and programs at both the macro and micro levels.
Her last government position was as senior adviser for Public-Private Partnerships at the U.S. Agency for International Development. She left in 2016 to volunteer full-time for the Hillary Clinton for President campaign. At USAID, she led efforts to expand the creation and implementation of strategic public‐private partnerships and facilitated the agency's collaboration with the private sector to achieve its development and U.S. foreign policy objectives. Prior to joining USAID, Lucas held several leadership positions at the World Bank responsible for managing teams and processes that resulted in the creation of numerous, multimillion-dollar, multiple stakeholder international development projects. Prior to that she worked for a number of organizations, including the Pan American Health Organization, the Harvard Institute for International Development as well as several consulting firms. Lucas earned her bachelor's degree from Pomona College; her master's from Harvard University; and her Ph.D. from Johns Hopkins University.
Dlugacz is the founder and president of Olivia Travel, the premier travel company for queer women. Named a "Best Company to Work For" by the San Francisco Business Times, the pioneering company specializes in experiences, opportunities, and inclusion and provides a safe space for queer women to be themselves, out and proud as they travel the world. To date, Olivia has taken more than 300,000 women on more than 350 cruise, resort, riverboat, and adventure vacations, providing them with unique experiences and featuring dynamic entertainers, speakers and custom programming.
"Olivia has attracted a multitude of celebrities and influencers over the years, including Maya Angelou, Melissa Etheridge, Billie Jean King, Patti LaBelle, Gloria Steinem, Bonnie Raitt, and Lily Tomlin," Dlugacz said.
Before Olivia Travel, Dlugacz co-founded Olivia Records, a groundbreaking label. They specialized in women artists, and its success grew out of her vision for a more diverse and inclusive music scene, which at the time of its founding in 1973 was dominated by men. During her tenure leading the label, Dlugacz produced 40 albums and sold more than a million records. She oversaw the production of hundreds of concerts and events across the United States and around the world. She was the executive producer of the first HBO comedy special featuring a lesbian performer, Suzanne Westenhoefer, and was nominated for a Chloe Award. She also worked with the Nepal Youth Foundation, where she raised more than $300,000 to help young women escape indentured servitude.
Together, Lucas and Dlugacz founded the LGBT Haiti Relief Fund of the Red Cross in 2010. They have given back to the community in many ways, not the least of which is as political activists. While Dlugacz is focusing on Olivia these days because of the pandemic, together they continue to be a major force in Democratic Party politics. They served on the LGBT Leadership Council for President Barack Obama's historic 2012 campaign for reelection, hosting six lesbian roundtable discussions with Michelle Obama. Lucas and Dlugacz were the top LGBTQ and top overall women fundraisers for Hillary Clinton in 2016, raising more than $4 million.
"Judy and I did all we could for Hillary because we believed in her passionately," Lucas said.
Their philanthropy extends to some of the most impactful organizations making progressive change, including the Human Rights Campaign, the Victory Fund and Victory Institute, Lambda Legal, the National Organization for Women, and the National Center for Lesbian Rights. Lucas is also chair of the Victory Institute.
If all this isn't enough, in 2018 they decided to start a family. Through the organization KidSave, of which they are now supporters, they adopted two children from Colombia, Angie and Juan. In addition, Dlugacz has a daughter and a grandchild from a previous relationship.
"We are determined to do all we can to see Joe Biden elected president this year," Lucas said. "His election will move forward the fight to provide affordable healthcare for all and economic and judicial equality. In turn that will lead to our country moving toward what we are all fighting for, 'a more perfect union'."