Ric Grenell joins RNC as senior adviser for LGBTQ outreach
Former ambassador has turned attack dog for Trump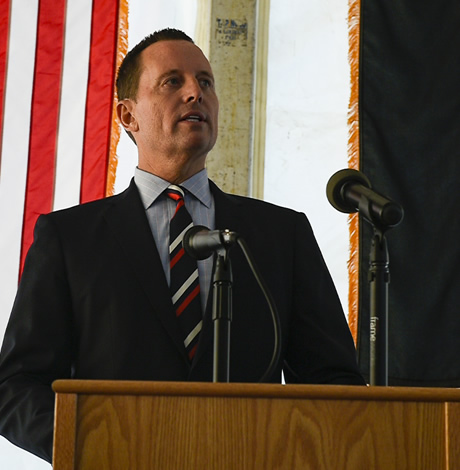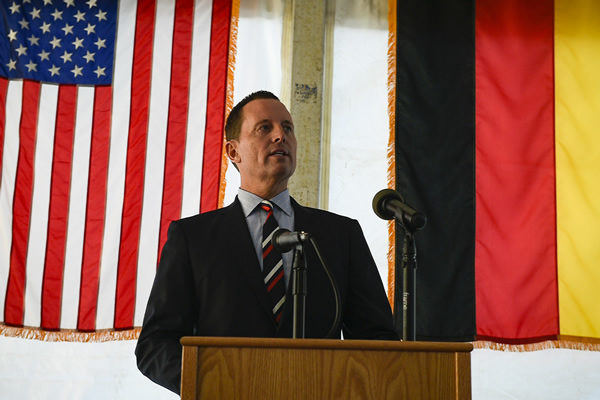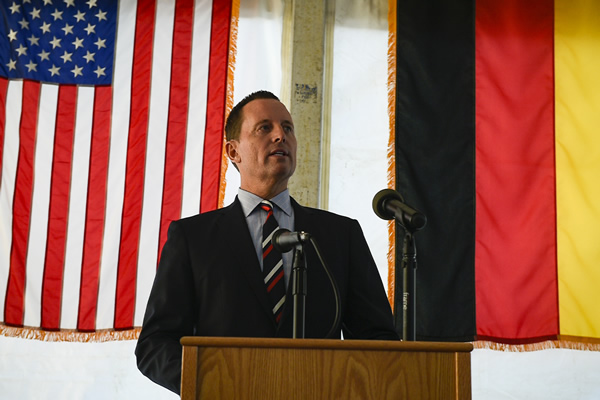 Richard Grenell, the former acting head of national intelligence under President Trump, has joined the Republican National Committee as a senior adviser focusing on LGBTQ outreach, an RNC official confirmed to the Blade on Thursday.
"As America's first openly-gay cabinet member, I can confidently say that President Trump has done more for gay and lesbian Americans than any other president, and it is not even close," Grenell said in a statement to Fox News, which was first to report the development.
It's a new role for the Republican Party, which has a documented history of being hostile to advancing LGBTQ rights. In many ways, that still continues. The Republican National Committee renewed for the 2020 election cycle its 2016 platform, which calls for a constitutional ban on same-sex marriage, objects to use of federal law to ensure transgender people can use the restroom consistent with their gender identity and makes veiled support for widely discredited conversion therapy.
As acting head of intelligence under Trump, Grenell has the distinction of being the first openly gay Cabinet member in history, although he never sought or obtained Senate confirmation for the role, and also served as U.S. ambassador to Germany. Grenell also spearheaded the global initiative to decriminalize homosexuality in the 69 countries where it remains illegal.
Upon leaving the federal government, Grenell has been active in efforts to re-elect Trump, including by being an attack dog on Twitter denouncing LGBTQ rights advocates he sees as shills for the Democrats and journalists he sees as biased against Trump.
The news Grenell has joined the RNC comes on the heels of his appearance in a Twitter video produced by Log Cabin Republicans highlighting Trump as the "most pro-gay president" ever. The video undercuts Joe Biden's record on LGBTQ rights by claiming he's fallen short, despite the general perception he's been a champion, and promotes Trump, despite the actions his administration has taken widely deemed anti-LGBTQ.
Grenell joins the RNC after a report in Politico months ago he had joined the Trump re-election campaign, which Grenell vehemently denied. It wouldn't have been Grenell's first stint on a presidential campaign. Grenell was tapped as foreign policy spokesperson for the Romney campaign in 2012, but after social conservatives blew a fuse, the relationship was ended after only 12 days.
Christian Berle, a gay D.C. political consultant and former staffer with Log Cabin Republicans, said "it's great to see" the RNC seeking votes from LGBTQ people, that won't be enough for him in the coming election.
"President Donald Trump and his administration's horrific record on matters of equality negate any foundation for gay voters backing him for a second term," Berle said. "Whether it's a heightened animus towards transgender individuals or arguing for the right to discriminate in adoption and in the workplace, his administration has been a giant step backwards from the previous administration. My husband and I will be crossing party lines to vote for Biden this year, because another four years of Trump will only make lives worse for LGBTQ people."
Endocrine Society corrects misinformation about gender affirming care at GOP debate
Presidential candidates clashed in Ala. on Wednesday.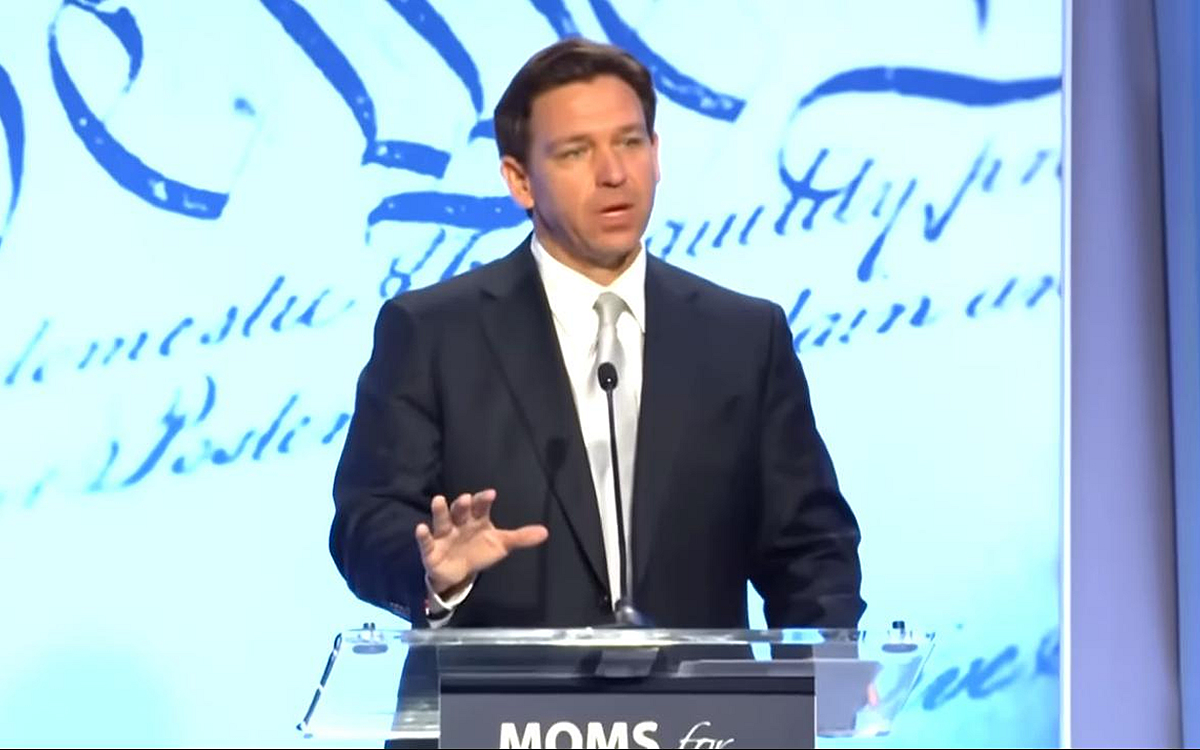 The Endocrine Society, the world's oldest and largest organization dedicated to the clinical practice of endocrinology, released a statement correcting misinformation about gender affirming healthcare that was spread at the fourth Republican presidential primary debate on Wednesday night.
The group said comments in which Florida Gov. Ron DeSantis (R) characterized care for transgender and gender-diverse youth as child abuse and genital mutilation "do not reflect the health care landscape" and contradict "mainstream medical practice and scientific evidence."
"Pediatric gender-affirming care is designed to take a conservative approach," the Endocrine Society wrote. "When young children experience feelings that their gender identity does not match the sex recorded at birth, the first course of action is to support the child in exploring their gender identity and to provide mental health support, as needed."

The statement continues, "Medical intervention is reserved for older adolescents and adults, with treatment plans tailored to the individual and designed to maximize the time teenagers and their families have to make decisions about their transitions."
Notwithstanding the remarks by DeSantis, other debate participants, and moderator Megyn Kelly, "gender-affirming genital surgery is rarely offered to anyone under the age of 18," the statement says.
Additionally, "More than 2,000 scientific studies have examined aspects of gender-affirming care since 1975, including more than 260 studies cited in the Endocrine Society's Clinical Practice Guideline."
Other major scientific and medical groups like the American Medical Association, the American Psychological Association and the American Academy of Pediatrics are "in alignment" with the Endocrine Society on "the importance of gender affirming care," the statement notes.
Further, research shows it "can be life saving for a population with high suicide rates."
Ugandan Constitutional Court to consider challenge to Anti-Homosexuality Act
Hearing is slated to begin on Dec. 11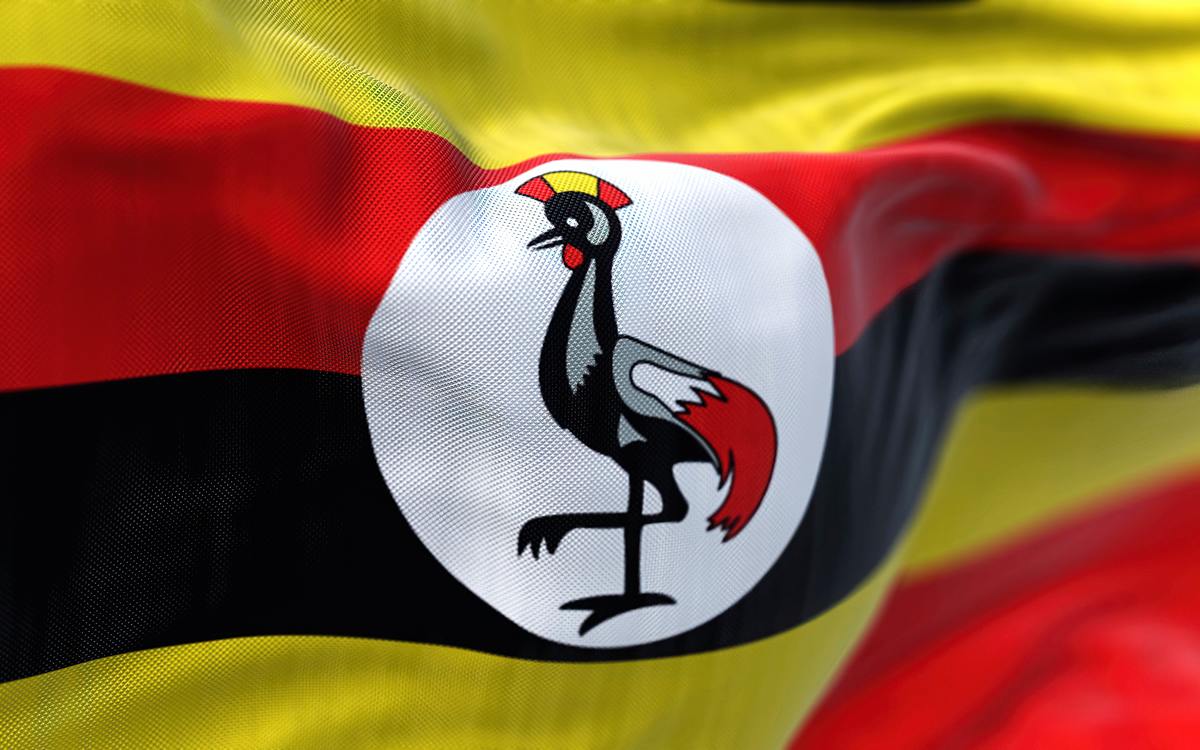 Activists in Uganda are optimistic the queer community will get justice from the Constitutional Court hearing on a petition that challenges the country's Anti-Homosexuality Act.
Some of the groups that spoke to the Washington Blade before the hearing begins on Dec. 11 termed the law that President Yoweri Museveni signed in May as "discriminatory, unconstitutional and a violation of fundamental human rights."
Uganda Minority Shelters Consortium, a local NGO which supports and advocates for the rights of LGBTQ victims of violence and homelessness, noted the Anti-Homosexuality Act has created a "climate of fear and persecution" for queer Ugandans.
UMSC Coordinator John Grace said this situation has led to a spike in homophobic violence, discrimination and the LGBTQ community's inability to access healthcare and other basic services due to fear.
"We believe the court should nullify this discriminatory law and pave the way for a more inclusive and equitable society for all Ugandans," Grace said in support of the four consolidated petitions that several LGBTQ activists filed.
The plaintiffs include Uganda's Deputy High Commissioner to South Africa Kintu Nyango, Makerere University Law professors Sylvia Tamale and Busingye Kabumba, veteran journalist Andrew Mwenda, West Budama Northeast MP Fox Odoi and several advocacy groups.
Odoi is Museveni's former legal advisor.
Petitioners in a pre-hearing conference on Tuesday argue the Anti-Homosexuality Act violates Article 92 of Uganda's constitution, which bars Parliament from enacting a law that goes against a decision by the country's Judiciary. This position is in response to the Constitutional Court's 2014 ruling that nullified a similar anti-homosexuality law.
The plaintiffs also argue the Anti-Homosexuality Act was hurriedly passed within six days instead of 45 days as Parliament's rules requires and that it was enacted without meaningful public consultation.
"This hearing is crucial for LGBTQ+ Ugandans as it provides a platform to expose the law's flaws and its detrimental impact on their lives, amplifies their voices to encourage dialogue about equality, tolerance and acceptance, and it instils hope and empowers the queer individuals to fight for their rights and dignity," Grace stated.    
His remarks come a day after the U.S. Ambassador to Uganda William Popp defended the Biden-Harris administration's decision to impose sanctions against some Ugandan officials and announced plans to remove Kampala from Washington's duty-free trade program for sub-Saharan African countries over the anti-LGBTQ law.
Ugandan Parliament Speaker Anitah Among, who is targeted in the U.S. visa travel ban, on Wednesday disclosed the White House has targeted more than 300 MPs who supported the Anti-Homosexuality Act. Secretary of State Antony Blinken on Monday announced the additional sanctions.
Among and the other MPs hit back at the U.S. and vowed to protect the anti-LGBTQ law "with our blood, sweat and souls," while cautioning Ugandans opposed to it should "leave our country and go to live in the United Kingdom or the United States."
Popp, while engaging with Ugandans virtually via X Spaces ahead of the Human Rights Day commemorations on Dec. 10 that will take place under the "Freedom, Equality and Justice for All" banner, said the U.S. "wants good things for Uganda as friends" through a sustained partnership.
"We have invested over 60 years of work, time, effort and resources as a partner of the Ugandan people," said Popp. "We spend about one billion dollars annually in areas like health, education, and food security to improve livelihoods to try and build a more prosperous, freer and secure future for Ugandans which is good for the country, the region, the U.S. and the world." 
Popp noted, however, this economic progress cannot succeed without respect for human rights because there is a direct correlation between economic prosperity and societies that are more open and have greater respect for human and civil rights. Popp conceded no country in the world is perfect — including the U.S. — and the Biden-Harris administration is only helping Kampala to identify areas in which Ugandan institutions can improve as they relate to punishing people who violates citizens' human rights.
"Working on these issues as Ugandans and working collectively with us as partners is better for long-term goals and positive development in the country," he said. "If this is done, Uganda collectively will move forward and the U.S. will be the first to applaud it."
Let's Walk Uganda, another Ugandan advocacy group that openly LGBTQ people lead, is also challenging the Anti-Homosexuality Act. The organization told the Blade the case is a litmus test to the Judiciary's core mandate of protecting the "weak" in the society.
"We are challenging the act for violating the entire Bill of Rights and other key provisions of the constitution and its spirit generally," Martin Musiime, the group's legal manager, said. "The Ugandan constitution is against the backdrop of tyranny, oppression and abuse of power against those without power or the marginalized."
Musiime expressed optimism that the petition has strong, convincing grounds for the court to "annul the apartheid law" while also confirming that they are ready to appeal should the court rule against the complainants.
"These efforts are moving hand in hand with political and diplomatic engagements including piling pressure for sanctions," Musiime said. "We are convinced the sanctions are working and we see efforts by the government to lessen on the severity of the law."
Doctor Henry Mwebesa, the director general of Uganda's Health Services, in August issued a circular to all health workers that directed them not to deny services to anyone visiting hospitals; not to discriminate or stigmatize them based on sexual orientation and to protect their privacy, confidentiality and safety.
Let's Walk Uganda and UMSC maintain, however, this directive doesn't guarantee queer people enough protection until the punitive and discriminatory provisions in the Anti-Homosexuality Act, such as reporting a suspected gay person to authorities, are removed and the entire law is repealed.
Fourth GOP presidential debate sees return of transphobia, anti-LGBTQ animus
Candidates sparred in Tuscaloosa, Ala.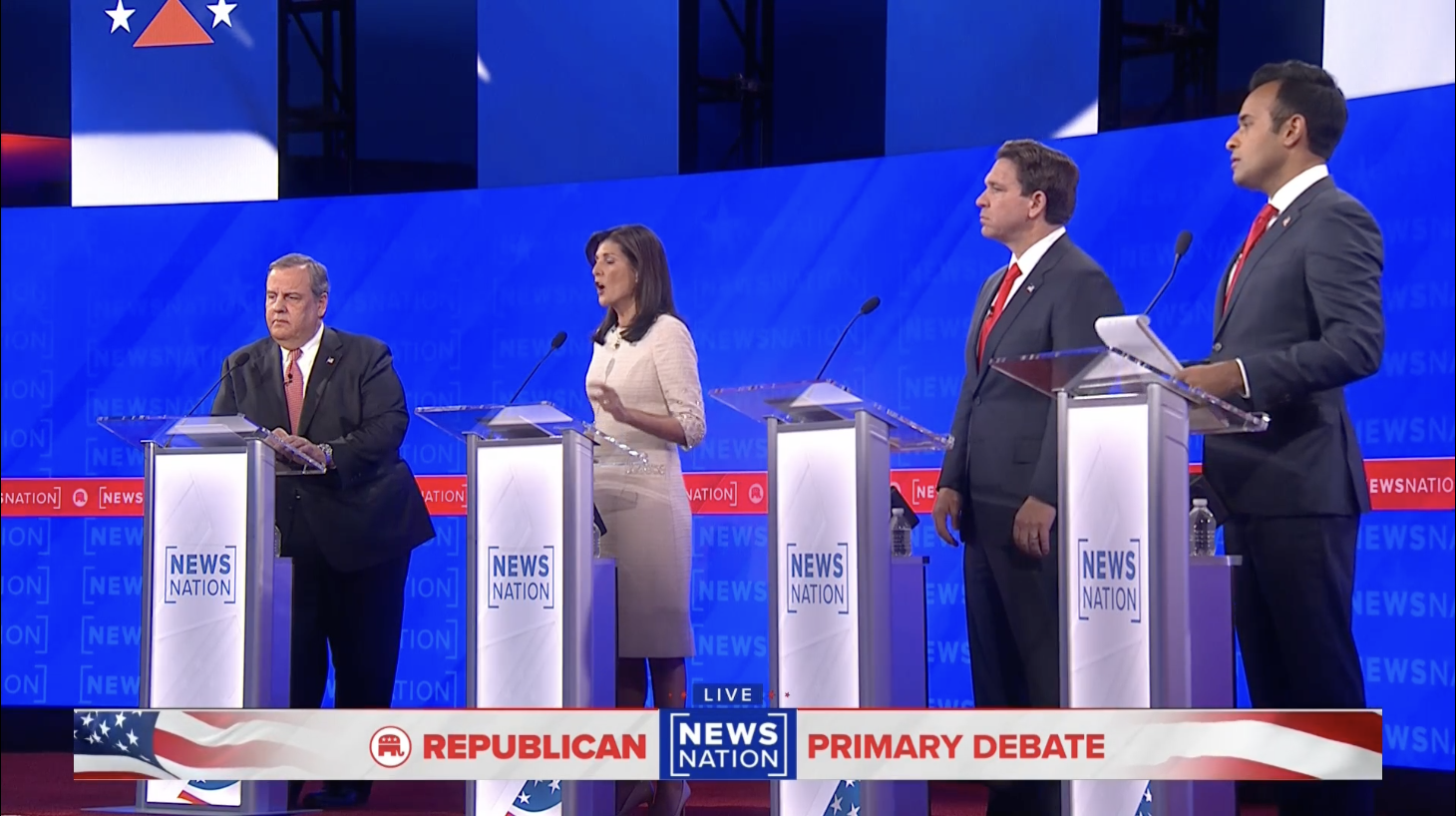 The fourth debate of Republican presidential candidates on Wednesday in Tuscaloosa, Ala., saw a return of transphobic and anti-LGBTQ messages, practically from the outset.
Florida Gov. Ron DeSantis used his introductory remarks to go after former U.N. Ambassador Nikki Haley, who is also a former South Carolina governor, for saying during a recent interview with CBS Mornings that "the law should stay out of it" when it comes to the options available for minors experiencing gender dysphoria.
DeSantis said Haley "caves anytime the left comes after her, anytime the media comes after her," noting that "I did a bill in Florida to stop the gender mutilation of minors."
"It's child abuse and it's wrong," he said. "She opposes that bill. She thinks it's fine and the law shouldn't get involved with it." The governor added, "If you're not willing to stand up for the kids; if you're not willing to stand up and say that it is wrong to mutilate these kids, then you're not going to fight for the people back home."
Haley responded, "He continues to lie about my record. I actually said his 'Don't Say Gay' bill didn't go far enough because it only talked about gender until the third grade. And I said it shouldn't be done at all — that that's for parents to talk about. It shouldn't be talked about with schools."
"You didn't respond to the criticism," DeSantis said. "It wasn't about the Parental Rights in Education bill," using the name of the actual law that is more frequently dubbed "Don't Say Gay."
"It was about prohibiting sex change operations on minors," he said. "They do puberty blockers. These are irreversible."
Gender affirming healthcare is supported by every mainstream scientific and medical society with relevant clinical expertise.
Later, moderator Megyn Kelly asked former New Jersey Gov. Chris Christie, "you do not favor a ban on trans medical treatments for minors saying it's a parental rights issue … aren't you way too out of step on this issue to be the Republican nominee?"
"As a father of four I believe there is no one who loves my children more than me," he responded. "There's no one who loves my children more than my wife. There's no one who cares more about their success and healthy life than we do, not some government bureaucrat."
Gender affirming care, Christie said, "is not something I favor. I think it's a very, very dangerous thing to do. But that's my opinion as a parent, Megyn, and I get to make the decisions about my children. Not anybody else."
"Transgenderism is a mental health disorder," entrepreneur Vivek Ramaswamy said, before pledging his support for bans on gender affirming care until the age of 21.
DeSantis and Haley then sparred over their positions on "bathroom bills" that prohibit transgender people from using facilities consistent with their gender identity.
Not in attendance for this or the previous three debates was former President Donald Trump, the presumptive Republican frontrunner, who is supported by 59.6 percent of likely GOP primary voters according to FiveThirtyEight polling averages as of Wednesday.
He is trailed by DeSantis, who is in a distant second place with 12.7 percent support. They each gained only about three percentage points in the polls since the first Republican primary debate was held on Aug. 24.