September 1, 2020 at 11:30 pm EDT | by Chris Johnson
Kennedy, Morse come up short in Massachusetts primary bids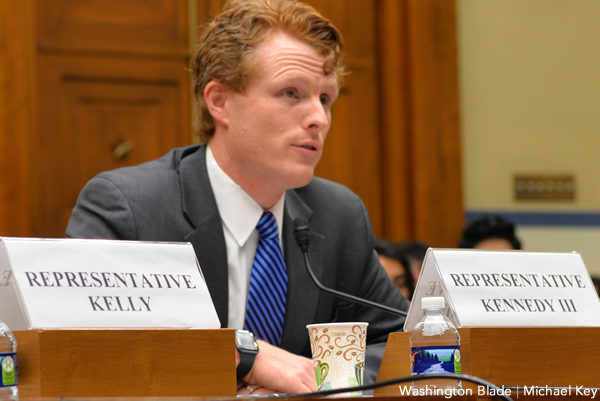 In the aftermath of the Massachusetts primary, Rep. Joseph Kennedy III (D-Mass.), who has made a name as a crusader for the transgender community, came up short in his challenge against Sen. Ed Markey (D-Mass.) in a result seen as a victory for the left wing of the Democratic Party.
The Associated Press called the primary Tuesday night in favor of Markey at 10:29 ET. According to early results, Markey claimed 53.9 percent of the vote, compared to the 46.11 percent won by Kennedy, who's chair of the Congressional Transgender Task Force.
Kennedy, thanking supporters, said he called Markey to concede, telling him he's a "good man" and asserting "you have never heard me say otherwise," according to the New York Times.
"No matter the results tonight, I would do this again with all of you in a heartbeat," Kennedy was quoted as saying.
Markey, one of the orginators of the Green New Deal, had the backing of Rep. Alexandria Ocasio-Cortez (D-N.Y.) as well as the Sunrise Movement, an American youth-led political movement that advocates political action on climate change.
The Human Rights Campaign, despite having worked with Kennedy on transgender issues and coordinating with him a congressional forum for the parents of transgender kids, also backed Markey. The nation's leading LGBTQ groups cited Markey's consistent support for LGBTQ rights, including a vote as a U.S. House member against the anti-gay Defense of Marriage Act in 1996, as a reason to support him.
In related news, Rep. Richard Neal (D-Mass.) chair of the powerful House Ways & Means Committee, fended off a challenge from Alex Morse, the mayor of Holyoke who had the backing of the Justice Democrats. Morse, who's gay, was also endorsed by the LGBTQ Victory Fund.
According to early results, Neal had 59.5 percent of the vote, compared to the 40.6 percent claimed by Morse to represent Massachusetts' 1st congressional district.
The primary got ugly when College Democrats of Massachusetts published a letter asserting he used "his position of power for romantic or sexual gain" as an instructor at University of Massachusetts, Amherst, by using dating apps to contact and match with students. Morse said he never had sex with anyone younger than 18 and he broke no rule as an instructor.
The letter, which his supporters criticized as a homophobic smear, cost him the endorsement of the Sunrise Movement, but the LGBTQ Victory Fund stood by him. Journalist Glenn Greenwald wrote that the allegations were "old homophobic tropes" and called the effort a "smear campaign."