September 2, 2020 at 9:43 am EDT | by Lou Chibbaro Jr.
D.C. study documents 'Life and Death' of trans woman Alice Carter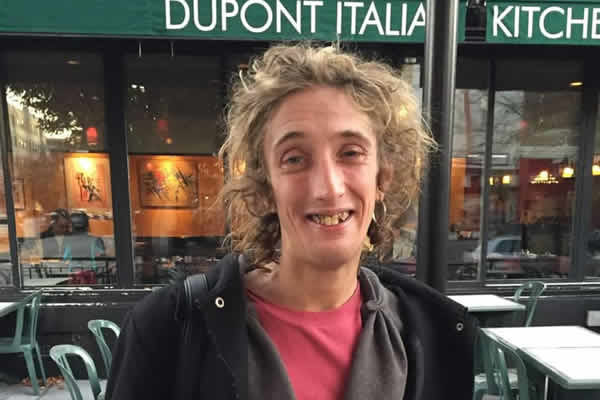 A case study commissioned by the Office of the D.C. Auditor released on Aug. 25 takes what observers consider an unprecedented in-depth look at a transgender woman's struggle with drug and alcohol abuse, mental illness, and homelessness and the valiant but unsuccessful attempt by dozens of social services experts from city agencies and community-based groups to help her over a period of at least a dozen years.
The study, "Lessons From the Life and Death of Alice Carter," was prepared by the D.C.-based nonprofit organization Street Sense Media at the request of D.C. Auditor Kathleen Paterson. Street Sense Media provides a wide range of services for homeless people, including a newspaper in which Carter and other homeless people told their own stories.
Street Sense Media was among several community groups, including the LGBTQ organizations Whitman-Walker Health and Casa Ruby that provided assistance to Alice Carter from shortly after she moved to D.C. around 2006 until the time of her death on Dec. 18, 2019.
Carter, 35, died at Howard University Hospital one day after she was found unconscious on the sidewalk on the 1600 block of 17th Street, N.W. outside a McDonald's restaurant where she hung out on and off and often slept while homeless for at least 12 years, people who knew her said.
A D.C. police officer and, minutes later, paramedics from the D.C. Fire and Emergency Medical Services Department performed CPR to resuscitate Carter after police reported she initially had no pulse. She was rushed to Howard University Hospital where she was pronounced dead the next day.
The D.C. Medical Examiner's Office determined the cause of death to be alcohol intoxication with pneumonia and HIV complications listed as contributing factors.
The 38-page case study report prepared by Street Sense Media says Carter had struggled with what it calls substance use disorder over a period of a dozen or more years during which community-based groups and city agencies, including the police and the D.C. Superior Court's mental health division, interacted with Carter.
The report says she had been arrested at least 33 times for mostly misdemeanor offenses since her first known arrest in D.C. in 2007 on a charge of sexual solicitation.
Patterson, the D.C. Auditor, said she decided to commission the case study of Carter's interaction with the criminal justice system and local government and community services groups to determine what, if anything different, the city government could do to help people like Carter survive struggles with substance use disorder and mental health issues.
"We hope that by understanding how Carter came to drink herself to death on a freezing D.C. sidewalk just shy of her 36th birthday after hundreds of professionals tried to help her with housing, medical care, and legal support, we might help others who struggle as she did," Patterson said in an Aug. 24 letter to D.C. Mayor Muriel Bowser and D.C. Council Chair Phil Mendelson announcing the release of the case study.
Patterson told the Washington Blade in a phone interview that she wanted the case study focusing on Carter to provide a "human face" on a separate, much broader audit she commissioned that examined the city's record in providing services to District residents with substance use disorders who are incarcerated and subsequently are released into the community.
That study, which is 169 pages long, is called "Everything is Scattered…The Intersection of Substance Use Disorders and Incarcerations in the District." It was prepared for the Office of the D.C. Auditor by the Council for Court Excellence, a nonprofit, nonpartisan organization that has focused on criminal justice system related issues for more than 40 years.
The broader study, which doesn't specifically mention Alice Carter, presents findings, among other things, that city agencies have provided "continuous care" to just over only 1 percent of cases where people released from incarceration in D.C. are believed to have had a substance use disorder.
The case study on Carter, which accompanied the broader study, includes among its recommendations a call for "increased capabilities for community providers to initiate involuntary commitment procedures" for people like Carter who demonstrate they are a danger to themselves or others.
Brian Carome, executive director of Street Sense Media who said he got to know Carter during her interaction with Street Sense Media, told the Blade he believes Carter would have benefited from and possibly could have been saved by additional involuntary commitment efforts to provide her with mental health and substance abuse treatment. The report points out that Carter repeatedly turned down offers by community groups to undergo mental health treatment.
It notes that Carter repeatedly violated probation orders issued by D.C. Superior Court judges that required she undergo mental health and substance abuse treatment programs as an alternative to incarceration. At least a dozen times, the report states, judges issued bench warrants for her arrest for violating the terms of her release requiring her to enter various treatment programs.
The case study report on Carter states that a community-based organization called Community Connections played a leading role in helping Carter for a number of years, including providing her with case managers to assist Carter in obtaining housing services as well as help for her alcohol and drug use problems.
The Community Connections website says its mission is to "provide behavioral health, residential services, and primary health care coordination for marginalized and disenfranchised women, men, youth, and children living in the District of Columbia, many of whom are coping with challenges including mental illness, addiction, and the aftermath of trauma and abuse."
According to the case study report, Community Connections arranged for Carter to be "assessed for involuntary commitment a final time" in November 2019.
"The psychiatrist at Community Connections who evaluated Alice did not believe she met the criteria for involuntary commitment at the time," the study report says. "In early December [2019], a nurse at Community Connections conducted a medical evaluation of Alice, who reported drinking four pints of alcohol a day and using cocaine, PCP, and K2," which is known as synthetic marijuana.
"Alice said she did not want to engage in substance use treatment or start medication," the report says. "During this appointment, Alice shared that her boyfriend at the time had beaten her up the night before. The nurse noted that Alice's treatment team would continue to monitor Alice," the case study report says.
"On December 17, 2019, a rehabilitation specialist from Community Connections found Alice sitting in front of the McDonald's at 1619 17th Street, N.W.," the report continues. "The two spoke for 45 minutes during which Alice reported that the previous night, she was found passed out and was taken to GWU Hospital," says the report.
"While Alice could not identify any problem with her drinking habit, the rehabilitation specialist told Alice that ending up in the hospital because of alcohol is not something Alice should take lightly," the report says. "Alice said that she planned to come to Community Connections sober the next week," the report notes.
It says an hour and a half later Carter was found unconscious at the same location where the Community Connections specialist had spoken to her. The report notes that "concerned individuals in the area" flagged down a D.C. police officer and within minutes paramedics arrived and temporarily resuscitated Carter before taking her to Howard University Hospital, where she died the next day.
A spokesperson for Community Connections couldn't immediately be reached for comment on whether the group thinks its psychiatrist should have arranged for an involuntary commitment for Carter in late November or early December when Carter was assessed during visits to the group's facility on Capitol Hill near the Eastern Market Metro station or when the rehabilitation specialist talked to Carter on the sidewalk outside the McDonald's.
Carome, the executive director of Street Sense Media, told the Blade he is hopeful that public policy officials in the D.C. government will carefully consider the recommendation of the case study report that roadblocks for involuntary commitment for people in need such as Alice Carter be reassessed and possibly eliminated.
Earlier this year, Carome told the Blade that a decision by a judge to remove Carter from the Superior Court's mental health division to the regular criminal division could have amounted to a "death sentence" for Carter because it made it more difficult for her to be directed to undergo mental health treatment.
But last week, following the release of the case study report, Carome said he could not assert definitively that involuntary commitment for Carter into a substance abuse or mental health treatment program would have saved her life.
"I cannot say if that happened that the trajectory of her life would have changed," he said. "But given the early age of which she died and given that she clearly was in need of behavioral health treatment and then she exhibited an inability to voluntarily engage in that, it makes you wonder given the number of overdoses she had whether she was capable of making decisions for herself," Carome told the Blade. "And perhaps there could have been a period of stabilization."
The full text of the case study report on Alice Carter can be accessed here.