September 11, 2020 at 7:02 am EDT | by Brock Thompson
We owe it to places like the Tabard Inn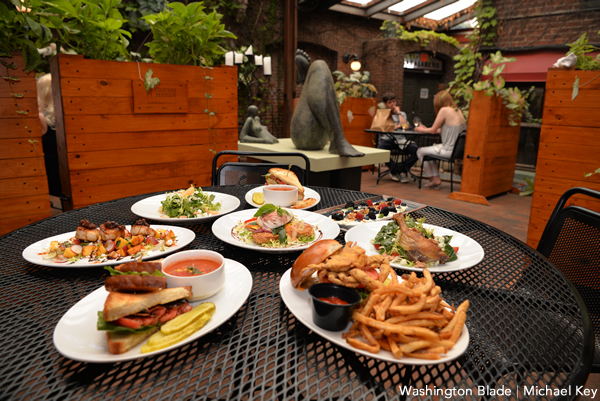 "How bad is it," I asked sitting across from Dave Roubie, the general manager of the Tabard Inn. "We're month-to-month at this point," he said calmly.
I was appalled to hear that. Just so plainly and matter of fact, that such a cherished Washington, D.C. institution like the Tabard Inn could be teetering so. But he reminded me that is far better off than some of their counterparts in the city. Many he said are probably operating week-to-week, or even day-to-day. Economists predict that the COVID economy will wipe out 30 percent of restaurants nationwide. Roubie, a veteran of the hospitality industry, thinks a more accurate estimate will be upwards of 65 percent.
What does all that mean for the Tabard? And for Dupont Circle and Washington in general? I'm a little embarrassed to admit that after some 14 years of living in Washington, my sit-down with Roubie and his staff was my first actual visit there. Like so many of our museums and monuments, it's always some place you've been meaning to go. And honestly it's rather tucked away. Sitting on the almost overlooked block of N Street off 17th, that bit that's not quite the Dupont neighborhood and not quite downtown either. The building itself is really three buildings. Walking in the place sort of reminds one of an East Coast Winchester house, curiosities and eccentric furnishings abound, with hallways and staircases jutting in all directions. Walking up the main staircase you're greeted by portraits of Mikhail Gorbachev, Pablo Neruda, and, of course, George Washington. There's lots of Navy memorabilia as well, up as a testament to the building having been used to house women naval volunteers during World War II.
There are 35 guest rooms, with only 18 or so occupied currently. Weddings and receptions are all postponed. Last spring, hundreds of bookings and events evaporated almost instantly. Sunday brunch seatings are down to about 100 patrons, that's from the usual 350. But they're adapting. Sidewalk dining is now an option. Wood partitions separate diners on the patio. Despite it all, staff still try to make your experience there special. Like so many of us who choose to go out now in the District, dinner has become the main event. Well, really the only event. There's no show to catch after, no movie times to make. Eating out is going out. And unlike so many other restaurants around, the Tabard doesn't time tables, scooting diners out after a set time has expired. There are egg timers, sure. But those time the set sanitation period when tables are turned over. Seven minutes after a good spraying and wiping down. Sitting in the gorgeously appointed and wonderfully shaded patio, there was plenty of room to socially distance, and the ideal spot to taste mid-Atlantic staples like their soft shell sandwich. Or summer time treats like the scallops with peaches and the flavorful BLT and gazpacho, the latter on their delicious house-made bread.
The Tabard Inn isn't gay owned, per se. But it is employee owned, which is remarkable in and of itself. Since 1993, all employees, from the dishwasher to the housekeepers to general manager Dave Roubie, own effectively 51 percent of the Tabard Inn. The interest makes the workers more nurturers, and it shows. And while not being gay owned, a significant number of the 100-member staff identifies as LGBTQ, no real surprise for the hotel and restaurant industry.
Given the Black Lives Matter movement, the Tabard Inn is very much aware of its responsibility, as well as its position in the hospitality industry, an industry notoriously lopsided in its racial makeup. Typically in a hotel of any size, more than 90 percent of the bellhops are Black, and 90 percent of management, white. The Tabard consciously works against that trend. There's real diversity in management, certainly in ownership, at the Tabard. And with a larger social conscience, when they were hit hard by COVID, it was management that sacrificed their salaries for a month, not the staff. And the Tabard was an early supporter of this paper's Blade Foundation, our charitable arm that offers college scholarships to aspiring LGBTQ journalists.
Part of the beauty of the Tabard Inn is that everyone thinks it's their little secret, their special spot. But that's also the trouble. They've never advertised, though that will be changing soon. With its classic bar and varied rooms, the whole place is simply beguiling. And I'd hate to see a spot this special go. These places, these non-corporate spots do so much to add valuable texture and character to our neighborhoods. They're just special.
There are so many places one could go for dining and receive a perfectly fine meal with perfectly fine service. But after leaving many, ask yourself, was there anything really special about it? There are special places like that, like Floriana up the street, or Martin's Tavern over in Georgetown. The Tabard is certainly as celebrated and cherished as those. And in a lot of ways as valuable as any monument or museum we have in what it provides — that special experience from staff who know their responsibility to each other and to this city.
And that's truly the best of us, and the best of Washington.