September 11, 2020 at 3:06 pm EDT | by John Paul King
For Norman Lear, being an ally is a calling
There aren't a lot of 97-year-olds who are as actively engaged with the world-at-large as Norman Lear.
The television icon, who is set to receive Equality California's Ally Leadership award at the first-ever Golden State Equality Awards in a virtual presentation on Sunday, still has his finger in a lot of pies at an age when most people are long retired. He has a first look deal with Sony Pictures Television (under his production banner, ACT III), and serves as executive producer for the critically acclaimed reimagining of his own classic "One Day At A Time," a show embraced by critics for recasting of the original's white central family as Cuban-Americans, and for its inclusion of a lesbian character whose coming-out journey is a prominent story arc. He also served as executive producer (and co-host!) for the Emmy- and Critics' Choice-winning "Jimmy Kimmel, LIVE In Front of a Studio Audience…," a two-part special recreating episodes of his own classic shows that earned record ratings for ABC in December of 2019.
His busy schedule might have something to do with momentum; for more than six decades, Lear has been one of the most prolific names in Hollywood. An early career in PR led him quickly into show business, where he was soon writing sketches for the likes of Dean Martin and Jerry Lewis; he created his first series ("The Deputy," a Western starring Henry Fonda) in 1959, and went on to dabble in filmmaking during the 1960s.
But it was with a string of hit sitcoms in the '70s that Lear found his stride. "All in the Family," "Sanford and Son," "Maude," "The Jeffersons," "One Day at a Time," "Mary Hartman, Mary Hartman" – all these shows and more were created, developed, written, and/or produced by Lear during those years; it was a peak period that would have been enough to cement his place as one of the medium's most successful pioneers, even had he not gone on to a still-enduring career that has garnered him five Primetime Emmys and a Golden Globe to date.
It was, of course, with the first of these sitcoms that he built what we would now call his "brand." "All in the Family" survived a low-rated first season to become one of the era's most influential programs, challenging audiences even as it made them laugh. Using its central characters – the working-class Bunker family, polarized by the political divisions between blue-collar patriarch Archie and ultra-liberal son-in-law Mike – to explore topics rarely discussed on primetime TV, the series broke ground by addressing everything from sensitive personal issues like marital infidelity, breast cancer, menopause, and impotence, to controversial cultural hot-buttons like racism and other forms of bigotry, religion, rape, abortion, women's lib, and the Vietnam War.
Among these remarkable, conversation-starting episodes are two milestones that cast a long shadow. "All in the Family" became the first American TV show to feature an openly gay character, in its very first season, when bigoted, blue-collar Archie discovers that his old friend Steve – who is also a former NFL linebacker – is queer. The episode, seen through modern eyes, thankfully plays as dated, a reminder of how far we've come in 45 years; in 1971, it was a bold stereotype-shattering step toward putting the subject of LGBTQ equality directly in front of mainstream American eyes.
"Family" didn't stop there; four years later, the show introduced a character named Beverly LaSalle, a female impersonator (played by openly gay real-life drag performer Lori Shannon) who appeared in three episodes as a friend of Edith Bunker's. In the third, he is murdered by muggers who discover he is a man in women's clothing, leading to a crisis of faith for Edith, who questions how a God could exist that would allow such an act of violence against a person simply for being "different." Suddenly, a character clearly identified as queer was no longer the butt of a joke, but a human being whose life mattered, and whose senseless and violent death left a hole in the lives of someone who loved them; moreover, in a time when few within mainstream culture had a clear understanding of gender identities that veered outside the binary "norm," a storyline depicting the murder of a male presenting as female eerily evoked the subject of anti-trans violence decades before most Americans even knew the difference between a trans person and a drag queen.
For many queer viewers, these unequivocally sympathetic portrayals were watershed moments; millions of gay, trans, or otherwise non-heteronormative individuals suddenly felt seen and validated in a way they had never experienced from the pop culture that had always been a refuge for them. Just as important, it opened up a conversation in the households of countless straight Americans about a subject that would previously have been shrouded behind an unbreakable taboo.
During the same period, another Lear sitcom ("Hot L Baltimore") featured the first gay couple to be included as regular characters in a TV show; and besides breaking ground in the area of LGBTQ representation, he proved with shows like "Sanford and Son" and "The Jeffersons" that programs featuring mostly black characters could be a hit with white audiences, too.
If Lear's contributions had ended in the '70s, that would still be enough to warrant the honor being bestowed upon him by Equality California; but away from the camera, he has built a monumental reputation for himself as an advocate for social justice and equity. He put his career on hold in 1980 when his concern over the rise of the so-called "Moral Majority" prompted him to found People For The American Way, an organization of more than one million members and activists that still continues to fight right-wing extremism while defending constitutional values like free expression, religious liberty, equal justice under the law, and the right to meaningfully participate in our democracy. Even before that, he was part of an informal group of wealthy Jewish businessmen (dubbed the "Malibu Mafia" by the press) that donated money to liberal and progressive causes and politicians from the 1960s to the 1990s. These, and other powerful efforts to aid the progressive cause, may not have all been centered around LGBTQ equality, but have provided immeasurable aid to that struggle, just the same.
Now, at nearly 100 years old, Lear is still a warrior. His tirelessness may simply be due to the fact that he loves his work, but his own words, explaining the meaning of his bumper sticker (it reads, "Just another version of you") in a 2015 Variety interview, speak volumes about the core beliefs that keep him going.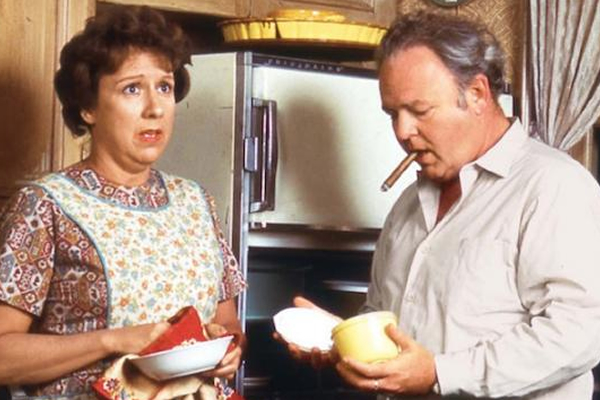 "I'm very proud of that," he told the magazine. "It says it all. We've become a culture or a nation that takes itself far too seriously. We believe we're God's chosen. Well, God's chosen is the entire human species and every other species.
"We are simply versions of each other."
It's that kind of empathy that arguably defines what being an ally truly means, and it makes Equality California's recognition of Lear arguably the most well-deserved award of his career.