A tale of two gays: Buttigieg, Grenell stump for opposing sides on campaign trail
Surrogates have different views on whether it's the best or worst of times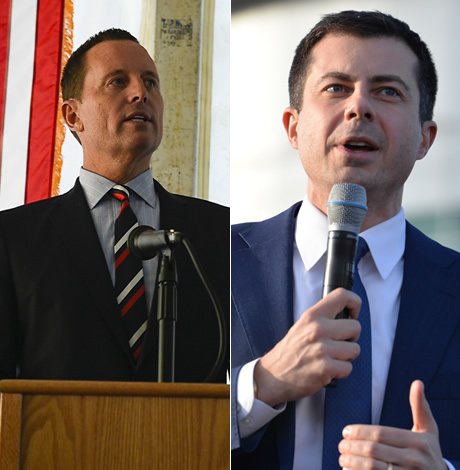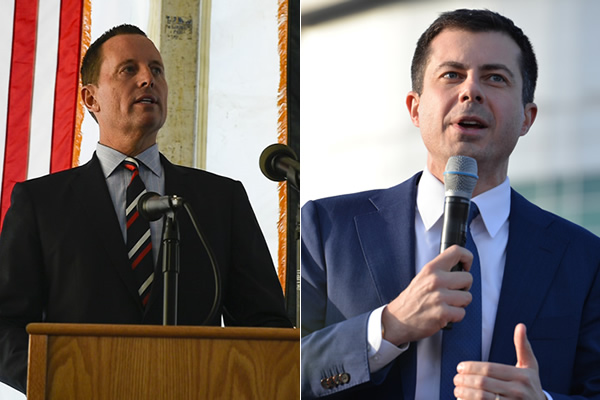 Two gay campaign surrogates — Richard Grenell and Pete Buttigieg — are making waves in the media highlighting LGBTQ support in the presidential election, but they're on opposing sides in making the case for which candidate is the better choice.
Buttigieg is appearing at Joe Biden rallies and hitting the media circuit to stump for Biden. Meanwhile, Grenell is drawing crowds at Trump Pride events in competitive states — along with Tiffany Trump and Kimberly Guilfoyle — as the face of LGBTQ outreach for President Trump's campaign to win re-election.
Grenell, during an appearance on Fox News on Saturday, predicted gays would form an increased component of a voting bloc re-electing Trump on Election Day along with other communities.
"When you look at the coalition that has come together for President Trump, it's working class, it's more Blacks, more Hispanics, more gays, more working class than ever before," Grenell said. "I think that Donald Trump is set to win this bigger than he won in 2016 just because of the coalition and the excitement."
Grenell's prediction, however, would be a remarkable change from the LGBTQ community's history of overwhelmingly siding with the Democratic nominee in presidential contests. That's likely to continue given the anti-LGBTQ record Trump has established, including a transgender military ban and excluding LGBTQ people from enforcement of civil rights law.
Additionally, Grenell's view isn't consistent with the best available polling. A GLAAD poll last month found 76 percent of LGBTQ people back Biden, compared to 17 percent who support Trump.
Buttigieg, who made history as an openly gay presidential candidate in the Democratic primary, has stumped for Biden, even appearing on Fox News to dismantle conservative attacks on the Democratic nominee.
During an appearance on Fox News on Oct. 22, Buttigieg shot down questions about Hunter Biden's alleged emails by redirecting the issue to Trump having a bank account in China as reported by the New York Times.
"That's not like, you know, something somebody said that used to work with somebody related to the president. That's a matter of documented fact. And they won't even tell us what bank it's with," Buttigieg continued. "Does that bother Americans? I'm pretty sure it bothers Americans a lot more than what they're trying to whip up for the last 12 days of this election season."
During prep for the vice presidential debate between Kamala Harris and Mike Pence, Buttigieg was a stand-in for Pence — ironically taking on the role of a notoriously anti-LGBTQ politician as a gay man — during practice sessions for Harris.
Buttigieg made a reference to that role during a Florida rally on Oct. 28 on the campaign trail for Biden as well as his appearance on Fox News.
"I have told the Biden-Harris campaign I would go anywhere to support the cause," Buttigieg said. "I didn't know that would mean going into the mind of Mike Pence for a while to help with debate prep. I didn't know it would mean going on Fox News quite as often as it has."
It was the same rally where Buttigieg shot down a pro-Trump heckler, asking him if he'd denounce white supremacy. When the heckler in the "Make America Great Again" hat apparently responded in the affirmative, Buttigieg replied he agrees, adding "That's a beginning. Now see if you can get your president to do the same thing."
With both surrogates presenting a tale of two gays in the presidential election, an observer might think they've opened up the first page of Charles Dickens' "A Tale of Two Cities" and essentially hearing, "It was the best of times. It was the worst of times."
In one recent incident, there's been crossover between Grenell and Buttigieg. For suggesting the Biden campaign would instate lockdowns to contain the coronavirus pandemic, Grenell on Sunday took Buttigieg to task, mocking the Biden surrogate for saying "everything is on the table."
"Yikes! Mayor Pete says a total lockdown across the country is being considered by Joe Biden," Grenell tweeted.
A fuller look at Buttigieg's comments in response to Jake Tapper's question on CNN's "State of the Union" on whether another lockdown should be on the table reveal Buttigieg wasn't quite as definitive.
"Well, hopefully it doesn't come to that because we will see swift action coordinating with and supporting public health authorities, telling what we can do as citizens without requiring any kind of mandates, but everything has to be on the table in order to keep Americans safe," Buttigieg said.
In both situations, Trump or Biden would owe a debt of gratitude to these surrogates for motivating voters if their respective campaigns prevail in the election. Grenell and Buttigieg, therefore, are positioning themselves as prime candidates for high-level jobs in the upcoming administration, depending on whether or not the person they're backing succeeds on Election Day.
For Grenell, an appointment to the Trump administration would be a return for him after serving as U.S. ambassador to Germany and acting director of national intelligence. Grenell appears to have his eyes on a high-level job in foreign policy, either as national security adviser or secretary of state.
In an essay posted Oct. 28 for Carnegie Mellon University's Center for International Relations and Politics, Grenell laid out a foreign policy vision consistent with Trump's "America First" approach, which would seek new bilateral relations with Russia to ramp up competition with China.
"If one thread connected my time as US Ambassador to Germany, it was the effort to convince America's European allies that their current position is untenable," Grenell writes. "I spent much of my time in Berlin helping coordinate responses to Chinese and Russian espionage, technology theft, political interference, violations of sovereignty, threats to freedom of speech, and attempts to purge historical facts. It is clear that the Kremlin and the Chinese Communist Party will not eventually converge with the values and interests of Western Europe."
Buttigieg would be coming to the federal government for the first time — and several possible appointments would be viable for him given his background as former South Bend mayor, Afghanistan war veteran, Rhodes scholar and McKinsey consultant.
Elliot Imse, a spokesperson for the LGBTQ Victory Institute, said Buttigieg set himself up for an important post in the Biden administration by helping on the campaign trail and endorsing Biden early in the Democratic primary.
"Disunity among Democrats contributed to the disaster that put Trump in office and much of Pete's decision making is built around avoiding that in 2020," Imse said. "Pete left the primary race before Super Tuesday to promote unity in the party and now he is working to ensure those he inspired get out and vote for Joe Biden. That he has been such an effective surrogate will certainly put him on the short list for jobs in the new administration."
Imse identified numerous jobs that would be suitable for Buttigieg in a Biden administration, adding the LGBTQ Victory Institute would assist him through its Presidential Appointments Project initiative.
"His appointment as secretary of state or ambassador to the United Nations would send a strong signal that America is recommitting itself to LGBTQ equality at home and abroad," Imse said, "His appointment to lead Veterans Affairs just 10 years after the repeal of 'Don't Ask, Don't Tell' would also be historic. Pete proved himself a competent administrator and strong communicator both as a mayor and as a presidential candidate and those are qualities any president would look for in building a team."
Watch: A conversation with Sarah McBride
State Senator-elect Sarah McBride (DE) joined Blade White House Reporter Chris Johnson for a conversation on her historic win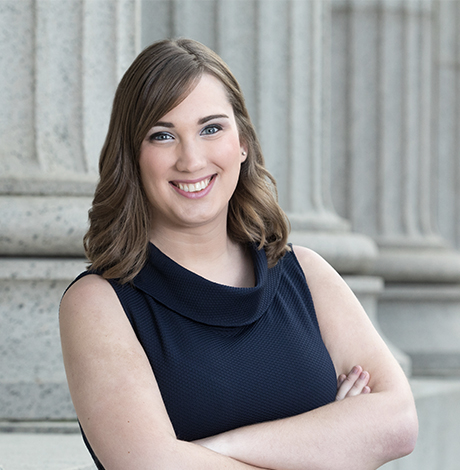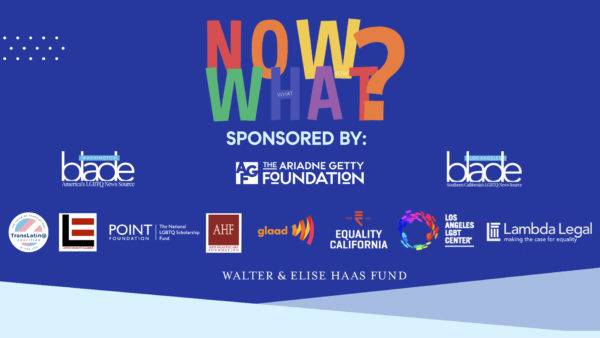 State Senator-elect Sarah McBride (DE) joined Blade White House Reporter Chris Johnson for a conversation on her historic win as part of our online Now What? series. Join us over the next few weeks as we discuss where the LGBTQ community goes after the 2020 election.
Calls for Biden-Harris administration to champion global LGBTQ rights grow louder
Council for Global Equality calls for first-week executive order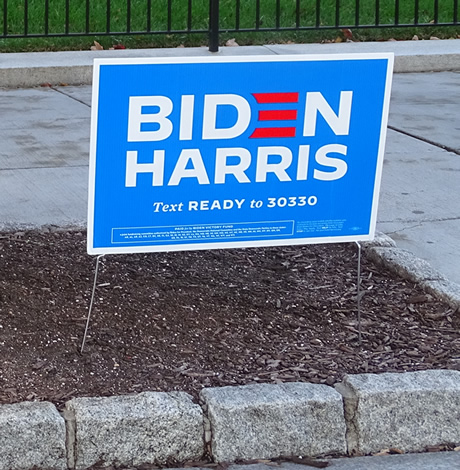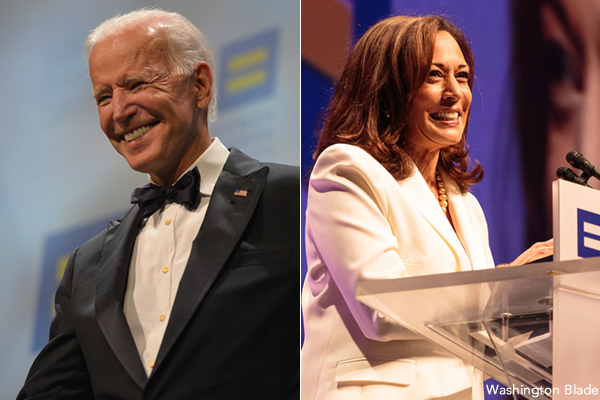 Advocacy groups are calling for the incoming Biden-Harris administration to make LGBTQ rights a cornerstone of its foreign policy.
The Council for Global Equality in a policy paper it released after the election calls for the new administration to issue an executive order within its first week in the White House that would lay "the institutional groundwork for supporting global LGBTI rights, transgender equality and reproductive rights."
The advocacy group is also urging the new administration to "direct that gender issues feature prominently in a Biden foreign policy" and to "rethink religious exemptions to policies, with due consideration given to the public funding and purposes employed." The Council for Global Equality, among other things, recommends the Biden-Harris administration nominate openly lesbian and transgender people for ambassadorships and "reinstate promptly" the State Department's special envoy for the promotion of LGBTQ rights at the level of an ambassador.
The Council for Global Equality recommends the U.S. should rejoin both the U.N. Human Rights Council and the World Health Organization. The Council for Global Equality also calls for the Biden-Harris administration to formally renounce the State Department's controversial Commission on Unalienable Rights that current Secretary of State Mike Pompeo created last year.
"We are excited to work with the Biden-Harris administration to center the rights of LGBTI individuals in U.S. foreign policy after four devastating years under the Trump administration," Center for Global Equality Chair Mark Bromley told the Washington Blade on Monday.
The Center for American Progress this week made similar recommendations in its own policy paper that it released. The D.C.-based progressive think tank, like the Council for Global Equality, also calls for Congress to pass the Greater Leadership Overseas for the Benefit of Equality (GLOBE) Act, a bill that would require the U.S. to continue to promote LGBTQ rights abroad through its foreign policy.
The Human Rights Campaign and OutRight Action International have also echoed the Center for American Progress and the Council for Global Equality's recommendations.
Biden: US will again be 'global leader' in defending LGBTQ rights
President Obama in 2011 issued a memorandum that made the promotion of LGBTQ rights abroad a cornerstone of U.S. foreign policy.
The Trump administration did not formalize this directive, but U.S. diplomats have continued to support gay rights abroad.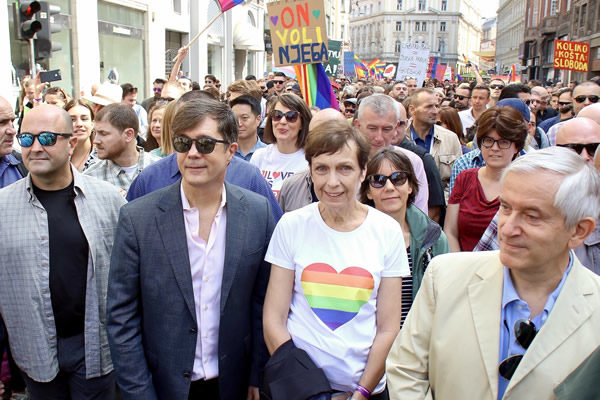 The White House in 2019 tapped then-U.S. Ambassador to Germany Richard Grenell to lead an initiative that encourages countries to decriminalize homosexuality. Grenell is one of the five openly gay ambassadors who Trump named during his administration.
The Trump administration has nevertheless faced sharp criticism over its domestic LGBTQ rights policy that included the reinstatement of the ban on openly transgender servicemembers. Activists in the U.S. and around the world also condemned the White House over its hardline immigration policy they say has made LGBTQ asylum seekers even more vulnerable.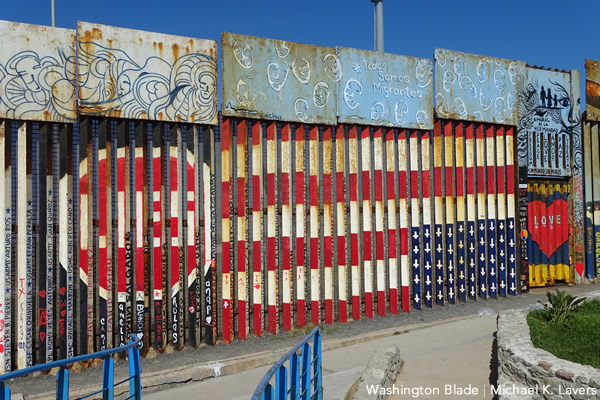 A Biden-Harris transition spokesperson on Tuesday directed the Blade to the incoming administration's LGBTQ rights platform.
The incoming administration has pledged to "significantly bolster the offices" at the State Department and the U.S. Agency for International Development that are "dedicated to promoting global LGBTQ+ rights and development." Biden has also said he will "immediately appoint" a special LGBTQ rights envoy at the State Department and a special coordinator at USAID to handle the aforementioned issues.
The incoming administration, among other things, supports the GLOBE Act and the use of the Global Magnitsky Human Rights Accountability Act to sanction those who commit anti-LGBTQ rights abuses. Biden says his administration will also "stand with local civil society" that champions LGBTQ rights."
"As president, Biden will restore the United States' standing as a global leader defending LGBTQ+ rights and developments and work closely with our partners and like-minded governments to ensure that violence and discrimination against LGBTQ+ individuals do not go unchecked," reads Biden's LGBTQ platform.
Trans, non-binary candidates make history in state legislative races
Danica Roem inspired many to run for office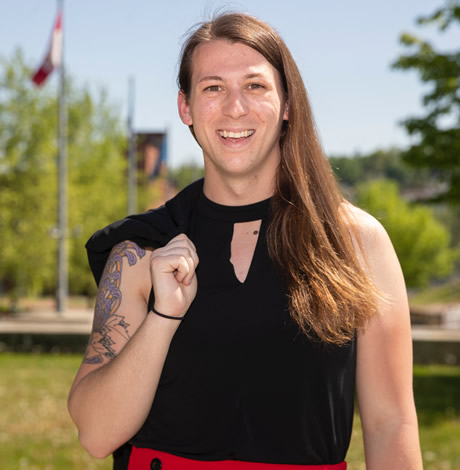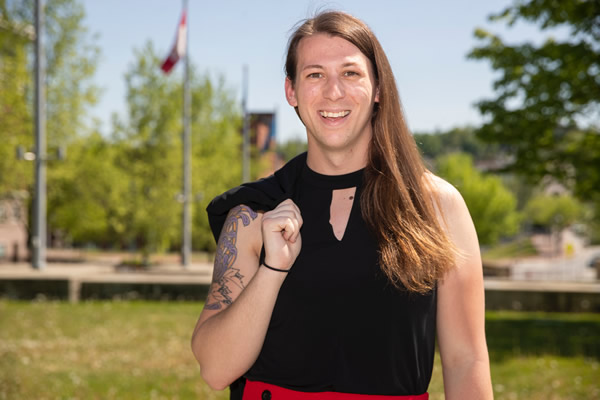 Colorado state Rep. Brianna Titone said she never thought she would be able to mount a successful candidacy for public office. As a transgender woman, she assumed that would immediately disqualify her. 
Then, in 2017, Titone watched Danica Roem run for and win a seat in the Virginia House of Delegates.
"Watching [Roem's campaign] really showed me what was possible and that gave me the nudge," Titone told the Washington Blade. "I only needed to win by one vote."
In 2018, she won by 439 votes in her race to represent Colorado's 27th House District, a traditionally conservative area that includes the Denver suburb of Arvada, in the state's House of Representatives. With her victory she became the first trans person elected to Colorado's General Assembly and was reelected on Nov. 3, this time by an 1,800-vote margin.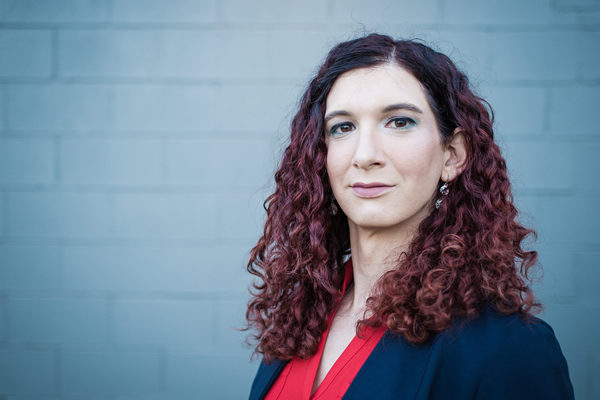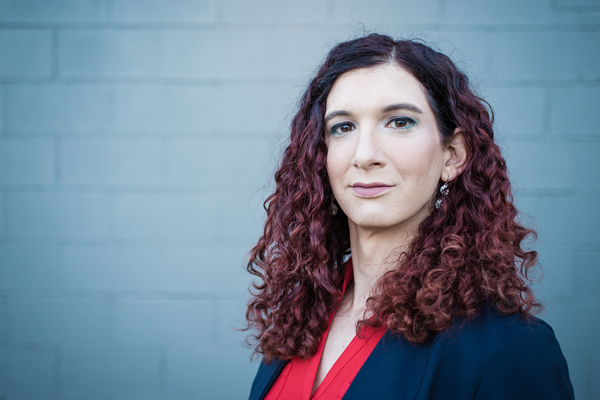 Titone is part of a group of eight openly trans or gender non-conforming state legislators. Among this historic group of lawmakers is Delaware state Sen.-elect Sarah McBride—the first openly trans person to be elected to a state senate. And come January she will the highest-ranking out trans state legislator in the U.S.
"I think the results of my race and so many others across the country are so powerful because it shows the fair mindedness of voters," McBride told the Blade. "Yes, voters are excited about creating a diverse government but they're also ultimately looking at candidates based on their ideas and their experiences. Whatever message was sent by my campaign was not sent by me but was sent instead by the voters in my district."
Other history-makers for this election are Mauree Turner from Oklahoma's 88th House District, who is the first openly non-binary person elected to a state legislature, and Stephanie Byers from Kansas' 86th House District, who is the first trans woman of color elected to any state legislature.
Since winning her seat in 2018, Titone said she has worked to ensure that people view her as a good representative for her district and not just a representative for the LGBTQ community.
"I have work to do for the people in my district," she said. "And when you win by a small margin, like I did and you're under that microscope, you have to do the work for the people."
She said she's focused on issues like health care access, water conservation and affordable housing.
Roem was not just an inspiration to Titone but to many of the other trans candidates who now find themselves working in their state legislatures.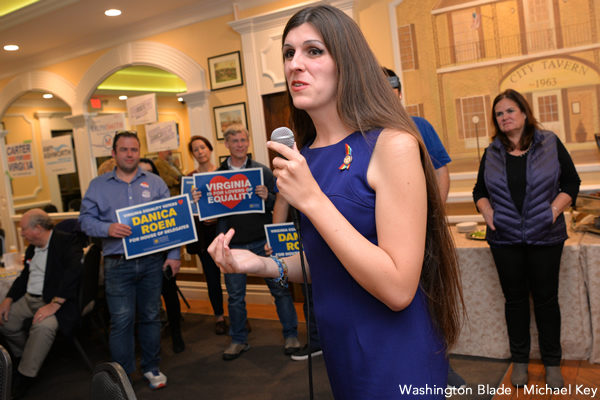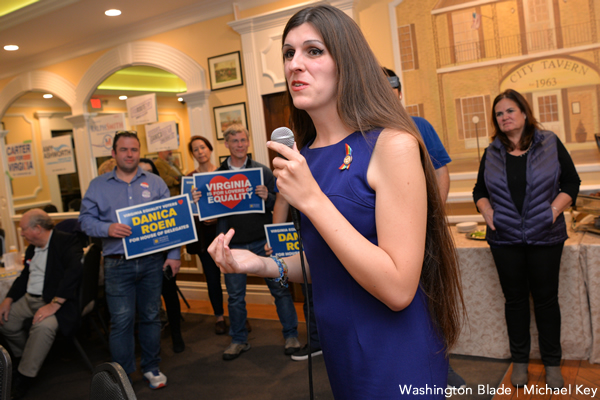 Taylor Small, a 26-year-old LGBTQ activist, said it was Roem and Vermont state Rep. Diana Gonzalez who inspired her to run.
Small this year became the first openly trans person elected to Vermont's House of Representatives after Gonzalez, the incumbent, decided to retire and asked her to run. Gonzalez was the state's first openly queer person of color to serve in the Vermont House.
"There was so much history being made in such a short period of time through Rep. Gonzalez," she said. "To see the progressive work she has been able to accomplish over the past six years and then to know that she sees the same potential in me was just the push I needed to step into that role."
Small said she never imagined being able to work in state politics at such a young age as a trans woman. When Gonzalez approached her about running, she only had days to get her campaign together and file her paperwork to get on the ballot. This, combined with the coronavirus pandemic, led to an unconventional campaign, she said.
"It felt like we were building the plane while we were flying it," Small said. "So what that meant is that it was a relatively equal playing field for both incumbents and challengers coming into this race, because nobody has campaigned during a pandemic and nobody knows what will work."
The policy she is most looking forward to reforming, she said, is healthcare. Small said she will push the state to move towards a Medicare For All system.
"We have health insurance connected to employment, which should not be the case," she said. "Healthcare is a human right, it is not a privilege, though, in its current setup in the United States, it is a privilege for folks who are able to afford it."
Small also performs as a drag queen in her spare time as Nikki Champagne. She and Emoji Nightmare, her "partner in all things drag," travel to libraries around the state and hold story hours where they read books and do crafts with children. Small said doing drag allowed her to get in touch with her femininity and embrace her authentic identity as a trans woman.
"Now knowing that this is a space where [LGBTQ kids and families] can come and read and get books and find community and also knowing that we were able to promote inclusivity and diversity through these story hours, it was just the best thing," she said.
Two trans women in N.H. House reelected
New Hampshire currently has two trans state legislators: Lisa Bunker and Gerri Cannon. Both were initially elected in 2018 and they won reelection on Nov. 3.
Bunker said President Trump's 2016 election initially motivated her to run, but she ran in 2018 after Roem's victory the year earlier. After she decided to announce her candidacy to represent Rockingham County District 18, which includes the city of Exeter, Bunker said the race was "relatively easy."
Because the New Hampshire House of Representatives has 400 members, each person has to represent relatively few constituents, which means it takes much less money and resources to start a campaign. When she came into office in 2019, Bunker said there was no open hostility towards her or Cannon.
"There's a culture and an expectation of courtesy that's strongly enforced. People are expected to treat each other with decorum and courtesy at all times," she said. "But there are certainly folks serving in the state legislature who are demonstrably, evidently, deeply uncomfortable with me as a trans person. One comes to know the fixed stares or the refusal to meet my gaze in the hall and things like that."
Cannon spent her years before public office as a carpenter and truck driver but she started to work with state politicians to pass protections for trans people after she came out at 45.
Her first effort died in 2009, the same year New Hampshire lawmakers approved a marriage equality bill. Cannon said this was the first time she was asked to run for office but declined because her own business was in peril during the economic crisis.
She left to become a truck driver for five years and she said that when she came back, no one had made any progress with trans protections so she decided to step into politics herself. In 2018 she won her race to represent Strafford County District 18, which includes most of the city of Somersworth.
Cannon said the most important aspect of having trans people in the New Hampshire General Court was to represent the experiences of a community which doesn't frequently get a voice at the table.
"I think more people are seeing that they don't have to sit in the shadows," she said. "They don't have to just put up with what the legislature is going to do. They can get involved, they can help set the agenda and set the direction. They can spread knowledge and information about trans people because we're people too and it's important for others to know that."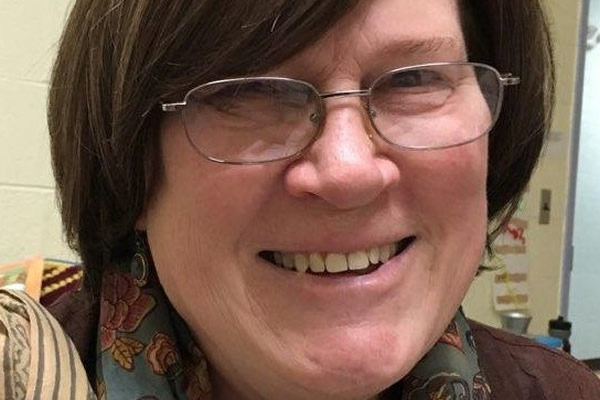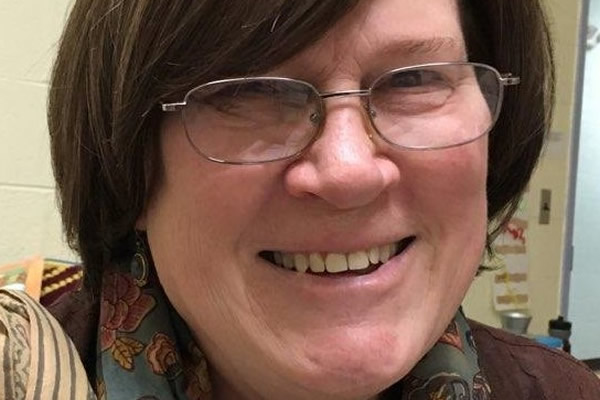 When Joshua Query joined the New Hampshire House in 2018, they identified as a gay man but halfway through their first term started questioning their gender identity. They said the strict dress code for state representatives—men are expected to wear pants and suit jackets with ties—helped them realize how uncomfortable they were living in the gender binary.
"This helped me realize that I was being a little bit restricted and I didn't feel comfortable expressing myself, or being tied to that certain gender performative nature that we're required to," Query said in an interview.
They came out to their colleagues in late 2019 as genderqueer and said most of them didn't "bat an eye."
"Some people on the other side of the aisle just say it's identity politics playing and all that kind of stuff," they said. "But I don't really pay too much attention to that."
Query ran for reelection in 2020 to continue representing Hillsborough County District 16 but the election has gone to a recount with Query up by only 36 votes. Query said they're confident they will prevail over their Republican challenger, Robert Kliskey.
"I think it's just the same as Election Day jitters but I'm confident in the way our poll workers handle our elections and from my research, Manchester has rarely seen a race be flipped on because of a recount, and in those few instances, they were all under 10 votes," they said.
Along with Bunker and Cannon, Query said they have led the New Hampshire House's LGBTQ caucus in pushing for reforms to make state laws more inclusive.
Cannon in 2017 pushed for legislation that would protect individuals from discrimination based on both sexual orientation and gender identity in public accommodations, housing and private or public employment. Cannon was a member of the Somersworth School Board when Republican New Hampshire Gov. Chris Sununu signed the bill.
According to Bunker, she and other LGBTQ state representatives focused on extending this language to other areas of state law. Another area of focus, Query said, is eliminating the gay and trans panic defense.
"When the Black Lives Matter protests started to break out, I had a lot of people who were Black or indigenous reaching out to me because they were also queer, and they saw the gay panic defense as a way that someone could condone violence towards them just because they're out protesting for their rights," Query said.
The wave of new gender non-conforming lawmakers in state government comes at the same time President-elect Biden's defeated Trump in the election. Biden in his victory speech called for unity and peace in the deeply divided country.
For Small, the term "unity" tends to be challenging.
"It is so much easier to say that we need to come together when you are coming from a place of power, because you know that it is not a risk for you to come together," she said. "There are people who carry hate towards marginalized communities and you cannot unify with someone who is going to actively harm you. I would love for our communities to embrace one another and see each other holistically. Until we can hold that everyone deserves equitable rights in the United States, we truly cannot unify."
Titone said she understands the hesitations to reach across the aisle and unify in a bipartisan way but also understands the importance of it.
"The bully picks on you and beats on you for years, and you finally get the upper hand, it's hard to just take the high road and work with that person to try to make them into something better," she said.
In her traditionally conservative district, she said she has had to work with people she doesn't agree with and has had to hold space for those who don't agree with her.
"I want to hear people's opposing sides. I can't make allies when I constantly push away those who disagree with me," she said. "Joe Biden understands that when there's such polarization that has happened, you have to try to bring those people back together somehow."