December 17, 2020 at 4:35 pm EST | by Chris Johnson
Jim Hormel: Buttigieg, not Grenell, will be the first out LGBTQ Cabinet official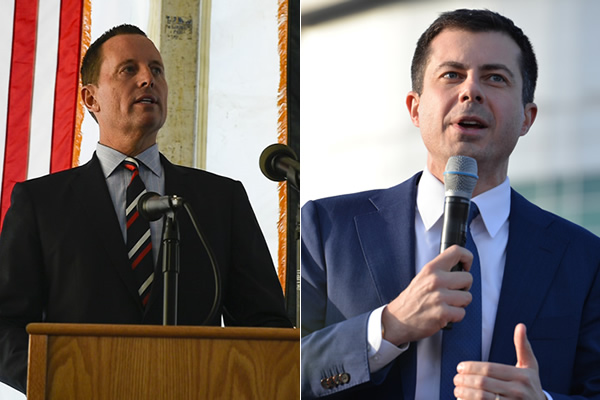 In the aftermath of President-elect Joe Biden nominating Pete Buttigieg as secretary of transportation, the left and right are at each other's throats over whether Biden's pick will be the first openly gay Cabinet official, or if that distinction belongs to former acting director of national intelligence Richard Grenell — but one appointee who achieved a historic first for the LGBTQ community says the honor falls to Buttigieg.
Former U.S. Ambassador to Luxembourg Jim Hormel, who became the first openly gay U.S. ambassador in 1999 after President Bill Clinton gave him the job through a recess appointment, downplayed Grenell on Thursday and said the real achievement "as the first openly LGBTQ member of the presidential Cabinet" goes to Buttigieg.
"Pete Buttigieg will be nominated as secretary of transportation, subject to confirmation by the Senate," Hormel said. "Following his approval he will serve with full authority at the will of the president. He will be the first official openly LGBT member of the Cabinet. His appointment, if approved, will be a milestone."
Hormel, now 87 and responding to an inquiry from the Washington Blade via email, said the basis for rejecting Grenell's appointment as a first for the LGBTQ community rests with the word "acting" in the Trump appointee's title.
"The president may appoint an individual to be temporary 'acting' head of an agency, bureau or department," Hormel said. "That appointee can serve in that capacity for a limited period of time without being confirmed by the Senate. Trump has used 'acting' appointments time and again, thus avoiding Senate inquiries and investigations."
Like Grenell, Hormel never won Senate confirmation for his presidential appointment. Conservative senators, including the late Sen. Jesse Helms (R-N.C.) and former Sen. John Ashcroft (R-Mo.), refused to allow the Senate to confirm Hormel explicitly on the basis of his being gay. Clinton had to short-circuit the process, using his presidential powers to grant Hormel a recess appointment.
But Hormel at least sought Senate approval for his role. Grenell neither sought nor obtained confirmation as acting director of national intelligence, although he had won confirmation for his concurrent role as U.S. ambassador to Germany.
Even though Hormel and Grenell had similarities in not obtaining Senate confirmation, Hormel said his "situation differed in two ways."
"First, the hierarchy within the State Department is unique," Hormel explained. "In the absence of an ambassador there is a charge' d'affaires who assumes the duties of ambassador. There is no 'acting' position per se. Secondly, in my case, I went through the process of confirmation, but the Senate was prevented from voting. The president then made a recess appointment, and I went to my post fully accredited."
Grenell, who didn't respond to a request for comment for this article, has largely stayed away from the fray on social media on who gets to be called the first openly gay Cabinet member.
However, Grenell upon leaving his post as acting DNI this year posted on Instagram that Trump gave him his chair from the Cabinet room and told him being the first openly gay Cabinet official was a "big deal."
Grenell also said during the election in a video that he was the "first openly gay Cabinet member," which he said demonstrates Trump is "the most pro-gay" president ever despite the anti-LGBTQ record the administration has built. (The Log Cabin video, though widely seen, was also criticized for inaccuracies and taking facts and quotes out of context.
During the Biden team's announcement on Wednesday, Buttigieg was careful in his language about the milestone he was setting out to achieve and said his nomination marked "the first time an American president has ever sent an openly LGBTQ cabinet nominee to the Senate for confirmation."
But Buttigieg also recognized he was following in the footsteps of LGBTQ pioneers, explicitly recognizing Hormel's achievement.
"I can remember watching the news, 17 years old and seeing a story about an appointee of President Clinton, named to be an ambassador, attacked and ultimately denied a vote in the Senate, because he was gay — ultimately able to serve only by a recess appointment," Buttigieg said.
Buttigieg, who made history as a gay Democratic candidate in the 2020 primary said at the time his career aspiration was to become an airline pilot and "was a long way from coming out, even to myself," but gained knowledge from Hormel's story.
"I learned about some of the limits that exist in this country when it comes to who is allowed to belong, and just as important, I saw how those limits could be challenged," Buttigieg said. "So, two decades later, I can't help but think of a 17-year-old who might be watching right now, someone who wonders whether and where they belong in the world, or even in their own family, and I'm thinking about the message today's announcement is sending to them."
Hormel, in the email to the Blade the day after Buttigieg praised him, was able to return the favor by offering support.
"I enthusiastically support the nomination of Pete Buttigieg as secretary of transportation and will acknowledge him as the first openly LGBTQ member of the presidential Cabinet," Hormel said.