June 2, 2020 at 1:34 pm EDT | by Chris Johnson
Grenell: Trump told me being first out gay Cabinet member was a 'big deal'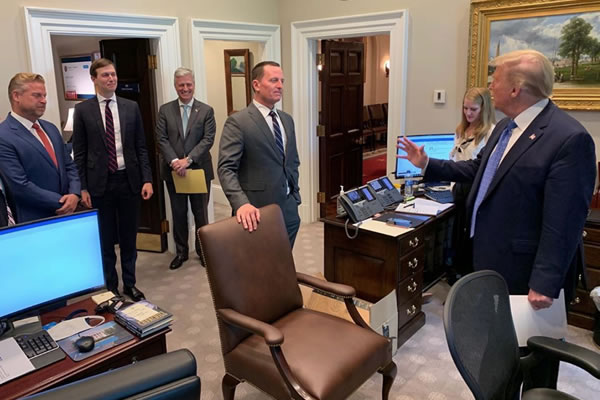 Richard Grenell, who recently stepped down from his role as a U.S. ambassador and acting director of national intelligence, said upon his departure President Trump told him it was a "big deal" he was the first openly gay Cabinet secretary.
In an Instagram post on Monday, Grenell wrote acting Cabinet secretaries don't normally get chairs, but Trump wanted him to have his seat in honor of his distinction.
"Today I officially resigned from the State Department," Grenell said. "And President Trump presented me with a going away gift — my Cabinet Chair. 'Acting' Cabinet Secretaries do not get chairs but President Trump wanted me to have mine because, as he said, 'You are the First Openly Gay Cabinet Secretary and it's a big deal.'"
Arguably the first openly gay Cabinet secretary and highest-ranking presidential appointee in U.S. history, Grenell was named acting director of national intelligence in February, although Trump never formally nominated Grenell for the role. Grenell's tenure ended upon U.S. Senate confirmation last week of John Ratcliffe as director of national intelligence.
Grenell held the position concurrent with his role as U.S. ambassador to Germany, when he spearheaded a global initiative to decriminalize homosexuality in the 69 countries where it remains illegal.
Although Grenell's tenure as acting director of national intelligence was short, during that time he restructured the agency and declassified information on Obama administration officials "unmasking" Michael Flynn, winning high praise from Trump.
The White House didn't respond to multiple requests from the Washington Blade to confirm the accuracy of the exchange between Trump and Grenell as quoted by the former ambassador.
Grenell said he got the acknowledgment from Trump as the president declined to issue a proclamation or statement recognizing Pride Month.
Joseph Biden, in his Pride month statement, criticized Trump for his anti-LGBTQ polices, including the transgender military ban, as well as having "given safe harbor to white supremacists and other forms of hate."