Biden name-checks LGBTQ service members in Pentagon speech
End to transgender military ban also referenced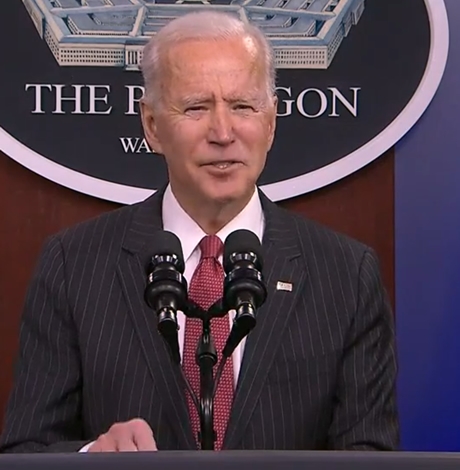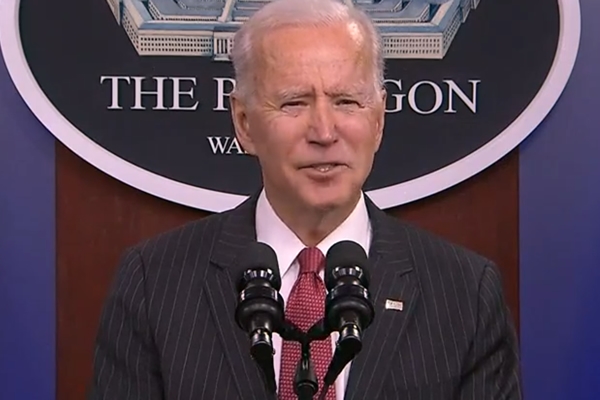 President Biden name-checked LGBTQ service members in a speech at the Pentagon geared toward expressing gratitude at the start of a new administration civilians and troops who for the Defense Department.
Biden also referenced the end to the transgender military ban, which he ordered within his first week in office, saying the new leadership is "dedicated to ensuring that every single person is treated with dignity and respect."
"That's why we moved so quickly to overturn the discriminatory ban on transgender service, and why Gen. Austin's first memo was a directive to take sexual assault in the military seriously," Biden said.
Biden referenced LGBTQ service members as part of a general recognition of minorities within the armed forces.
"Every single person, no matter their gender identity, sexual orientation, race, or religious background, deserves to feel safe in the ranks and to have their contributions valued," Biden said.
Watch here:
Rainbow History Project to honor LGBTQ 'Pioneers'
Virtual celebration to take place on Dec. 9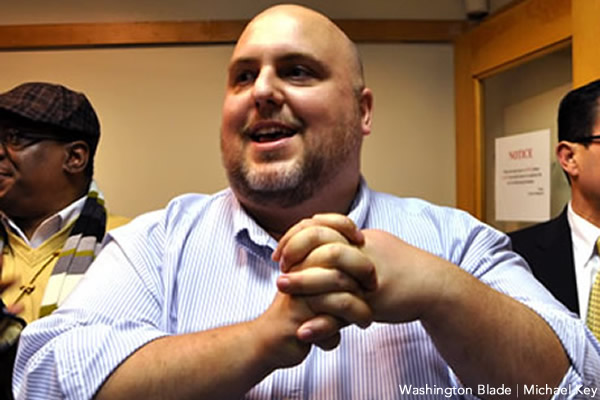 D.C.'s Rainbow History Project says it will honor and recognize 12 individuals and one organization by designating them as Community Pioneers "for their diverse contributions to the Washington-area LGBTQ community" at a Dec. 9 virtual celebration.
"Rainbow History Project is an all-volunteer organization dedicated to collecting, preserving and sharing the LGBT history of metropolitan Washington, D.C.," the group says in a statement announcing the event. "The Pioneers awards recognize diverse community leaders for their roles as organizational founders, innovators, advocates and volunteers," the statement says.
"The Pioneers celebration will be held virtually and is designed with special features that reproduce the feeling of attending in-person, such as live streaming and video chatting with other attendees and Pioneers before and after the core awards programing," according to the statement.
"Celebrating our Community Pioneers has been a cherished tradition since Rainbow History Project's founding 21 years ago," said Rob Berger, the organization's chairperson. "It's always an inspiring event, and we are happy that our virtual platform will still allow participants to meet and talk with the Pioneers," Berger said in the statement.
The virtual event is free and open to the public, the statement says. Organizers released this link for those interested in attending, saying a short registration process may require registering in advance.
Following is the list of Community Pioneers scheduled to be honored at the Dec. 9 event as released by Rainbow History Project along with the project's description of their backgrounds.
– Arlington Gay and Lesbian Alliance, a local group that since its founding has addressed equal rights issues for LGBTQ Virginians from a state and local perspective.
– Eboné F. Bell, founder and editor-in-chief of Tagg Magazine and Tagg Communication LLC.
– Bart Forbes, founding member of "Gay Fairfax," a pioneering television newsmagazine program in Northern Virginia.
– Ellen Kahan, youth and family advocate, president of Rainbow Families, former director of the Lesbian Services Program at Whitman-Walker Health, and currently senior director of programs and partnerships at the Human Rights Campaign Foundation.
– Theodore Kirkland (deceased), a co-founder of D.C. Black Pride in 1991, member of the Gay Liberation Front and Skyline Faggots, active community health volunteer and advocate.
– Paul Marengo, community leader through LGBTQ organizations including Reel Affirmations, Cherry Fund, and Pride celebrations for youth, Latino, Black and Transgender communities.
– David Mariner, executive director of CAMP Rehoboth, and former executive director of the D.C. Center for the LGBT Community.
– Mark Meinke founder longtime chair, Rainbow History Project, and co-founder of Rainbow Heritage Network, a national organization for the recognition and preservation of sites, history and heritage associated with sexual and gender minorities.
– Michael "Micci" Sainte Andress, artist, health educator and advocate and an early leader in bringing African Americans into HIV/AIDS clinical trials.
– Boden Sandstrom, founder and owner of Woman Sound (later City Sound), the first all-woman sound company, which makes LGBTQ rights rallies and the women's music scene possible.
– Casse Culver (deceased), nationally acclaimed D.C. lesbian feminist singer-songwriter, and partner of Boden Sandstrom, whose followers said her love songs and feminist lyrics moved audiences from foot stomping to silent reflection.
– Alan Sharpe, playwright, director and co-founder of the African American Collective Theater in Washington, D.C., in 1976, which now focuses on LGBTQ life and culture in the Black community.
Minnesota middle school principal ousted for displaying Pride flag
Critics ramped up attacks on the career educator- some compared her to the Devil after publicly associating with LGBTQ+ people and students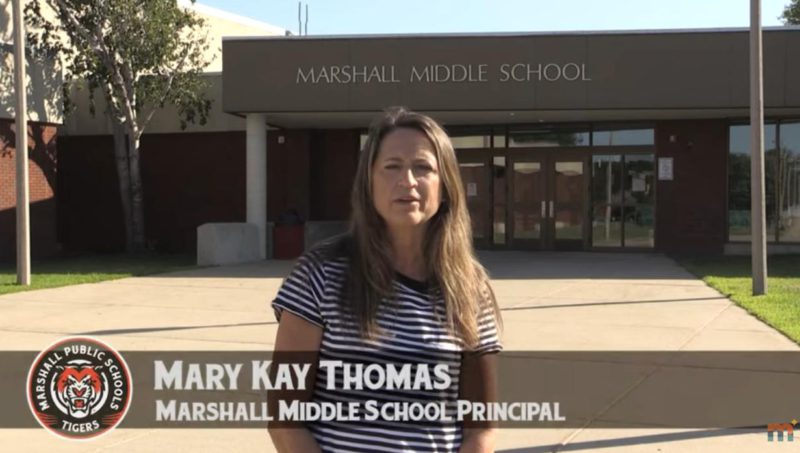 MARSHALL, Mn. — A former middle school principal in Minnesota who lost her job after displaying a Pride flag alleges in a federal lawsuit that the school system retaliated against her for supporting LGBTQ+ students.
Mary Kay Thomas filed the complaint against Marshall Public Schools in the U.S. District Court of Minnesota Tuesday after anti-LGBTQ+ middle school staff, parents, students and local clergy began efforts to remove the Pride flag that she put up in her middle school's cafeteria in 2020 as a part of an inclusiveness effort.
According to the lawsuit, Thomas has been a teacher and principal for more than three decades with a long track record of success. She held the principal position at Marshall Middle School for 15 years, receiving contract renewals, pay raises and praise for her performance.
"But when Thomas decided to display an LGBTQ Pride Flag in the school cafeteria in early 2020, everything changed," reads the complaint.
Thomas refused to take down the Pride flag as critics ramped up attacks on the career educator. The lawsuit alleges that some even compared her to the Devil after publicly associating with LGBTQ+ people and students.
"Sadly, the Marshall School District has sided with these critics," her lawyers wrote.
What followed was an "escalating series of adverse actions" taken by the Marshall School District, said the lawsuit. She claims that the school targeted her by threatening her employment, conducting a "bad-faith" investigation, putting her on indefinite involuntary leave, suspending her without pay and putting a notice of deficiency in her personnel file.
The complaint says that the deficiencies were "false, distorted, and/or related to Thomas's association with members of the LGBTQ community."
Thomas also claims that the District attempted to get her to quit by removing her as principal and assigning her to a "demeaning 'special projects' position."
At one point, Marshall Public Schools Superintendent Jeremy Williams, who is named as a defendant in the case, told Thomas he could "make this all go away" if she stepped down, according to the complaint.
The school removed the Pride flag in August 2021 after settling a lawsuit brought by residents who opposed it.
The Blade reached out to Williams for comment but did not receive a response. However, according to the Marshall Independent, Williams did release a statement on the matter.
"Marshall Public Schools is committed to the education of every child and has strong policies and practices in place against discrimination, against both students and staff members. The school district is committed to creating a respectful, inclusive, and safe learning and working environment for students, staff and our families," Williams said. "While the school cannot comment about the specific allegations made in the complaint, the school district strongly denies any allegation of discriminatory conduct. The school will vigorously defend itself against these allegations."
In addition, Thomas alleges that she resisted unwanted sexual advancements from school board member Bill Swope. She claims she told Williams about the sexual harassment.
As of Thursday, the school has not filed a response, and no hearing has been scheduled yet.
Thomas is seeking a jury trial, damages and reinstatement as principal of Marshall Middle School.
Rachel Levine: Efforts to deny health care to trans youth are 'politics'
Former Pa. health secretary opened Victory Fund conference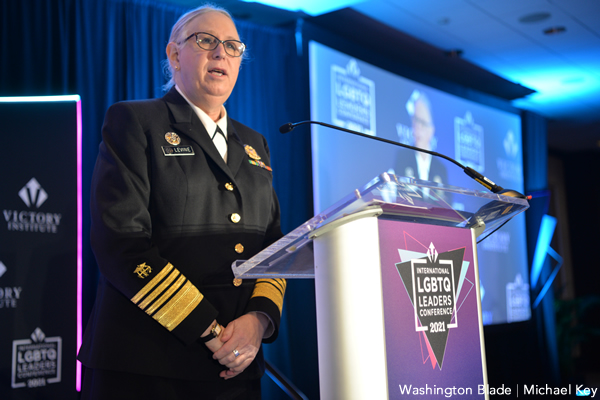 Assistant Health Secretary Rachel Levine on Thursday criticized efforts to prevent transgender youth from accessing health care.
"Unfortunately, some have fought to prevent transgender youth from accessing the health care that they need," she said in a speech she delivered at the opening of the Victory Fund's 2021 International LGBTQ Leaders Conference that took place in-person at the JW Marriott in downtown D.C. "This is politics and this politics has no place in health care and public health and they defy the established standards of care written by medical experts."
Levine was Pennsylvania's Health Secretary until President Biden nominated her to become assistant secretary of health.
She became the first openly trans person confirmed by the U.S. Senate in March. Levine in October became a four-star admiral in the U.S. Public Health Service.
The conference will take place in-person and virtually through Sunday.