February 17, 2021 at 6:29 pm EST | by Michael K. Lavers
Rush Limbaugh dies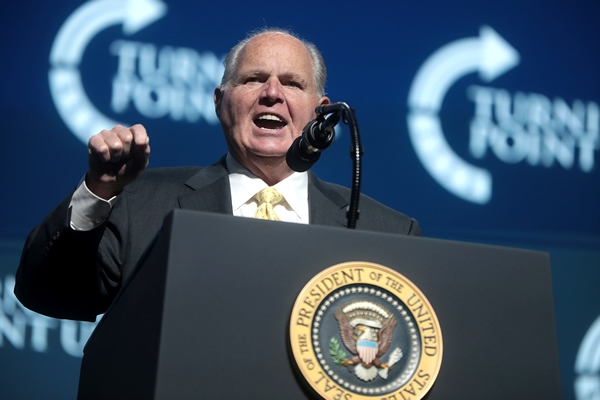 Anti-LGBTQ talk radio host Rush Limbaugh died on Wednesday in Florida.
Limbaugh, 70, last year announced he had lung cancer. Limbaugh's wife on Wednesday announced his passing at the beginning of his show.
"Rush will forever be the greatest of all time," said his wife. "Rush was an extraordinary man, a gentle giant — brilliant, quick witted, genuinely kind, extremely generous, passionate, courageous, and the hardest working person I know. Despite being one of the most recognized, powerful people in the world, Rush never let the success change his core or beliefs."
Limbaugh had been a prominent figure in conservative politics since the 1980s.
The Associated Press reported upwards of 600 stations in the U.S. aired his daily radio program. Limbaugh also frequently mocked and insulted people with HIV/AIDS, LGBTQ people, women and other groups.
Limbaugh last February said, "America's still not ready to elect a gay guy kissing his husband on the debate stage as president" in reference to now-Transportation Secretary Pete Buttigieg kissing his husband, Chasten Buttigieg. Then-President Trump in his 2020 State of the Union address presented Limbaugh with the Presidential Medal of Freedom.
"Rush Limbaugh spent much of his career attacking LGBTQ people, including mocking those impacted by the AIDS crisis," said GLAAD Head of News and Campaigns Barbara Simon in a statement to the Washington Blade. "He spread misinformation to his listeners and fueled distrust and division across the country."
"News outlets reporting on his death should include this hateful history," added Simon.