March 18, 2021 at 8:30 am EDT | by Antonio Xu Liu
For LGBTQ Dreamers, no equality without citizenship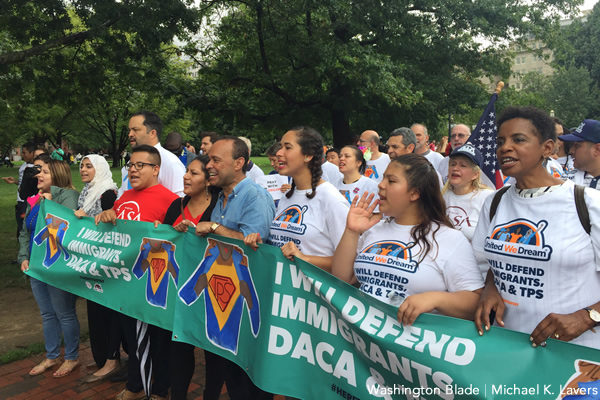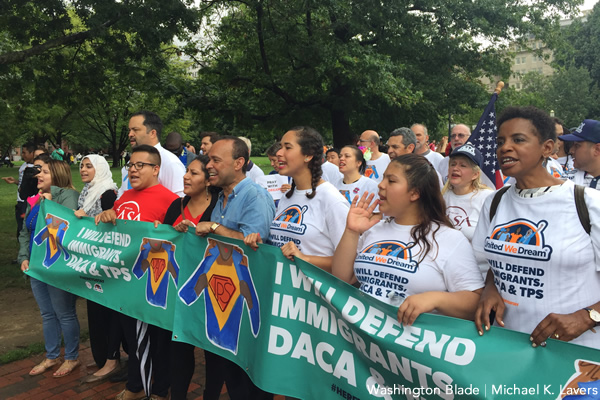 Last January, my partner of seven years and I married at New York City Hall. His parents and grandparents drove down from Albany, and my parents came in from Queens. After the ceremony, we had a small reception at the Loeb Boathouse in Central Park.
In our wedding photos, Keegan looks his handsome self in his royal blue suit. Even still, being the planner I am, I'm looking forward to when we can celebrate our 10th anniversary together and have a proper party, once our college loans are paid and we're more financially established. There will be 200 of our friends and family, a live band, and a Cantonese translator so that my mother can follow every part of the evening. And I just might take the stage in Elphaba drag and belt out "Gravity" from "Wicked."
When Keegan and I married, we did so with a sense of destiny, grateful to all those who had dedicated their lives to making a journey like ours possible. Legal marriage, however, hasn't made my life that much more secure. And that's because of my immigration designation as a "Dreamer," or Deferred Action for Childhood Arrivals (DACA) recipient.
When Congress failed to pass the DREAM Act once again in 2011, the Obama administration initiated DACA through an Executive Order. The program allows those who are undocumented and were brought into the country as children, have graduated high school, and have passed a background check, to legally work, attend college, or serve in the military without fear of deportation. My mother sought to escape the violence of Venezuela, where I was born, to give me the opportunity of a better life. When I was 10, we crossed from Mexico into the U.S. to apply for political asylum. The journey took three days, including several hours in the trunk of a car and hiding ourselves in a muddy trench until the sun set.
Since DACA was implemented, nearly 800,000 of us Dreamers have qualified for the program, and through it we have contributed mightily to the U.S., the only country most DREAMers would call home. Each year DACA-eligible recipients provide $4 billion annually in federal, state, and local taxes, all while being excluded from federal benefits like financial aid and Social Security. And in the coronavirus pandemic, 200,000 of us are essential workers, including nearly 30,000 Dreamers who work in health care, staffing the hospitals and nursing homes that strive to keep our country's newly sick safe and alive.
Four years of relentless attacks by the Trump administration have left Dreamers and our families exhausted and fearful. In his first day in office, President Biden committed to fortifying DACA, which was a welcome step. But the program continues to face legal challenges, with a likely negative court decision that could be released any day now. What Dreamers truly need is not a return to the pre-Trump status quo, but real and permanent relief; what we need is a pathway to citizenship.
Without a pathway to citizenship, Dreamers will continue to experience unequal treatment in this country, to which we have given our hearts and souls. Many of us worry about being deported to countries that we don't know, where we have no family, and in the case of LGBTQ individuals, where we may face persecution.
My ambitions require contingency plans. Last year, after studying for three months for the GMAT—and completing a $1,400 prep course—I showed up to the exam site, only to be told that I couldn't take it because my driver's license didn't count as valid ID. I needed to present either a Green Card, which I can't legally possess, or a non-expired passport, which sounds reasonable except that to have one I would first have to return to Venezuela.
Despite my gratitude for gay marriage, it has not secured my equality. Without a chance for citizenship, I, like my fellow Dreamers, remain excluded from the opportunity to live openly as my most authentic self.
Perhaps unsurprisingly, even now that I'm married, I find that my contingency planning continues. By and large, my life has gone well. I'm in the U.S., I have an education, I can't be fired for being gay, and I have a marriage certificate honored in all 50 states. Yet to me, full equality will only occur when Keegan and I can build a stable future without fear of being separated.
Antonio Xu Liu is a Venezuelan-born Chinese DACA recipient who grew up in Queens, N.Y. In addition to serving as volunteer director of Out for Undergrad Engineering, he is a Senior Strategy Program Manager at National Grid and lives in Brookline, Mass., with his husband.